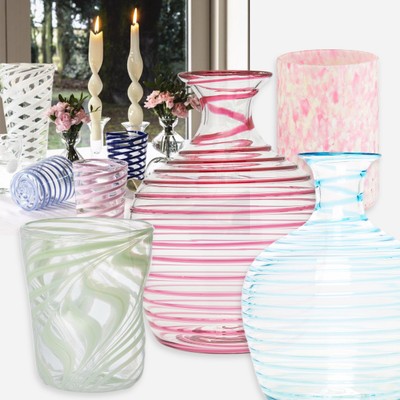 What You Need To Know About Murano Glass

We can't remember a time when Murano glass has been so in demand. Synonymous with the glamour of decades past, each piece is handmade and feature swirls of delicate colour drifting through handblown glass. While recent interest has spawned plenty of imitations, experts agree the real thing is still worth the investment – we asked two of them to tell us more about what to look for and why Murano glass is still considered so special by those in the know…

All products on this page have been selected by our editorial team, however we may make commission on some products.
Why It's Special
Murano glass made been crafted for more than 1,500 years on a small island, just across the water from Venice, but still located within the city's borders. "The art of glassmaking on the isle of Murano is a time-honoured tradition dating back to the 13th century and, for me, each piece carries a little bit of history with it," says Seb Bishop of Summerill & Bishop. "It is such a special place to visit, with most of the remaining glass blowers still using some of the original medieval blowing techniques, often with hundred-year-old furnaces."  
"No two pieces are exactly alike," adds Rebecca Udall. "The combination of heritage and craftsmanship is unrivalled – and its provenance dates back centuries. Murano glass items are small pieces of art – each one unique and therefore very collectable. There is something so lovely about owning handmade pieces that can't be replicated or mass made elsewhere."
How It's Made
"Murano glass is very much 'made', not 'produced'," says Seb. The glass itself is made from silica, soda, lime and potassium, which are then melted together in a special furnace at a temperature of 1500°C. "There are various techniques for different pieces, but for simple pieces, the 'glass' substance is removed with the help of a pipe from the furnace, after which it is shaped by various techniques," says Rebecca. "The pipe is then blown in to and this creates an air bubble, giving shape to the glass. Pieces are cooled slowly in a 'tempera'. One characteristic of most Murano glasses is its rounded edge on the lip of a glass and a pontil mark at the bottom, which is where the pipe has been removed." 
Authentic Murano glass is always handblown on the island, insists Seb. "The glassmakers create everything by hand and don't rely on exacting measurements or machinery to produce 'perfect shapes', which is why each piece is unique," he says.
The Price
"Genuine and truly authentic Murano glass is time consuming to make and requires great skill," says Rebecca. "It depends on the piece but, for example, even a simple tumbler requires five to ten minutes of hands-on production, as well as the best part of a day for cooling and other aspects of the process. With no machinery and little modern intervention, it's a very traditional and artisanal craft. It often takes years to learn the trade and possibly longer when it comes to making more challenging pieces." 
Every item requires exceptional dexterity on the part of the glassblower and complete precision to get right, adds Seb. "Glassblowing is an art form and requires great skill to create a perfectly balanced glass that feels good to the touch," he says. 
"The handblown process also allows for the creation of incredible colour ranges, clarity and creativity, all things that can't be replicated in mass-produced glass. It's about value rather than something being cheap or expensive – and when you compare the cost of producing factory-made glasses against the actual material and manpower it takes to blow glasses in this style, the latter actually represent better value for me."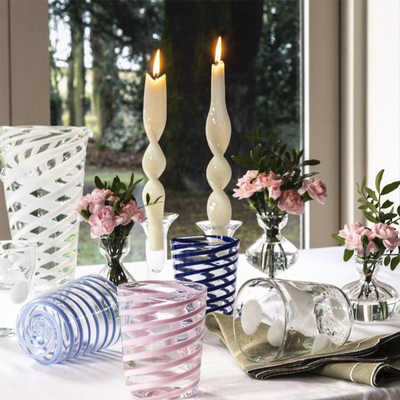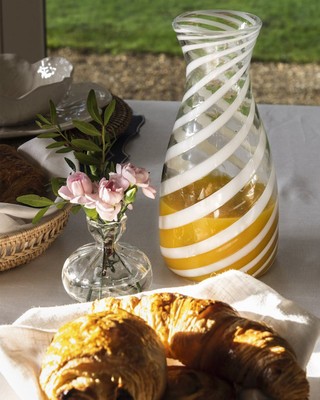 The Craftsmanship
Special pieces like these are an investment, so it's best to think of them like heirloom pieces to hand down through the generations. "By investing in them, you're helping to keep these incredible crafts and family businesses alive and thriving," says Seb. "In a world where mass produced items dominate the space, it's great to support such important cultural skills." 
"The individuality of each piece makes them special, as does the unrivalled craftsmanship," agrees Rebecca. "They are perfectly imperfect and I'm hugely passionate about supporting heritage communities – the makers' passion, history, knowledge and skills are incredible and not reflected in many other products on the market today."
What To Look For…
Rebecca has these helpful tips: "There's actually quite a lot of fake Murano glass on the market these days, so be careful. If the price seems too good to be true, it probably is. Most genuine Murano glasses should feel lightweight when you pick it up – a consequence of not using moulds. Pontil marks on the bottom of a glass indicate they have been hand blown and it's actually quite rare to see. You may also find etched signatures on the bottom of glasses, which belong to the individual artisans. There should always be this kind of individuality in each genuine piece."
When in doubt, also look for a proof of origin provided by the Veneto region. It certifies that products have been made on the island of Murano, according to glass making tradition. Only companies producing artistic glass on the island of Murano can apply for the trademark.
 
Shop our edit...
DISCLAIMER: We endeavour to always credit the correct original source of every image we use. If you think a credit may be incorrect, please contact us at info@sheerluxe.com.