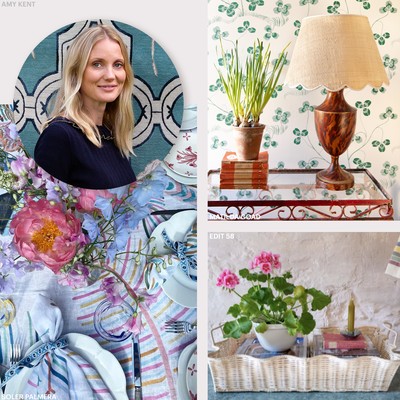 Willow Crossley Shares Her Interiors Little Black Book

As a florist and stylist, Willow Crossley's signature style encompasses a riot of colour, pattern and texture – so it's hardly surprising to see her embrace similar elements when it comes to interiors. Currently in the process of decorating and styling the home she shares with husband Charlie and their three young sons, these are the names and places she's turning to…

Wallpaper
I love being surrounded by colour and pattern and am slowly updating our house. When we moved in ten years ago, I was pregnant and in such a rush to get it done that we painted the whole thing pale grey. A decade later I'm starting to correct some of my mistakes! The more I do, the more I notice that it's the most colourful, bold, striped or patterned pieces that make me happiest. I find the safer, more neutral pieces rather dull – life is far too short for neutrals. I've realised that there are certain things that I'm always drawn to, as well – stripes, paisley, bright colours and Indian-inspired prints all feature.
I am mad about wallpaper. I've recently designed a collection with Barneby Gates, which has been a great experience. Our bathroom is covered in the Maharani blue and my spare bedroom in the cream Botanica. We've just launched the same patterns in fabrics, too – I'm planning to cover my sofa in the pale pink Maharani and add a thick bullion trim. 
I'm about to start work on our hallway and have decided to use Penny Morrison's blue Flowerberry paper. It's such a beautiful blue and feels very peaceful. I remember discovering Mary Mulchany's collection for Les Indiennes years ago and always promising myself I would save up to be able to use some of it in our home. I've used it plenty on decorating jobs for other people, but I've yet to fit it into one of our own space. Nina Campbell's Pamir is another beautiful handprinted effect paisley wallpaper that I've used a lot. I've tended to go for the blue, but I'm very drawn to the yellow version, too. 
Furniture
Our Odd Rocker is probably my most treasured piece of furniture. We saved up for one and when we left London, we took the plunge. They're meant to live outside but we have ours in the conservatory so we can enjoy it all year round. We went for white, but I spend a lot of time redressing it with endless cushions and throws – it's the most feminine corner of the house for sure. 
I've worked with OKA many times over the years and have collected lots of their lovely pieces in that period. Our kitchen chairs are OKA and everyone always comments on them. The design is really child friendly, too, which I find a rare advantage with chic designs. One of our newest additions is a tasselled, striped love seat from OKA which I've had my eye for years – it's even better in real life.
Before we moved out of London, I persuaded Charlie to go to Lillie Road in Fulham to try and find some furniture for our new house. I love old French pieces and fell in love with a long, cream-painted table. We'd only just completed on the new house and didn't have any room dimensions to work with; we knew it was far too long to be a dining table but I couldn't bear to be without it. Miraculously, it fits our hallway perfectly and continues to make me very happy to this day.
Home Accessories
I recently got a rattan scallop tray from Edit 58, which now sits in the middle of our living room. We have a lot of rattan in our house – I love the natural feel it creates. Summerill and Bishop is wonderful for table linens, and their new Stripe collection is heaven – I just can't decide which colour I love most!
I love natural fabrics and materials – lots of wood, seagrass, rattan – but I'm enjoying adding some pieces which are a little more unexpected. I love Addison Ross's lacquer trays, which double up as a decorative item, as well as a practical drinks tray.
When we lived in the south of France, I used to make things to sell like cushions, bags, notebooks – all using the fabrics I found on my travels. More often than not, I couldn't bear to part with them, though, which means we now have a lot of cushions in the house! My most recent additions are by Tensira and feel very French to me – think faded blue and white stripes. I also have a mattress-y cushion in the same fabric, which I use on a bench.
A lot of my jobs involve creating tablescapes and, as a result, I'm building a great tablecloth collection. I recently discovered Soler  – who make beautiful dresses – but they also sell linens which are so summery.
Ceramics
For as long as I can remember, I've been drawn to Italian spatterware. The design is called 'schizzato' and the pieces are hand-painted and handmade by potters in the Puglia region of southern Italy. We often went to Puglia on family holidays and my parents came home with their bags filled with it. It always reminds me of home, and slowly, over the years, I've been amassing my own collections. There are lots of replica pieces out there now, but you can still track down the original Italian versions. My brother Ned's store Not Another Bill, for instance, sells some beautiful pieces. I have the red and blue butter dish.
I've loved Nathalie Lete's collection for Anthropologie for years. My brothers clubbed together and gave me a set of plates for my 30th birthday, so they're extra special to me. The white stoneware candle created by London-based designers Austin Moro and Eliza Dabron is another favourite – the  idea is you can use the container afterwards as a vase and I adore the shape. It makes me think of Constance Spry. 
My sister-in-law Matilda gave me one of her jugs a few years ago and I've since amassed the whole collection in every size. They make the best gifts, too. We were given two Marie D'age large coffee cups and saucers as a wedding present and they are still some of my most treasured possessions. They are so chic and make me feel like such a grown up when I use them. They come out for special guests only!
Textiles
I'm always on the lookout for vintage ticking mattress covers and I've just turned a gorgeous faded green one into a headboard. Ebay is a great place to hunt for these and Beyond France.  
Robert Kime also has some of the most incredible vintage treasures. Tory Burch's Nara collaboration with him has been top of my wish list since it came out last year. I love the faded romance of it. For non-vintage finds, I'm drawn to colourful, artisanal, often block-print designs, and some of my favourites are Penny Morrison, Molly Mahon, Peter Dunham, Lisa Fine, and Carolina Irving.
Lighting
I have a little bit of a lampshade obsession. I love the ones made using old Indian saris; Shenouk is a newish discovery – they have beautiful table linens, too, and a brilliant lampshade range.
We inherited some incredible huge driftwood lamps that came from Andrew Martin. They're total show-stoppers and have always been the focal point of any room. Matilda Goad's scallop shades are divine and we have lots of these around the house – I love the plain natural raffia ones most.
Finally, stripes are always a favourite and my red and white OKA lampshades make me incredibly happy. 
Art
My parents are really into Modern British painters and taught me a lot growing up. I love discovering new artists and giving art as a gift. My mother, Kate Corbett Winder, is the most incredible painter and just had a show with Long & Ryle in London. She's given me paintings every year for my birthday, so now we have the most wonderful collection. For framing, I love Etalage.
Glassware
Nina Campbell is always a go-to for glassware. I love giving table glasses as presents and she's always top of my list. I've got some beautiful Murano-style multicoloured ones from her that only come out for special occasions. She also does some hand-painted feathered ones that are high up on my wish list. 
The Vintage List sells more classic, plain glass with little starry details. I called some in for a shoot and then had to buy them – they're so elegant and delicate, a real contrast to all my other colourful glass.
I also love the handmade vases which I designed and sell on my website. They're small bud vases in gorgeous gem-like colours with hand-painted rims. I've got the whole collection. Right now, they're filled with sweet peas and dotted down the kitchen table.
  
Visit WillowCrossley.com
DISCLAIMER: We endeavour to always credit the correct original source of every image we use. If you think a credit may be incorrect, please contact us at info@sheerluxe.com.