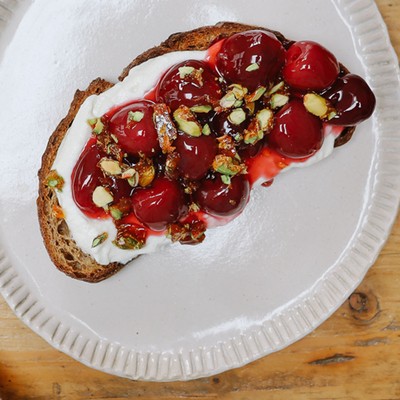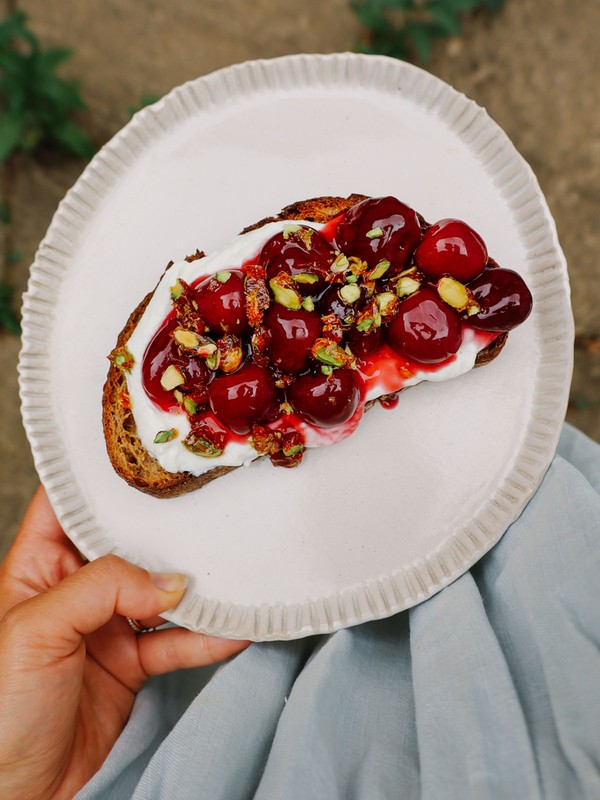 What's On My Table – With Alexandra Dudley

Alexandra Dudley is a food columnist, cookbook author and host of the Come For Supper podcast. In this column, she takes us inside her east London kitchen to show us what she's cooking and the tools she's loving and this month, it's her favourite weekend breakfast – plus, three of her top homeware hits and a must-try restaurant.

By Alexandra Dudley
I love the ritual of a weekend breakfast. For me, these are the breakfasts where I take the time to set the table properly, bring out my best plates, and spend a bit more time preparing what we eat. Last summer I became preoccupied with jazzing up my toast and during the weekend we'd often have two varieties. This one was a firm favourite and is something I've been making a lot recently. I usually make it for my husband and enjoy leftovers over the next week, but it works really well if you have people over for brunch. I add amaretto to the cherries which gives them a delicious almondy note. If you don't have a bottle of amaretto, I encourage you to invest in one. It works beautifully with fruit and/or cream and I guarantee you'll make use of it over the summer months.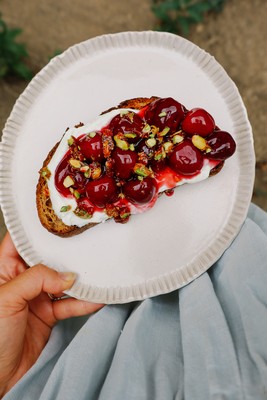 Cherry Ricotta Toast With Pistachio Praline
Ingredients
For the praline:

50g

of shelled pistachios
Method
Step 1
Pit the cherries. Use a reusable straw (as I did) if you don't have a cherry pitter, or halve them and pull out the pip.
Step 2
Add the cherries, water, lemon juice, caster sugar and amaretto to a saucepan. Bring to a simmer. Cook for about 10-15 minutes stirring occasionally.
Step 3
Once the cherries begin to release their juices (after about 5 minutes) spoon out 2-3 teaspoons of the juice and mix it with the corn flour in a small bowl. Add this back to the cherries and continue to stir. Cook until the mixture has begun to thicken slightly.
Step 4
Remove from the heat and allow to cool. The sauce will thicken as it cools.
Step 5
For the praline, line a baking tray with an oiled sheet of baking parchment to stop the praline from sticking (any oil is fine). You can also use a silicone baking sheet (no need to oil). Have an oiled spatula nearby too.
Step 6
Place the sugar in an even layer in a saucepan. Cook over a medium heat until the sugar melts and becomes a honey golden colour. Do not stir it (as tempting as it is). Let the sugar do its thing. If it's browning more on one side, you can give it a little swirl.
Step 7
Once you have a clear golden caramel, stir in the pistachios and pour onto the parchment. Use the spatula to flatten. Allow to cool until hard then roughly chop.
Step 8
When ready to serve, whisk the ricotta with lemon juice. Spread it onto toast, top with cherries and sprinkle over the praline.
Ric-Rac Napkins, £11.95 | CocoLulu
I have a thing for napkins and love the playful squiggle of these. Each one is hand crafted in the UK from French flax linen and finished with a contrasting cotton ric-rac trim. The green-pink is my favourite but they come in other colourways.
---
Strawberry Napkin Rings, £45 | Sharland England
Handwoven from grape iraca palm, I love the playfulness of these napkin rings. I love the nod to British strawberry season too.
Visit Sharland-England.com
Splatter Bowl, £75 | Sharland England
As well as being the idea sized bowl for big sharing summer salads or pasta dishes, this is the sort of bowl that doubles-up beautifully as a table centrepiece. Fill it with lemons or tomatoes and it instantly draws the eye.
Visit Sharland-England.com
---
Sunday Lunch at Towpath Café
There is a rare magic to Towpath Café, the restaurant-bar-café that sits on Regent's Canal between Shoreditch and Islington's De Beauvoir Town. It feels somehow like a hybrid between a really good restaurant and the garden of that friend who makes the best home-cooked food. There are no starched white tablecloths, the wine is served in Duralex tumblers and the menu is handwritten daily on a large blackboard that leans against the wall. A Sunday lunch at Towpath might consist of creamy taramasalata with bright pink radishes and olive oil splashed toast, chickpeas with chard, and braised chicken with squashed garlicy tomatoes and aioli. It is the sort of food you didn't know you wanted until you eat it. The kind that demands extra bread to mop up the juices and has you searching the underside of your knife with the hope of finding a swoosh of sauce you may have missed. I'm lucky to have lived about a ten-minute walk from Towpath for the last eight years and every time I visit, I think about how grateful I am for good ingredients, good food and the people who cook it. The joy of Towpath is a not-so-secret-secret these days. They don't take bookings and you will have to queue. But the wait is worth it.
Visit TowpathLondon.com
Read More From Alexandra Dudley
DISCLAIMER: We endeavour to always credit the correct original source of every image we use. If you think a credit may be incorrect, please contact us at info@sheerluxe.com.