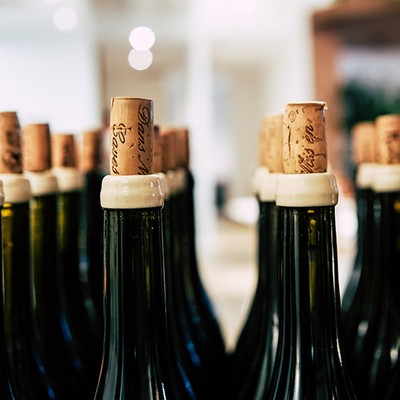 10 Supermarket Wines Under £20

Lawyer-turned-wine connoisseur Charlotte Kristensen, aka @TheLondonWineGirl, has travelled to some of the world's finest wine regions to taste some of their best vintages. Thankfully, several of her favourites can be found in your local supermarket – many for less than £20 a time. She told us what her top picks are right now…

Palacio de Fefiñanes Albariño (Rías Baixas, Spain), £15.99
This Albariño has intense, zesty flavours of lemon, apricot and peach, coupled with a lovely saline and mineral finish which is reminiscent of the sea. The high acid makes it an energetic wine that is both refreshing and complex – a great alternative for Chablis lovers.  
Pair It With: This pairs brilliantly with fatty foods by cutting right through them. Enjoy it with indulgent treats like croquettas, crispy squid or battered fish and chips.
Available at Waitrose
Lyme Bay Shoreline (Devon, UK), £13.99
This wine is made from a blend of Bacchus, Pinot Blanc and Seyval Blanc, three grapes that do well in the cooler UK climate. If you like Sauvignon Blanc, this is definitely one to try. Expect lots of zingy lemon and lime flavours with floral nuances, a hint of cut grass and a mineral finish. This wine evokes an English country garden by the sea – it really does take you to the coast of Devon. Deliciously aromatic, crisp and fun.
Pair It With: This simply cries out for a platter of fresh seafood with a squeeze of lemon. Think crab, lobster, prawns, oysters and mussels.
Available at Aldi
Ken Forrester All Weather Chenin (Coastal Region, South Africa), £8.50
This is a perfect, easy-drinking style of Chenin Blanc with light flavours of apple, yellow pear, lemon and grapefruit. This wine is ideal as an aperitif as it's really fresh and fruity – just what you want from your first drink of the evening. It is also made by one of South Africa's top producers.
Pair It With: Light conversation and a crudités platter.
Available at Sainsbury's
Catena Chardonnay (Mendoza, Argentina), £9.99
This is a voluptuous, buttery Chardonnay, with rich fruit flavours of ripe peach and pineapple with toasty, vanilla notes from oak. This wine is very generous on the palate; it's a full-bodied style that is a real hug in a glass. If you like white Burgundy, this is a superb alternative at a great price point. 
Pair It With: Oaked Chardonnays pair so well with roasted poultry. I love the richness and buttery style of this wine with a crispy roast chicken with all the trimmings.
Available at Waitrose
Tre Fiori Greco di Tufo (Campania, Italy), £10.99
Greco is a top Italian grape variety grown in vineyards around the volcanic hills of Campania. This wine has fresh flavours of pear, apricot and honeysuckle with a hint of almonds, a touch of dried herbs and a mineral finish. It's sunshine in a glass – and transports you straight to southern Italy. 
Pair It With: This wine has a great balance of fruit flavours and a mineral quality, so it works well with fish, poultry and vegetable dishes. I would recommend it with Italian-inspired dishes such as mushroom risotto or creamy seafood linguine.
Available at Waitrose
Miraval Côtes De Provence Rosé (Provence, France), £16
This Provençal rosé is packed with crisp flavours of raspberries and white peach, with a pretty floral finish. It's incredibly versatile wine thanks to a great balance of red fruity flavours and refreshing acidity. I also love the iconic Miraval bottle – classic, elegant and sophisticated.
Pair It With: In winter, enjoy it with charcuterie boards, winter vegetable salads or risottos. In summer, it's great for lazy BBQs and balmy evenings.
Available at Sainsbury's
Chapel Down English Rosé (Kent, UK), £9.74
Reminiscent of a fresh bowl of summer berries and cream, this is a lovely, dry, easy-drinking and refreshing rosé from one of England's most prestigious producers, Chapel Down.
Pair It With: Rosé wines pair really well with tomato-based dishes as they are both fruity with crisp acidity. Pair this one with pizza, penne arrabbiata or bruschetta with freshly chopped heritage tomatoes.
Available at Waitrose
Château Brown Pessac Léognan (Bordeaux, France), £20
This is a classic Bordeaux blend of Cabernet Sauvignon, Merlot and Petit Verdot, giving generous flavours of blackberry, cassis and plum with delicious chocolate, clove and earthy notes from maturation in oak barrels. The tannins are high, but they are really silky, and there's a beautiful balance of dark fruit flavours with a toasty, spiced richness from oak ageing.
Pair It With: This wine deserves food with some weight and intensity. Steak and other red meats are a classic pairing with red Bordeaux wines. For vegetarians, I would recommend mushroom dishes which complement the wine's earthy undertones.
Available at Tesco
Crozes Hermitage Cave De Tain (Northern Rhone, France), £10
This wine is made from the Syrah grape and has flavours of purple plum and blackberry with nuances of smoke, clove and liquorice. Wines from the Northern Rhone can be very expensive and often require bottle ageing to soften before drinking, but this one has been made in an approachable style with lots of fruity flavours, supple tannins and balanced acid, giving it a sumptuous but fresh finish. 
Pair It With: I love Syrah with gamey meats like duck, or with gently spiced dishes like a Moroccan tagine. Both dishes bring out the similar smokey and spiced notes in the Syrah.
Available at Sainsbury's
Nicolas Feuillatte Brut Champagne (Champagne, France), £18
A lively, enjoyable Champagne with flavours of white peach, fresh pastries and a delicious creamy mousse. This brut-style champagne is so accessible and enjoyable. There's a lovely balance of fruit, fresh acidity and that characteristic creamy Champagne finish. 
Pair It With: Light and refreshing, it can be enjoyed on any occasion and at any time of the day. My top choices would be for brunch, with canapés, or paired with lighter dishes like fish and salad.
Available at Asda
DISCLAIMER: We endeavour to always credit the correct original source of every image we use. If you think a credit may be incorrect, please contact us at info@sheerluxe.com.