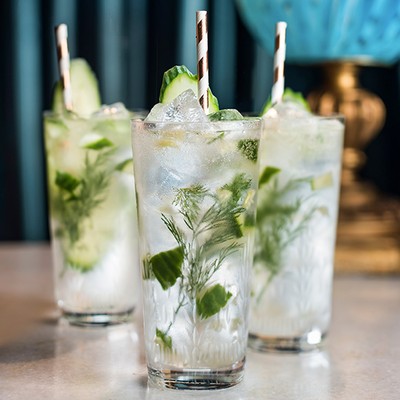 8 Cocktails To Make At Home

Just because you're stuck at home doesn't mean you can't celebrate the weekend in style. Whether you're on the hunt for a new spirit to add to your cocktail-making repertoire or just want to make the most of the bottles you've got stashed away, these recipes offer something for everyone.

1. Elyx Martini
"The martini is the undisputed king of cocktails. It only has two ingredients, yet by changing up the garnishes and ratios there's a million different combinations to play with. Just make sure you use plenty of large, clear ice (easily made in tupperware in your freezer). Stir for a minute or so to make sure it's freezing cold, add fresh lemon zest over the top, and of course, use only the very best vodka." – Gareth Evans, global brand ambassador for Absolut Elyx.
INGREDIENTS
5 parts Absolut Elyx vodka

1 part Lillet Blanc 

Lemon zest, to garnish
METHOD
Combine all ingredients in a mixing glass and stir over cubed ice. 

Strain into a chilled cocktail coupe and garnish.
 
2. Due Diligence
"This is a super fresh, simple spring highball, using easy-to-find ingredients. Most supermarkets are still selling growing dill, which is a great thing to have on your windowsill. This drink is further simplified by the fact it's built in the glass: no shakers required." – Gareth Evans.
INGREDIENTS
2 parts Absolut Elyx vodka

1 part Elderflower liqueur 

1 part lemon juice 

1 pinch of dill 

2 parts tonic water

Cucumber slices, to garnish
METHOD
Muddle the cucumber in a highball glass and swizzle with crushed ice.

Add the tonic water, top with ice and garnish with cucumber slices.
 
3. Swedish Riviera
"Perhaps this one sounds a little more complicated, but most supermarkets and corner shops sell coconut water nowadays, and it's fine to swap out the prosecco with whatever sparkling wine you can get your hands on. Ideally served in a beautiful copper balloon, this is just as tasty in a large wine glass, as long as you use plenty of good ice." – Gareth Evans.
INGREDIENTS
3 parts Absolut Elyx vodka

3 parts coconut water 

1 part lemon 

1 part honey 

3 parts prosecco 

A cinnamon stick and orange slices to garnish
METHOD
Build the ingredients in a balloon cup or large wine glass over cubed ice.

Top with prosecco and stir gently to combine. 

Garnish with cinnamon and orange slices.
 
4. Golden Kavka
"This is a fun upgrade on a pre-dinner glass of wine. A tasty, zesty drink that people should already have the ingredients for at home, you can use a jam jar if you haven't got a shaker. To make the sugar syrup, dissolve 200g of caster sugar into 240ml of water on the hob on a low heat, stir until dissolved, then cool." – Karol Terejlis, bar manager at Baltic and Ognisko.
INGREDIENTS
50ml of Kavka vodka

30ml of Cointreau (or any orange liqueur)

15ml of fresh lemon juice

10ml of sugar syrup

2 tsp of orange marmalade

5ml of Campari

Orange or lemon peel, to garnish
METHOD
Pour all the ingredients into an ice-filled shaker or jam jar. 

Shake vigorously and pour into a wine glass.
5. Cloudy Lemon G&T
"Making tasty drinks at home needn't be daunting – this one is almost as easy as popping a wine cork. Gin is essentially a cocktail in itself – the 14 botanicals in LoneWolf Cloudy Lemon create a flavour profile that goes from sweet to citrus, aromatic and then spice. It all comes together to give you a shortcut to an amazing tasting springtime drink." – Jono Mayes, spirits specialist at Brewdog.
INGREDIENTS
50ml of LoneWolf Cloudy Lemon

Premium tonic water

Lemon wedge, to garnish
METHOD
Pour the ingredients over ice and garnish with a lemon wedge.
6. Moscow Mule
"This is a fiery number that's ultra-easy to whip up. The vodka is a single malt, meaning it's crisp, clean and cuts through the ginger beer. Great to have before any spicy meal to get those taste buds tingling." – Jono Mayes
INGREDIENTS
50ml of Rogue Wave vodka

Premium ginger beer

A lime wedge and sprig of mint, to garnish
METHOD
Pour the ingredients over ice and garnish with a lime wedge and sprig of mint.
 
7. Vivace Vivace (Non-Alcoholic)
"Drinking alcohol everyday is tempting at this unsettling time, but it can affect your body and mind in the long term. This non-alcoholic drink has all the flavour and celebratory elements of a cocktail without the inclusion of strong alcohol. It brings tropical notes to aperitivo with the refreshing and fruity notes of Martini's non-alcoholic aperitif Vibrante. So delicious and perfect to make at home." – Camille Vidal, founder and CEO of La Maison Wellness.
INGREDIENTS
50ml of non-alcoholic aperitif Martini Vibrante

50ml of pink grapefruit juice

1 passion fruit, halved

Ginger beer
METHOD
1.  Put the Martini Vibrante, pink grapefruit juice and half a passion fruit into a highball and stir. 
Top up with ice and add ginger beer.

Garnish with the other half of passion fruit.
 
8. Semiotic Martini
"The 'Semiotic Martini' we make at Savage Garden is a perfectly puzzling mixture of vodka, grapefruit and pineapple. It's well-balanced, tastes amazing, looks incredible and easy to make at home." – Kristian Smith, head bartender at Savage Garden.
INGREDIENTS
25ml of Crystal Head vodka

20ml of walnut vermouth (normal vermouth will work too)

15ml of Pampelle

5ml of Seedlip Grove

5ml of pineapple juice

Champagne
METHOD
Put all the ingredients, minus the champagne, into a mixing glass.

Stir and strain into a glass.

Top with champagne.
DISCLAIMER: We endeavour to always credit the correct original source of every image we use. If you think a credit may be incorrect, please contact us at info@sheerluxe.com.