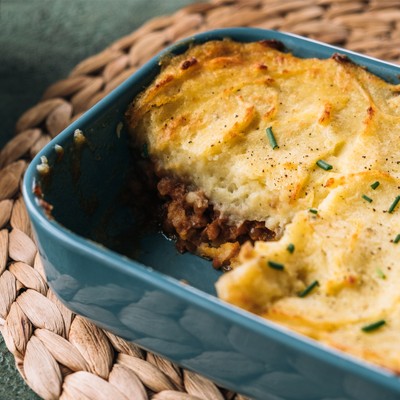 10 Family Recipes To Try This Week

If you're in need of fresh inspiration for family meals now the children are back at home full-time, here are ten vegetable-packed simple suppers – from a healthy sausage traybake to a veggie lasagne – that will please everyone.

Aubergine Pizza: Little Cooks Co
Ingredients
Handful of spinach or basil
Punnet of cherry tomatoes
Optional toppings: sweetcorn, pepper, ham, pesto, etc
Method
Step 1
Preheat the oven to 170°C Fan.
Step 2
Carefully slice your aubergine into 5mm thick slices and coat in a little olive oil (use your hands or a pastry brush to do this and make sure both sides of the slices are covered in oil).
Step 3
Place on a baking tray lined with parchment paper and pop in the oven for 15-20 minutes to soften.
Step 4
While they are cooking prepare your toppings. Tear/chop the spinach leaves into small pieces, slice the cherry tomatoes, grate the cheese and prepare any other toppings you fancy.
Step 5
Once the aubergine slices have softened allow them to cool a little before handling.
Step 6
Spread 1 tbsp of passata over each one, layer spinach/basil over the top, then grated cheese and finally the cherry tomatoes.
Step 7
Pop back in the oven and bake for another 10 minutes until the cheese has totally melted.
Step 8
Allow to cool before eating – cherry tomatoes are very hot straight out of the oven!
Turkey Meatball Traybake, Tesco
Ingredients
1kg

of baby potatoes, halved (or quartered if large)
4

garlic cloves, left whole and lightly crushed
2

red onions, cut into wedges
336g

pack of turkey meatballs
75g

of pitted green olives
150g

of low-fat natural yogurt
¼

cucumber, coarsely grated, excess liquid squeezed out
5g

of fresh basil, leaves picked
Method
Step 1
Preheat the oven to 220°C/200°C Fan. Put the potatoes and garlic in a large, deep baking tray, drizzle with ½ tbsp oil and season. Roast for 20 minutes.
Step 2
Add the onions, pepper and meatballs to the tray, drizzle with the remaining oil and season with pepper. Return to the oven for 10 minutes, then stir in the tomatoes and olives. Roast for 10 minutes more.
Step 3
Meanwhile, mix the yogurt and cucumber in a bowl and lightly season. Serve the meatballs and veg with the basil leaves torn over and the cucumber yogurt spooned over.
Florentine Pizza: Discover Great Veg
Ingredients
500g

pack of ciabatta bread mix
3

tomatoes, thinly sliced
200g

of grated cheddar and mozzarella cheese, mixed
Method
Step 1
Mix the bread mix with 280-300ml warm water to form a soft dough. Using a food mixer with a dough hook, knead for 8 minutes (or knead by hand for 10 minutes). Place in an oiled bowl, cover and leave in a warm place for 30 minutes until doubled in size.
Step 2
Preheat the oven to 200°C/gas mark 6.
Step 3
Knock back the dough and divide into two. Roll each out into a rough 28cm circle and place each on a greased baking tray. Spread with the passata and top with tomatoes. Sprinkle over the cheese.
Step 4
Place the spinach in a large bowl, cover with clingfilm and microwave for 2 minutes, squeeze out the excess liquid and scatter over the pizzas.
Step 5
Make a slight well in the centre and crack an egg into the centre. Bake for 15-20 minutes until golden.
Ingredients
500g

of sweet potatoes, cut into

1cm

slices
9

sheets of fresh lasagne
300g

of low-fat cottage cheese
125g

of low-fat mozzarella, grated
Method
Step 1
Preheat the oven to 200°C/gas mark 6.
Step 2
Cook the potatoes in a large saucepan of boiling water for 4-5 minutes, add the kale and cook for a further 3 minutes. Drain.
Step 3
Meanwhile, heat the oil in a frying pan and fry the onion for 2-3 minutes, stir in the tomatoes, stock, nutmeg, potatoes and kale. Bring to the boil and season.
Step 4
Spread a thin layer of kale mixture on the base of a shallow 2 litre dish, top with 3 lasagne sheets, spread over half of the remaining kale. Top with another 3 sheets lasagne. Spread over the remaining kale and then the last 3 lasagne sheets.
Step 5
Mix the egg and cottage cheese together and season, spread over the lasagne and sprinkle with cheese. Bake for 30 minutes until golden and cooked throughout.
Kid-Friendly Hidden Veg Pasta Sauce: Nourishing Amy
Ingredients
1

white onion, small dice
1

tsp

of dried mixed herbs
1

large carrot, peeled and chopped small
1

red pepper, chopped small
1

courgette, chopped small
1

small sweet potato, peeled and chopped small
400g

of tinned tomatoes (or

400g

fresh tomatoes, chopped)
100g

of Real Good Ketchup
300ml

of veggie stock (no or low-sodium, or use water)
5

tbsp

of unsweetened yoghurt, optional
Method
Step 1
Heat the olive oil in a large pan and add the onion and garlic. Fry for 5 minutes until softening.
Step 2
Add in the mixed herbs, carrot, pepper, courgette and sweet potato and fry for another 10 minutes until the vegetables are tender. Now pour in the tinned tomatoes, ketchup and stock/water.
Step 3
Simmer with a lid on for 25 minutes until really soft and then allow to cool slightly before blending to a smooth sauce. You can now choose to blend in the yoghurt, or you can serve on top of the sauce to stir in as you eat.
Step 4
Cook the pasta and serve through some of the sauce and the yoghurt, if using.
Step 5
Store the sauce in a sealed container for up to 5 days or in the freezer for a few months.
Sticky California Walnut & Marmalade Sausage Traybake: California Walnuts
Ingredients
500g

of baby new potatoes, halved if large
1

red pepper, cut into chunks
1

red onion, cut into wedges
1

large carrot, thickly sliced
454g

pack of pork sausages
Method
Step 1
Preheat the oven to 200°C/gas mark 6.
Step 2
Place the potatoes, pepper, onion and carrot in a large roasting tin and toss in the oil, season well.
Step 3
Twist each sausage in the middle and cut to make 16 small sausages, place in a bowl with the marmalade and walnuts and toss together, scatter over the roasting tin and bake for 40 minutes until the sausages are golden and cooked through.
Step 4
Sprinkle with basil leaves to serve.
Frying Pan Pizza: Easy Peasy Baking
Ingredients
200g

of strong bread flour
½

tsp

of dried mixed herbs
1

ball of fresh mozzarella, drained and torn into pieces
Fresh basil leaves (optional)
Vegetable toppings of choice
Method
Step 1
Place the frying pan, skillet or roasting tin in the oven and preheat to 200°C.
Step 2
n the measuring jug, combine the warm water and yeast.
Step 3
Weigh the flour, sugar and salt into the mixing bowl and thoroughly mix before pouring in the yeast and water.
Step 4
Bring the dough together with your hands and then, on a floured surface, knead for a few minutes before returning to the mixing bowl. Leave in a warm place for 10 minutes to prove.
Step 5
Lightly flour your surface. Once the dough has proved, turn it out onto the floured surface and roll into a circle the size of your frying pan or skillet, or shape into a circle that will sit nicely in your roasting tin. Use oven gloves to remove the pan, skillet or tin from the oven and transfer the dough into it.
Step 6
Being careful of the hot pan, skillet or tin, spoon the passata on the dough, sprinkle on the dried herbs, vegetables and torn mozzarella.
Step 7
Use oven gloves to return the pan or tin to the oven. Bake for 10-15 minutes and top with fresh basil leaves before serving.
Show-Stopping Shepherd's Pie: Idahoan
Ingredients
2

carrots, peeled and chopped
2

stalks of rosemary, leaves picked and chopped
4

tinned anchovy fillets, chopped (optional)
1

tbsp

of Worcestershire sauce
150g

of frozen garden peas
2

x

109g

packets of Idahoan Classic Perfect Mash
Method
Step 1
Heat the oil in a large saucepan and cook the onion and carrots over a medium heat for 10 minutes, adding the garlic for the last couple of minutes. Stir in the rosemary and anchovies, and cook for a further 5 minutes. Add the mince and stir until cooked, then add in the tomato puree and stock. Bring to a gentle simmer, add the Worcestershire sauce and cook for 20 minutes until thickened. Stir in the peas and spoon into a 1.25 litre ovenproof dish.
Step 2
Preheat the oven to 200°C/180°C Fan/Gas Mark 6. Meanwhile, prepare mash to packet instructions. Spoon the mash over the top of the mince, place on a baking tray and cook for 30 minutes.
Veggie Lasagne: Gemma Ogston of Gem's Wholesome Kitchen X Gosh! Food
Ingredients
1

packet of veggie sausages
1

tin of chopped tomatoes
1

packet of dried lasagne sheets
For the bechamel sauce:

50g

of margarine/butter/coconut oil
Method
Step 1
Pan-fry the onion and garlic in a glug of olive oil on a low heat until soft. Break up the sausages and add to the pan before frying for 5 minutes.
Step 2
Add the tin of chopped tomatoes, veggie stock and herbs and cook for a further 5 minutes on a low heat.
Step 3
To make the bechamel sauce, using a separate pan melt the butter/coconut oil and add the flour. Stir to make into a roux and slowly add the milk. Season with salt and pepper to taste and whisk until thick and creamy.
Step 4
Using a deep oven dish, make layers using the lasagne sheets, sausage mix and bechamel sauce. Top with grated cheese and some breadcrumbs if you fancy. Cook in the oven at 180​°​C (160​°​C Fan) for 45 minutes on the middle shelf.
Step 5
Drizzle with some green pesto if you fancy and serve with a crisp green salad.
Chicken, Bacon & Pea Penne With Maple: Maple From Canada
Ingredients
600g

of chicken breast, cut into chunks
8

rashers of smoked bacon, diced
1

red onion, finely sliced
400g

of baby spinach, washed
150g

of peas (frozen or tinned garden peas)
Handful of cherry tomatoes, halved
For the maple dressing:

1

tbsp

of maple vinegar, or cider vinegar
1

tbsp

of pure maple syrup (preferably golden colour for its delicate flavour)
½

lemon, juiced and zested
Method
Step 1
Bring a medium-sized pan of water to boil and season with salt.
Step 2
In a separate pan, fry the chicken until the juices run clear. Then add the bacon and red onion and continue to cook for a further 5 minutes.
Step 3
Add the cherry tomatoes and peas and stir together.
Step 4
Cook the penne pasta in boiling water for 9-11 minutes. Drain and add the pasta to the chicken.
Step 5
Remove from heat and add spinach to wilt. Season with salt and pepper.
Step 6
To make the dressing, combine the olive oil, maple vinegar, maple syrup and lemon juice in a bowl and pour over pasta.
Step 7
Top with zested lemon and grated parmesan and serve.
DISCLAIMER: We endeavour to always credit the correct original source of every image we use. If you think a credit may be incorrect, please contact us at info@sheerluxe.com.