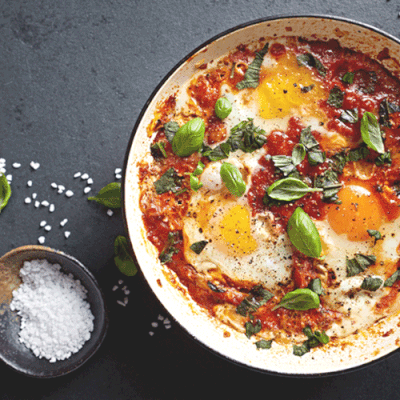 Simple Is Best: Five-ingredient Midweekers

A fuss-free midweek dinner is the key for many of us. Well look no further because these simple recipes require no more than 5 ingredients. And remember, don't confuse simple with tasteless: these carefully-paired combinations transform these dishes from basic to brilliant.

1. Feta stuffed peppers 
The key five: Peppers, feta, olives, tomatoes, rice
Rice can be gnarly, each grain-type requires different cooking techniques. For white rice, the trick is to rinse thoroughly. Once the water runs clear, you can put in the pan and simmer. For this recipe, feel free to swap rice with bulgur wheat, orzo, couscous or freekeh, the latter imparts a smoky nuance. 
Cut a small hole in 3 peppers and remove their guts, scooping out the insides. Brush with oil, season and roast. Once the rice is cooked, mix with finely-chopped feta, olives and tomatoes. Season with salt and black pepper. Taste and check you are happy or it's at this point you can layer with further elements. Get herbalicious with chives, dill, fennel, basil etc. Pine nuts could top it off.
Stuff the peppers with the mix. Place back in the oven, bake for 5-10 minutes. 
2. Shakshuka
The key five: Eggs, tin of tomatoes, red pepper, onion, cumin
According to historians this legendary dish hails from the Yemen or Tunisia. Either way, it's having a moment in the sun here on breakfast menus. I'm not surprised. Not only is it packed with nutrients, it sates. If I have eggs on toast, I'm often hungry a few hours later - eat this and you won't be.
In a large frying pan, fry finely-chopped onion in a light olive or veg oil, add the cumin and toast gently on a low heat.  Throw in the chopped pepper. Should you wish to notch it up, consider herbs - coriander, thyme, bay, parsley fennel seeds are all merry partners. For spices, it's paprika, cayenne, cumin or even a pinch of turmeric.  Pour in the tomatoes and season with salt and pepper. Taste. You can whack in a pinch of sugar to make up for the lack of sweet juicy tomatoes you'd find in the Middle East. Cook gently until it's rich and cooked. If you need to add a little water or stock, do. 
When it's reduced and ready, make some dents and break in eggs (I do two per serving). Cover the pan until the eggs are cooked. On my hob, this takes about 10 minutes. Globally off-piste but delicious all the same, another option is to serve with avocado.
3. Green linguine
The key five: Broad beans, mint, parmesan, olive oil, linguine
Simmer the broad beans. Once cooked, drain and season. Now blitz the chopped mint, grated parmesan, broad beans (retain 1tbsp water), olive oil and garlic.
At the same time, cook the linguine in water until it's al dente.
Don't be too prescriptive, you can grate in lemon zest or fennel seeds as extras! Taste the broad bean paste to check you're happy with the seasoning. Smother into the pasta. 
4. One pan chicken and peanut butter
The key five: Chicken thighs, peanut butter, coconut milk, greens, basil
Whisk together your sauce: 1tbsp peanut butter, 440ml coconut milk, and if you've got some, 1tbsp fish sauce or soy for an umami kick. Chilli is a bonus too. Mix approx 4 chicken thighs into the sauce, then pop it all in a pan. Roast for approx 30mins at 180C - check it's cooked and ready before serving.  Toppings could be lime wedges, coriander, peanuts, chilli or spring onions. To expand, serve this alongside a vegetable stir fry.
5. Peas, rocket, bacon 
The key five: Peas, rocket, herbs, bacon or lardons, wild rice
Pour the peas into hot water on the hob. When they're cooked and drained, blitz them with rocket and herbs, drizzling in olive oil if you wish. Meanwhile, gently bubble some wild rice or basmati and fry the bacon or lardons until caramelised. Chop bacon. When all is complete and resting, stir through the pea puree and salty bacon explosions into the rice.
6. Breakneck mini crumble pie
The key four: Sweet plums, nectarines, double cream (or Greek yoghurt), amaretti biscuits
This is a no-fuss pud.  Halve the plums and quarter the nectarines. Muddle them with cream. If you yearn for sweetness, mingle the fruit with some raisins or a sprinkle of Demerara sugar. Divide and spoon into ramekins or bowls. There's an option to pour over a third layer of berries. For the fourth segment, crumble over crushed amaretti or digestive biscuits.
 
Chloe Scott-Moncrieff is a food columnist & co-founder of the Young British Foodie awards (the YBFs), celebrating new talent in food and drink. Follow her @chloescottmoncrieff
DISCLAIMER: We endeavour to always credit the correct original source of every image we use. If you think a credit may be incorrect, please contact us at info@sheerluxe.com.