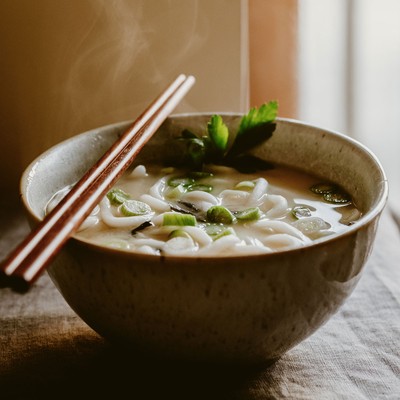 Healthy Soups To Make At Home

In the middle of winter, when all you want is warming sustenance, homemade soup is the ultimate soul-soother, says food writer and SL contributor Chloe Scott-Moncrieff. If you're keen to stick to your New Year's resolutions and try out some recipes which are on the healthier side, here are five to add to your repertoire now.

A Lentil Dahl Riff (Vegan, Gf)
Ingredients
200g

of red split lentils
2

carrots, chopped into

1cm

cubes
1

potato, chopped into

1cm

cubes
1in

piece of ginger, peeled
1

x

400ml

tin of coconut milk
Additional spices:

1

tsp

of chilli powder,

1

tsp

of medium curry powder,

½

tsp

of cumin (ground or seeds)
Method
Step 1
In a large pan, melt a little oil or butter. Sizzle the garlic and ginger with the spices for a minute, then throw in the vegetable pieces, lentils and pour in the coconut milk. Pour in the stock. Simmer. Taste and season with salt and pepper.
Step 2
When the lentils and veg are cooked and you've a thick consistency, serve with chutney and flat bread. If you're not going vegan, a blob of Greek yoghurt on top is perfect.
Non-traditional Miso Soup (Vegan)
Ingredients
20g

packet of seaweed flakes or

3

nori sheets (wakame seaweed is traditional but nori is readily available in supermarkets)
1in

piece of ginger peeled
1

root vegetable of your choice: a carrot, potato or onion
100g

of marinated tofu, sliced into

1cm

cubes
Method
Step 1
Bring the stock to a simmer in a soup pot on the hob. Drop in the chopped ginger, leek and the other root veg. Simmer for 5 minutes.
Step 2
Pour in the kale and seaweed bits – if you're using nori sheets, roughly shred them before adding and simmer.
Step 3
Add the cubed tofu for the final 5 minutes.
Step 4
To finish, mix in the miso paste, stirring well. Taste and season, if needed. Serve immediately.

Ingredients
1

butternut squash, peeled and cubed into

2cm

chunks
2

garlic cloves, finely chopped
200

-300ml

of vegetable stock
1

handful of tarragon, finely chopped
1

x

400ml

tin of coconut milk
Small knob of butter or splash of olive oil
A bag of baby spinach (optional)
1

tsp

of cumin seeds (optional)
A pinch of cinnamon (optional)
One chopped chilli (optional)
Method
Step 1
In a large heavy pan, melt a small piece of butter, or a slug of oil so the vegetable can cook. Sizzle the onion and garlic briefly. Season with salt and pepper. Pour in the butternut squash chunks, stock and coconut milk. Simmer.
Step 2
To finish, blend the squash with a handful of tarragon and return to the pan.
Step 3
If you're including the baby spinach, this is the time to add it. Let it wilt while the soup warms on low heat on the stove for five minutes. Add a little sour cream if you want to. Taste and season with salt and black pepper. You can layer up with any of your optional spices.
Step 4
Serve. Scatter over the last of the tarragon to serve.
Five Ingredient Tomato Soup (V)
Ingredients
10

sun dried tomatoes, drained
2

x

400ml

tins of chopped tomatoes
Method
Step 1
In a pan, sauté the onion in a little olive oil. Pour in everything else. Season with salt. If the tomatoes are acidic, you can add a pinch of sugar. Grind in the pepper for some piquancy.
Step 2
Simmer for 5-10 minutes. Blitz in the blender. Taste to check seasoning. Serve immediately. If you wish, you can add a 1 tsp of cream swirled over each bowl and sprinkle over some chopped chives.

Bulgur, Mint & Yoghurt Soup (V)
Ingredients
350g

of plain yoghurt or low-fat Greek yoghurt, at room temperature
200g

of bulgur wheat or brown rice
1

egg, at room temperature
1

generous handful parsley, dill, chives, or fresh mint (optional)
A pinch of paprika (optional)
Method
Step 1
Simmer the bulgur wheat in some water, following the instructions on the back of the packet. Sieve when chewy and cooked.
Step 2
Meanwhile, in a large heavy based saucepan, sauté the onions on a low heat. Add the dried herbs.
Step 3
Whisk the egg and yoghurt together. Add to the pan with the sauteed onions. Add the flour on a very low heat. Now stir slowly, pouring in the stock, 100ml at a time, stirring gently.
Step 4
Simmer, scattering in the warm bulgur grains. Taste. Season.
Step 5
Serve with lots of fresh herbs sprinkled over. You can scatter a pinch of paprika or cayenne over the top, too.
DISCLAIMER: We endeavour to always credit the correct original source of every image we use. If you think a credit may be incorrect, please contact us at info@sheerluxe.com.