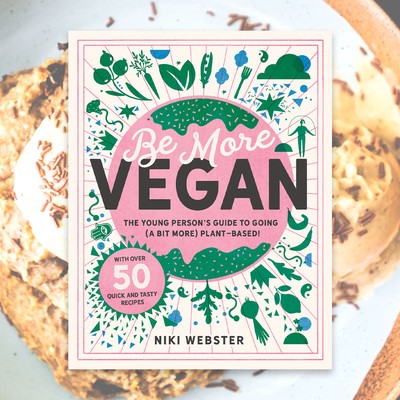 Tasty, Vegan Recipes To Try This Month

Adding a few vegan dishes to your cooking repertoire doesn't automatically equal a boring salad or something akin to a strange science experiment. Vegan cook and food blogger Niki Webster has travelled around the world to sample some of the best plant-based food out there, documenting it in her new cookbook, Be More Vegan. Here, she shares a few of her favourite recipes to try for Veganuary.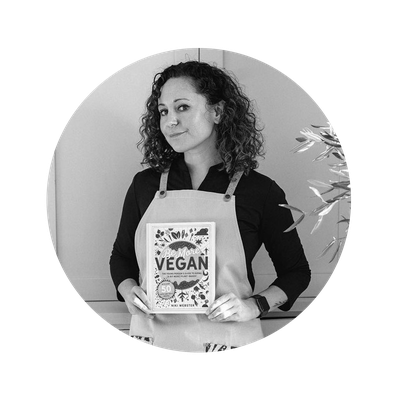 During lockdown, I've been making lots of comfort food. Easy and hearty one-pot dishes like soups, stews and curries have been my go-to. We all need a bit of comfort right now and a big bowl of something warming always does it for me.
My motivation for cooking has ranged from wanting to create elaborate meals to only wanting to eat beans on toast. Both are fine. Something I always make on a weekly basis is a big bowl of smokey lentil soup, usually eaten with sourdough dolloped with hummus.
Right now, my favourite ingredients to cook with are winter vegetables. Squash, parsnip and potatoes are some of the best staples you can have. I tend to roast everything as a base for multiple meals. Also, in my cupboard, you'll always find cooked pulses and beans – ones of the easiest ways to create a meal in minutes. 
There are a few basics that always go on my shopping list. Fresh fruit and vegetables, plant-based yogurts, cold coffee, fresh sourdough bread, and a good selection of beans and chickpeas are weekly staples. I also have to have oat milk and a selection of nut-based milk, too.  
If there's one thing I can't live without in the kitchen, it's my trusty Kenwood food processor. I use it multiple times a day and it has helped me create two of my cookbooks. For me, it's a total saviour.
Vegan dishes shouldn't be any more complicated to make than non-vegan food. But if you don't have much experience cooking plant-based meals, you can't go wrong with a one-pot dahl, curry, or stew. Unlike baking, you don't need to be as precise so it's pretty failsafe, and most of these types of dishes are naturally vegan so are bound to taste amazing. All of the recipes in Be More Vegan are specifically designed to be easy and accessible – my black bean and lentil bake with cheesy sweet potato mash is a good option for first timers. 
Some of my most memorable meals have been during my travels. Nothing beats the months I spent travelling around India. Every day brought an exciting opportunity to try new and delicious flavours and textures. Eating masala dosa in southern India is one of my most vivid memories and my all-time favourite breakfast. Indian flavours and spices have influenced my recipes hugely. I have two delicious Indian dishes in Be More Vegan – a pea curry and crispy chickpea bowl, and a quick chickpea and sweet potato curry. Also, Barcelona has some of the best vegan restaurants and cafés in the world. My go-to places are Green Spot and Flax and Kale.
After lockdown, I can't wait to eat out again. The hospitality sector is really suffering so I think it's important to support them when you can.
 
Inspired? Here are two of Niki's recipes to try at home…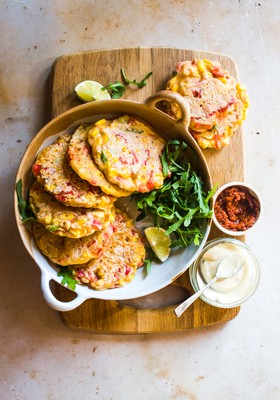 Sweetcorn Fritters With Smoky Red Pepper
Ingredients
For the red pepper dip:

170g

jar of roasted peppers in oil or brine, drained
For the sweetcorn fritters

1

tbsp

of nutritional yeast
250g

of sweetcorn, drained
Method
Step 1
To make the smoky red pepper dip: Drain and rinse the roast peppers. Add all the ingredients into a food processor or blender and blitz to a chunky paste.
Step 2
To make the fritters, add the flour, salt, pepper, garlic powder and nutritional yeast to a large bowl and stir to combine.
Step 3
Add in the water and mix to a smooth batter. Add in the veg and sweetcorn and stir well then set aside for 10 minutes.
Step 4
Add a little oil to the base of a non-stick frying pan and add a heaped tablespoon of the batter to the pan. Flatten a little so you get a pancake.
Step 5
Cook on a medium heat for 2 minutes until you can flip easily. Then flip and cook on the other side. Repeat the process with the rest of the batter.
Step 6
Serve the fritters with the pepper dip on top.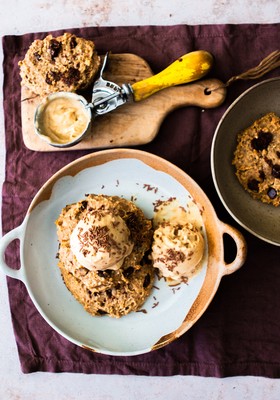 Giant Banana Bread Cookies & Peanut Butter Banana 'Nice Cream'
Ingredients
For the cookies:

1

tbsp

of vanilla essence
75g

of self-raising flour
50g

of vegan chocolate chips
For the 'nice cream':

3

tbsp

of peanut butter (smooth or chunky)
1

tsp

of vanilla syrup or essence
Method
Step 1
Heat the oven to 160°C/Fan 180°C/Gas 4. Mix all the dry ingredients in a large bowl.
Step 2
Melt the coconut oil in a saucepan on a low heat and pour into a separate bowl.
Step 3
Add in the bananas and mash up. Then add the maple syrup, vanilla essence and peanut butter – mix to combine everything.
Step 4
Add the wet ingredients to the dry and mix really well to combine. Stir in the chocolate chips.
Step 5
Line a large baking tray with baking paper, scoop the mix into balls and put them onto it and flatten the mix a bit with your hands.
Step 6
Bake for about 18 minutes until slightly brown on the outside. Allow to cool.

Step 7
To make the banana 'nice cream', the night before, peel, slice and add the bananas to a freezer bag or tub and freeze.
Step 8
Add the frozen bananas to a food processor or high-speed blender with the other ingredients and blend until smooth and creamy.
Step 9
Scoop out on top of the banana bread cookies.
DISCLAIMER: We endeavour to always credit the correct original source of every image we use. If you think a credit may be incorrect, please contact us at info@sheerluxe.com.