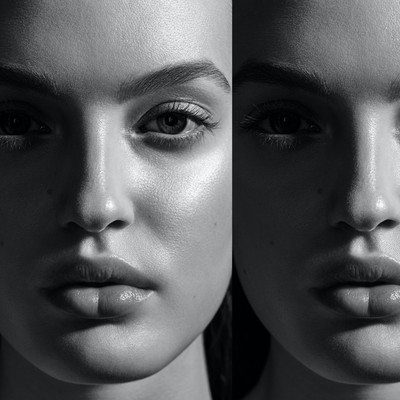 The Collagen Supplement For Fresh, Glowing Skin

The collagen market continues to expand at rapid pace, and we're here to separate the wheat from the chaff. An unrivalled formula made with smoothing collagen peptides, plumping hyaluronic acid, nourishing ceramides and antioxidants for all-round complexion support, Revive Active's Beauty Complex is one that gets our vote. Here's why, plus an exclusive 20% OFF for SheerLuxe readers…

Created in partnership with REVIVE ACTIVE
It Keeps Collagen Levels Topped Up
As the structural protein that gives skin its youthful bounce and firmness, collagen is a bit of a magic ingredient. However, levels start to deplete in our mid-20s, which can lead to fine lines and wrinkles as well as dryness and a lacklustre complexion. Unfortunately, ageing is only a part of that process, with lifestyle and environmental factors such as UV exposure, diet, pollution, smoking and alcohol all taking their toll too. To ensure skin, hair and nails are in peak condition, keeping collagen levels topped up is essential – although not all collagen is the same. As far as supplements go, our bodies can't actually absorb collagen in its whole form. When it's hydrolysed, it becomes more bio-available, meaning more of it reaches your bloodstream. Made with science-backed collagen peptides, Revive Active's Beauty Complex is proven to reach the skin and improve its elasticity and hydration. 
It's Backed By Dermatologists
In a sea of collagen supplements, it's no surprise one backed by doctors and dermatologists grabbed our attention. It's the collagen powder of choice for Dr Anita Sturnham, an internationally renowned doctor and GP specialising in dermatology and anti-ageing medicine. "I've tried so many collagen supplements over the years, but always come back to Revive Active's Beauty Complex. It ticks all the boxes and has outperformed every other supplement I've tried." In fact, Anita is such a fan of Beauty Complex that she offers a glass of the powered drink to each of her clients following one of her iconic facials. "Taking Beauty Complex within six hours of having a facial will really help kickstart skin repair from a cellular level," she adds.
Revive Active's Beauty Complex is proven to reach the skin and improve its ELASICITY and HYDRATION.

The Formula Is One-Of-A-Kind
As well as 7,000mg of collagen peptides (one of the highest concentrations on the market), each serving of Beauty Complex also contains seven additional ingredients proven to support the skin for a fresher complexion. "It also contains 100mg of phytoceramides and 100mg of hyaluronic acid, both of which will significantly improve skin hydration and radiance; biotin for hair growth, stronger nails and smoother skin; vitamins C and E, which are natural antioxidants; and selenium and copper. This unique combination will support the skin from the inside out for glowier, healthier and happier skin," says Anita.
The experts behind Revive Active say Beauty Complex is best taken for eight to nine weeks for the best results, but chances are you'll notice the benefits long before then. "The incredible thing about Beauty Complex is that whenever I take a break from using it, I can see the difference," says Anita. "When I start taking it again, my skin perks up quickly, even after just a few weeks." And according to thousands of five-star reviews, Anita isn't the only one who rates the formula's efficacy, with many claiming it revitalises dry, dull skin in a matter of weeks.
When I take it my skin PERKS UP quickly, even after just a few weeks.

Forget measuring scoops and endless capsules – Beauty Complex comes in individual sachets, making getting your daily dose fool-proof. Simply add the contents of one sachet to 300ml of water – you can also add it to your favourite smoothie or stir it through yoghurt. The powder formula eliminates the need for any fillers, binders or bulking agents, which can affect the absorption process, and, naturally flavoured with orange and pineapple, it's easy to drink, too.
As well as skin-supporting supplements, Revive Active's bestsellers also include Mastermind, a brain-boosting formula designed to support cognitive function and mental performance; Zest Active, which will support optimal immunity; and Meno Active, a unique blend of 31 active ingredients to support hormone activity, brain function and energy. There are even formulas for kids and teens, too, meaning everyone's covered.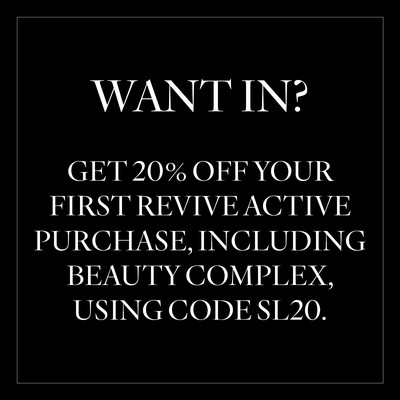 DISCLAIMER: Features published by SheerLuxe are not intended to treat, diagnose, cure or prevent any disease. Always seek the advice of your GP or another qualified healthcare provider for any questions you have regarding a medical condition, and before undertaking any diet, exercise or other health-related programme.
DISCLAIMER: We endeavour to always credit the correct original source of every image we use. If you think a credit may be incorrect, please contact us at info@sheerluxe.com.