How 9 Chefs Make Salads More Interesting

We all know a punchy dressing can take a salad up a notch, but tweaking your toppings can also add interest to a lunchtime staple or summer supper. From pickled radish and candied beetroot to grilled fruit and baked chilli feta, here's how nine chefs like to give taste and texture to a simple salad.

All products on this page have been selected by our editorial team, however we may make commission on some products.
Adria Wu, My Maple & Co
"It's all about the garnish: from chunky potatoes and chives to zest and ground black pepper, there's so much versatility in a simple salad. Barbecue some veg for some smokiness and beautiful charred texture in a salad. I like to substitute classic dressings with a nut or seed butter to add some protein and healthy fats. It works with pretty much any recipe. Use tahini bought from an Arabic or Middle Eastern shop (where you get much better value for money than at your local supermarket and it is really high quality) and combine it with miso, soy sauce and a little sesame oil to create an Asian-style dressing for fresh salads. Or mix cashew butter or walnut butter (or any kind of nut butter) with a little bit of water to thin it out, before packing it with fresh herbs to create a herby, creamy vegan dressing." 
Visit MyMapleAndCo.com
Darren Deadman, Searcys
"For a burst of extra flavour, pickling is a great way to add some punch – we love serving asparagus and beetroot salad with pickled radishes. Salads can also showcase a star ingredient by serving one thing multiple ways – we like to make candied and golden beetroot salad with ripped goats' cheese, topped with toasted pine nuts for added crunch. Finally, instead of adding hot meats, smoked tofu is a great vegan alternative. Pair it with green mango and papaya and you've got a great summer salad." 
Visit Searcys.co.uk
Mike Reid, Gaucho
"Pimp up your salads by adding some barbecued fruits to it. Always go for what's in season for the best flavour and price, but some of my favourites include peach, watermelon, mango, apple and pear. When cooking fruit, don't add any fat – let the fruit release its natural sugars which will caramelise it. Simply add them to a nice peppery salad, using watercress or rocket, and perhaps a little goats' cheese or burrata."
Visit GauchoRestaurants.co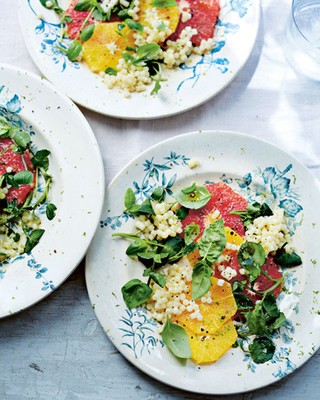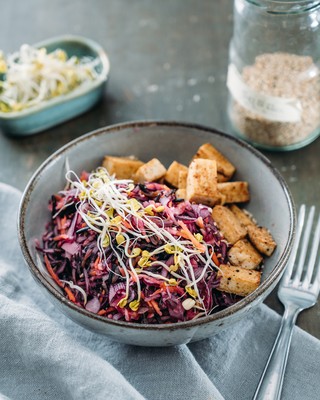 INA PETERS/STOCKSY UNITEDI
Yacine Amor, Artisan Olive Oil Company
"We love to use interesting ingredients to change the taste and texture of our daily salads.
Organic preserved lemons are typically used in North African stews and fish dishes. We like them even more in salads, as they add freshness and intensity to the flavours. They work especially well with carrot and nuts in our popular mackerel and fennel salad. We also love using artichoke leaves. Its tender texture and subtle taste make it a great addition to summer salads, especially when paired with toast or croutons." 
Visit ArtisanOliveOilCompany.co.uk
Henry Russell, Belazu
"Try topping your salad with balsamic pearls, roasted celeriac and baked feta. Heat an oven to 175ºC. Peel the skin from the celeriac, place the skin in a bowl and toss in vegetable oil and salt. Bake in the oven for 15 minutes until crisp, remove from the oven and set aside. Wrap the feta cheese in tinfoil, or place on a small baking tray, sprinkle with chilli flakes and place in the oven to soften. Dot balsamic pearls over your salad, followed by the crispy celeriac skin. Finally, remove the feta from the oven and use a spoon to crumble on top, then sprinkle with parsley."
Visit Belazu.com
Anna Jones, Miele
"I love topping salads with farro and green olives. Soak 200g of farro in cold water for 30 minutes. Meanwhile, preheat the oven to 180ºC. Roast some fennel, leeks, courgette and garlic on separate baking trays. Sprinkle over the coriander seeds and a good amount of salt and black pepper, then drizzle with olive oil. Roast until the vegetables are cooked through and crisp around the edges. Drain the soaked farro and add to a saucepan with 750ml cold water and ½ tsp of salt. Cover and bring to a boil over a medium heat, then lower the heat to a gentle simmer. Leave to simmer for about 12 minutes. Cook until tender. Drain the cooking water and set aside to cool. Coarsely chop 150g of green olives and put them in a bowl along with olive oil, almonds, chopped fresh chilli and lemon juice. Combine the roasted vegetables, farro, red chilli and olive mixture in a bowl and mix well. Taste and adjust the seasoning with salt, lemon juice or olive oil if needed."
Visit DerKern.Miele.co.uk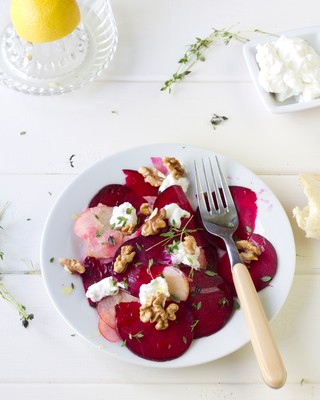 NOEMI HAUSER/STOCKSY UNITED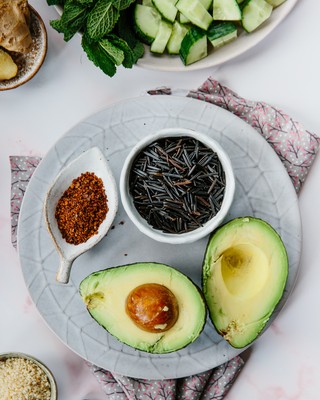 HELEN RUSHBROOK/STOCKSY UNITED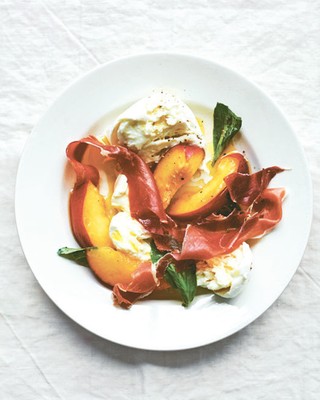 Alex Jackson, Sardine
"Although hardly a recipe, mozzarella, ham and peach salad is 'cooking' in its simplest form. The success of this dish hinges on the quality of the ingredients, so wait until the peaches are perfectly ripe and sweet. Buffalo mozzarella is preferable to Campania, but it's also nice with fresh ricotta. You can also substitute nectarines in place of the peaches. Tear the mozzarella with your hands into large pieces and scatter over a large plate or serving dish. Halve, stone and slice the peaches into thick slices. Dress the peaches lightly with a tiny splash of olive oil and just enough lemon juice to balance out the sweetness of the peaches. Season with salt and black pepper. Toss a handful of basil leaves gently and briefly with the dressed peaches, then arrange on the serving plate with the mozzarella. Drizzle the cheese with your best olive oil. Finally, drape the ham over the top."
Visit Waterstones.com
Katy Beskow, 15-Minute Vegan
"This fresh and fragrant salad makes the perfect garden lunch on a summer's day. Fregola is small, pea-shaped pasta, which cooks into soft little cushions. Bring a saucepan of water to the boil and tip in the fregola. Simmer over a medium heat for 10 minutes until al dente. In the meantime, add orange and grapefruit slices to a bowl, then sprinkle over lime zest. Mix in 2 handfuls of watercress and basil, and leave to infuse. Drain the water from the fregola and toss it into the orange salad. Squeeze over the juice of a lemon and drizzle with extra virgin olive oil, then stir to combine. Season with sea salt flakes and serve while the fregola is hot." 
Visit KatyBeskow.com
DISCLAIMER: We endeavour to always credit the correct original source of every image we use. If you think a credit may be incorrect, please contact us at info@sheerluxe.com.