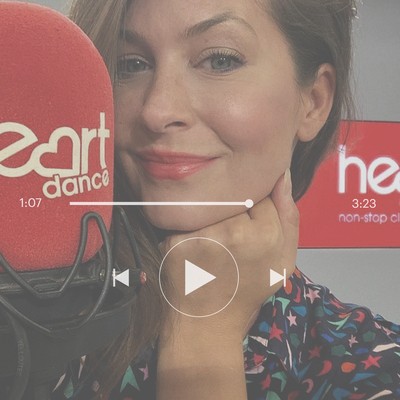 My Playlist… With Lucy Horobin

Looking for some new music inspiration? From the artists worth following on Spotify to the one tune that always gets her on the dancefloor, here Heart Dance FM DJ Lucy Horobin shares her favourites – as well as her top five playlists for easy listening.

My favourite genre of music is… probably pop and dance. Those are the genres I grew up with – I idolised Madonna and Kylie Minogue – and then when I was a teenager, I got more into dance music. My brother gave me a mix tape with Jeremy Healy and Allister Whitehead on there – two iconic old-school British DJs – which was amazing from start to finish. It was around the same time 'Where Loves Lives' by Alison Limerick came out and all the kind of piano-house tunes were really big. I was also into the old Ministry of Sound albums – the ones that came in leather-bound cases – I have to say I was an avid collector, until my brother mistakenly gave them to his friends.
 
The artist I'm currently playing on repeat is… Måneskin. Ever since they won Eurovision this year, I've been playing them non-stop. Their lead singer Damiano David has such star quality – I could easily see him becoming a mega-star. I love his style and how he performs. It's very easy to see him working with someone like Prince, if he was still alive.
 
If you're in the mood to party listen to… Heart Dance. I mean, that's a blatant plug, but think of it as your 24/7 party soundtrack. Simply turn it on and go, any time of day or night. You can listen via Global Player, Alexa, Sonos, your smart speaker, DAB radio or online – we're everywhere, you can't escape us.
 
My favourite old-school tunes include… Todd Terry's 'Something's Going On'. We play it on Heart Dance all the time. When we launched the station, [DJ] Toby Anstis and I had quite a lot of input into the music selection, and I said this song has to be on there. I first started clubbing when I was about 16 or 17, and Todd Terry was one artist the DJs played all the time. 'Keep On Jumpin' is another of his tracks that really reminds me of that time. I was blown away when I first heard it. Inner City's 'Your Love' – the Serial Diva Paris Is Burning Club Mix is about seven minutes long – is another great one. It makes me feel completely euphoric when I hear it.
 
My favourite album right now is… Britney's 'Blackout'. It's not new by any means, in fact I think she recorded it during a very difficult period around 2007 or 2008, but it's one of her best and it's perfectly mixed. Maybe I've gone back to it because the #FreeBritney movement has been all over the press, but it's given me such an appreciation for what she recorded during that time. It won a ton of awards, but people don't often remember it when they think of classic Britney Spears records – which is a shame. There are some real tunes on there, like 'Piece Of Me' and 'Gimme More'.
I first started clubbing when I was about 16 or 17, and Todd Terry's 'Keep On Jumpin' really reminds me of that time.

My favourite album of all time… depends on my mood. At this time of year – autumn and winter specifically – it's probably Bon Iver's 'For Emma, Forever Ago'. It's one of those albums you want to pop on when you're going for a long walk. I was going through a bit of a tough time about ten years ago and I did lots of long walks listening to this album. It really helped to keep me calm – it's lovely. ' Diamonds and Pearls' by Prince is another favourite. There are lots of classic Prince tunes on there, but I admit, it's quite hard to choose a top Prince album. Daft Punk's 'Discovery' is also great and if you're in a dance-y mood, you can't beat Madonna's 'Confessions on a Dance Floor'. I don't like it when people take the mick out of Madonna – she's a legend.
 
If I could take one song with me to a desert island… I'd feel quite a lot of pressure to take a track other people would consider iconic – like 'Bohemian Rhapsody' or something. But it's just not me – I'm going full-out, camp-as-Christmas… 'Crying At The Discoteque' by Alcazar. I don't think you want to take a ballad to a desert island where you might be feeling a bit lonely or down anyway. Take something that will put you in a good mood and make you want to dance.
 
On holiday I tend to listen to… a whole array of Spotify playlists. It's the easiest way to find the right music for the location. For example, if I'm going to Ibiza, I'll listen to a lot of Ibizan dance or chill playlists. By the pool, I also use the Shazam app to find out what the hotel or beach club DJ is playing before adding the tracks to my own playlist later. It's a great way to capture holiday memories – you can play it on the plane or when you get back if you want to instantly transport yourself back there.
 
On a girls' trip, my friends and I listen to… something by Lada Gaga or Kylie. Gaga's 'Chromatica' album and Kylie's 'Disco' record are both masterpieces – there's not a bad song on either of them. If you're with your girls, you can have a good singsong. And sorry to go back to Britney, but I forgot how good her 'Circus' album was, too – I promise you and your friends will know most of the words.
 
The track that always gets me on the dancefloor is… 'Free From Desire' by Gala. Every time I hear it, I drop everything. It's just the perfect dance track, and one everyone loves. Daft Punk's 'One More Time' is another one of those magical tracks that just bring people together.
 
My top three start-of-the-weekend tunes are… tough to narrow down. But Daft Punk's 'Digital Love' is definitely up there, as is 'Coma Cat' by Tensnake. That's a massive tune – every time I hear it, I think the weekend's arrived. For something a little more old-school, it has to be 'Yeke Yeke' by Mory Kante. Just make sure you listen to the Hardfloor Remix – it's a bit jazzier than the original.
Gaga's 'Chromatica' album and Kylie's 'Disco' record are both masterpieces – there's not a bad song on either of them.

At a house party, the playlist has to include… Abba's 'Lay All Your Love On Me'. When we were finally allowed to go over to people's houses after the third lockdown, I went to my sister's house. There's 17 years between us, but we both love that song. We hit the cocktails pretty hard that night and just played it on repeat. It doesn't matter how old, young or cool you are – everyone loves it when Abba comes on. To end the night, it would probably be 'Gold' by Prince. It's just one of the most well-written songs ever; it's quite anthemic, but slow at the same time.
To unwind, I listen to… radio station Smooth Chill. Recently I was driving home after quite a stressful day and happened to come across it quite accidentally. God, it's relaxing. A lot of the songs they play don't even have words. I also use the Calm app quite a lot. I'm quite an anxious person, so it's an invaluable resource to me. You can dip in and out: there are playlists, spoken word, bedtime stories… there's something for everyone. Fleet Foxes and Joni Mitchell are both good choices music-wise.
 
The new music I'm excited to hear is… Adele's new album, '30'. The pandemic has put so many new releases on hold, but that doesn't mean artists haven't been just as prolific behind the scenes. In fact, I suspect many of them have needed a creative outlet more than ever. Also, can Rihanna please release a new album soon? What's it been – seven years?...
 
A good 'sob' track is… 'Hello' by Adele. The day it came out, I had literally broken up with someone the day before and I felt very seen. It seemed to express everything I was going through at that exact moment. Weirdly, now, I listen back to it and all I can think is, "Why was I so upset?" In hindsight, I think I'd actually had a narrow escape!
 
My guilty pleasure is… no longer something I describe in those terms. Now I'm 40, I've decided there's absolutely no place for music snobbery in my world. Whether it's Vengaboys or Metallica, listen to what you want – and don't let anybody tell you otherwise. That's probably something you only get comfortable with as you get older. It's really liberating.
To listen to music, I mainly use… Spotify – or Global Player. The former for playlists, the latter for radio. Global Player has so many stations on one app, so you can listen and dip in and out as you like, and I love it when Spotify tells you what you've listened to most at the end of the year. It's a real insight into your own psyche.
Inspired? Here are 5 of Lucy's favourite Spotify playlists…
DISCLAIMER: We endeavour to always credit the correct original source of every image we use. If you think a credit may be incorrect, please contact us at info@sheerluxe.com.