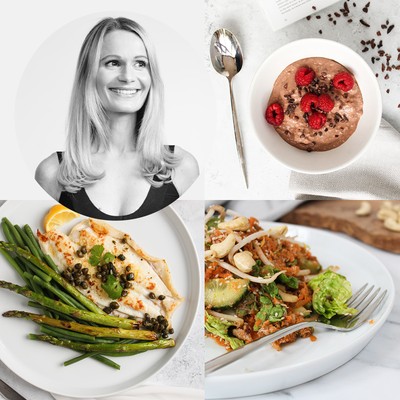 My Week On A Plate: Louise Parker

In this series, we ask a range of wellness experts to share their weekly food diary. From their favourite snacks to the meals they rely on, we're going behind the scenes to discover what fuels these inspiring, impressive and in-the-know women.

CREATED IN PARTNERSHIP WITH THE PARKER PRACTICE
If there's anyone that understands healthy eating, it's Louise Parker. From celebrities to CEOs, Louise has fast become the A-list's secret weapon when it comes to intelligent weight loss, and her eponymous brand, The Parker Practice, guarantees real results. Here's what a week in meals looks like for her…
MONDAY
Breakfast: I like to start the week feeling positive and grateful. A large part of the Parker Practice programme is about eating beautifully, ensuring you prepare yourself food that looks as good as it tastes. The scientific purpose of this is that it's a great trigger for mindful eating, helping you to become more aware of your hunger cues. For breakfast this morning, I made an orange, hazelnut and cinnamon Bircher. I love Bircher-style recipes – you can make them the night before in two minutes flat and adapt it with different fruits and flavours. It's also packed with protein, fibre and goodness and is low-GI, the perfect fit, fast breakfast. 
Lunch: After the weekend, I tend to have a salad for lunch on a Monday. Today it's one of my favourites – crunchy crab salad. The perfect combination of protein, healthy fats and delicious vegetables, it's fresh and satisfying. This recipe also works well as a side dish alongside other salads if you're entertaining.
Supper: I fancy a treat this evening, so I grill some steaks and make a caponata with courgettes, tomato and aubergine as well as some roasted broccoli. Steak is one of the best protein-rich foods and grilling it really brings out the flavour. My top tip when cooking dishes with lots of vegetables is to get the freshest and best ingredients you can – this makes all the difference to the flavour of the final dish. 
TUESDAY
Breakfast: I'm heading to the gym later this morning and want to ensure my energy levels are adequately topped up so reach for some oats. Oats are incredibly nutritious and great for meal prepping. This morning I make some lemon and blueberry oats, which are rich in antioxidants (handy for post-workout muscle recovery) and, packed with fibre and healthy fats, help keep blood sugar on an even level. This breakfast always leaves me full and energised throughout the morning – perfect for a tough workout.
Lunch: After a late workout and a busy morning of meetings, time is not on my side, but I take ten minutes to put together a quick tuna tossed salad. This may sound simple, but the flavours are sublime and it's the perfect lunch to have in between calls and meetings. I often make this in bulk and pack it into lunch boxes for the kids, too. 
Supper: For dinner, I make some turkey meatballs, which I serve with butternut squash noodles, a great low-carb and gluten-free pasta substitute. If you are serving this to friends or little ones, sprinkle some wholemeal pitta chips or parmesan on top to make it more exciting.
WEDNESDAY
Breakfast: Breakfast is my favourite meal of the day. It's imperative we make time for it, too, if maintaining a lean body for life is your goal. I know how frenetic mornings can be, but something as simple as a bowl of Greek yoghurt and fresh fruit will set you off on the right foot. This morning, I have a quick bowl of yoghurt with nectarines and almonds – the crunch of the nuts, the sweetness of the fruit and the creaminess of the yoghurt is the perfect combination.
Lunch: Crispy kale and lemon pesto chicken is on the menu for lunch today. I serve this with a large portion of lettuce. It's good to switch things up and eat foods you know are good for you, but with a range of different combinations of veggies, spices, marinades and dressings. This recipe is especially easy to make and is a great lean lunch option.
Supper: For dinner this evening, I've made my Bridgen beef stew. It looks and sounds like a lot of ingredients but it's so simple to make and the pay-off is a delicious hearty stew that's surprisingly healthy. I was at home this afternoon so had the time to slow cook this, but you can also make it ahead of time and freeze it for another day. I serve it with cauliflower mash, a great potato substitute.
THURSDAY
Breakfast: I have a spare ten minutes this morning so take the opportunity to make my favourite breakfast recipe from my third book, a vegan chocolate and raspberry Bircher. I always use oat bran in my Bircher as it has 50% more fibre, protein, vitamins and minerals than normal oats. This means it will fill you up, nourish you and help reduce cholesterol. You'd never know this recipe was sugar free.
Lunch: I'll be having a butter bean salad made with lots of fresh tomatoes, spring onions and herbs today, served on one slice of toasted wholegrain bread. This is a great dish for vegans and vegetarians as it's rich in fibre and protein.
Supper: Tonight, it's a simple supper of salmon with stir-fried green vegetables. The salmon is the star of this dish and is so full of flavour. This recipe works well with other kinds of protein if you don't eat fish – try chicken, tofu and steak. I also pour myself a glass of pale rosé – that's the kind of balance we're about at the Parker Practice.
FRIDAY
Breakfast:It's the end of the working week and I love to have a treat for me and the girls in the morning – today, it's warm bowls of carrot cake porridge. If you love traditional carrot cake, this is a significantly healthier version that will keep you energised throughout the morning. Made with jumbo oats, grated carrot, sultanas and crushed walnuts, it really does taste like such a treat without being naughty.
Lunch:There's nothing quite as comforting as a hot bowl of fresh soup. It provides a little smug factor, too, knowing that you've made something from scratch. Soups are also so easy to make and a great way to use up leftovers. I had a couple of red peppers in the fridge so make a roasted red pepper and lentil soup. Red peppers are filled with vitamin C and are a rich source of antioxidants. This hearty soup is perfectly balanced and serves up a good dose of fibre, too.
Supper: Lamb curry with spiced cauliflower rice is my go-to curry in a hurry, making it the perfect recipe for a Friday evening. Lamb steaks are actually relatively lean so don't need slow cooking, and I add lots of black onion seeds and turmeric to the cauliflower rice.
SATURDAY
Breakfast: Saturday mornings are a relaxed state of affairs in my house, and I love cooking something delicious for breakfast with the girls. This morning, it's Coco's Coconut Porridge, named after my youngest daughter, as it's her favourite. A blend of oats and oat bran, grated orange zest and cocoa, it's absolutely delicious and keeps us full until lunchtime.
Lunch: I love fish and managed to get my hands on some fresh sole this morning, so I pan-fry this with some greens for lunch. Sometimes, simple dishes like this work so well – fresh, fewer but good ingredients will make a meal look and taste divine.
Supper: I'm in the mood for cooking today so make one of my favourite new recipes – melting mushrooms with asparagus and Parma ham. Simply grill some Portobello mushrooms and top with your favourite cheese – mozzarella and goat's cheese work well – and serve with grilled asparagus, the ham and a few shavings of parmesan. It's such a great combination.
SUNDAY
Breakfast: I love a Turkish breakfast scramble, particularly on a Sunday. Eggs are a fantastic breakfast choice as they're packed with protein and healthy fats. If you're eating a balanced diet, it's perfectly fine to have up to a couple a day. Look for a beautiful yellow colour when choosing your eggs and always buy the best you can afford.
Lunch: It's rare to find soups that are warm and comforting but feel fresh and light at the same time, but my watercress and shredded chicken soup ticks all the boxes. This is a great recipe to fuel up on lean protein and beautiful vegetables in one bowl.
Supper: I love to take my time on a Sunday evening to cook a nutritious, hearty meal for the family, and today it's broccoli, cauliflower and paneer curry. I make this with full-fat cheese and serve it with a side of yoghurt, cucumber topped with mustard seeds and warm wholemeal roti. This is a great recipe to have in your repertoire – it works just as well for family suppers as it does for dinner parties.
SNACKS
On days when I'm more active or just hungrier, I like to include one or two well-balanced snacks. A combination of a protein and a low-glycaemic index carbohydrate is a great way to stablise blood sugars and helps keep me on an even keel. Some of my favourites are slices of apple topped with almond butter or one of my Bircher pots.
Visit TheParkerPractice.com and follow @TheParkerPractice and @LouiseParkerMethod on Instagram
DISCLAIMER: We endeavour to always credit the correct original source of every image we use. If you think a credit may be incorrect, please contact us at info@sheerluxe.com.