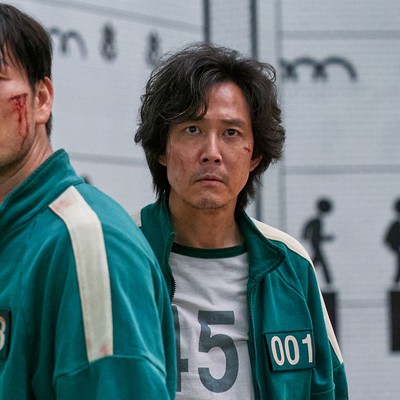 What To Watch This Week: Squid Game

Over the last two weeks, South Korean horror series Squid Game has had viewers across the world glued to their seats – and is even on track to overtake period drama Bridgerton to become the most-watched Netflix show ever. If you're yet to give this sinister show a watch, here's everything you need to know…

If you'd have told us a few weeks back that Christmas 2020 streaming hit Bridgerton was about to be usurped in viewing figures by a subtitled South Korean series focused on killing poor people, we're not sure we'd have believed you. But that's exactly what's about to happen with Hwang Dong-hyuk's Squid Game, the nine-part series that landed on Netflix at the end of September.
The series focuses on 456 desperate contestants, all of whom must compete with one another in a mysterious and deadly survival course involving multiple rounds of childhood games. The prize? An unfathomably large piggy bank full of cash, designed to pull the winners out of their financial misery. Similar in many ways to 2019 Oscar winner Parasite, Squid Game also focuses on poverty in Seoul, subverting expectations and shining a spotlight on the issue in new and interesting ways.
We're introduced to the show via Seong Gi-hun (Lee Jung-jae), who, once in the game, goes by player 456. Gi-hun is down on his luck, having accumulated enormous debts with loan sharks. He lives with his mother in a cramped flat, stealing money while she's at work to gamble away at the racetrack. His relationship with his young daughter – who now lives with her mother and stepfather in a spacious high-rise flat – is in tatters. After an especially tough day, and already covered in blood after a roughing up from debt collectors, he is approached by a well-dressed man at the train station. The offer? To play a card game for money. Predictably, this doesn't go well for Gi-hun – but he still takes a business card from the man, inviting him to play games with higher stakes.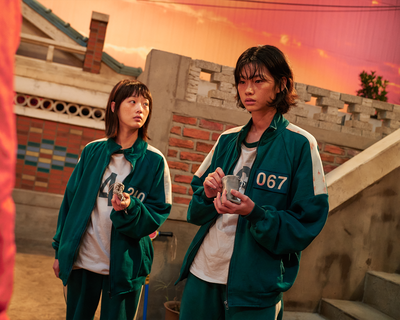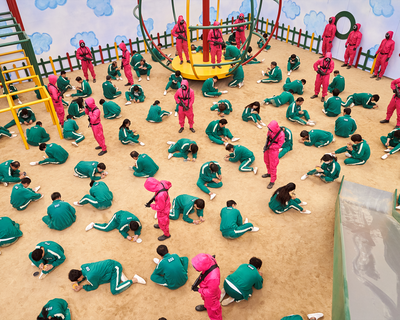 Before long, Gi-hun accepts the proposal and while unconscious, is taken to a mysterious location, where he wakes up surrounded by 455 other players, all dressed in green jumpsuits with individual numbers on their clothes. The players, all in similarly dire financial situations, learn they'll be able to win billions if they complete six games over six days. The first of these is 'Red Light, Green Light'. On the face of it, it's a familiar Korean childhood game – but it has deadly consequences, which leave the remaining participants reeling. Who will be the winner, and what is the purpose behind this series of competitions? And who are the faceless guards dressed in pink hazmat suits – and their black-masked leader – who are overseeing the whole operation?
By the second episode, the world opens up, and we become more familiar with some of the other players. There's Cho Sang-woo (player 218), the head of the investment team at a security company. Once a gifted student who studied at Seoul National University, he's now wanted by the police for stealing money from his clients. Oh Il-nam (001) is an elderly man with a brain tumour who chooses to play the game rather than waiting to die in the outside world. Jang Deok-su (101) is a gangster who enters to settle his massive gambling debts. Kang Sae-byeok (067) is a North Korean defector who enters the competition to pay for a broker to find and retrieve her surviving family members who are still across the border. Abdul Ali (199) is a foreign worker from Pakistan who's struggling to provide for his young family after his employer refuses to pay him for months. And Hwang Jun-ho is an undercover police officer who sneaks into the game as a guard to find his missing brother.
With nine hours to play with, Squid Game starts off a little slow for those who might have read the hype and expected the show to drop you straight into the action. This isn't helped by the drama initially focusing on Gi-hun, whose increasing haplessness and selfishness might begin to grate. This is the point, of course: does he deserve to win financial freedom? But as soon as the first game begins – and the interweaving stories of the increasingly small pool of contestants come to the fore – we promise you'll be hooked.
DISCLAIMER: We endeavour to always credit the correct original source of every image we use. If you think a credit may be incorrect, please contact us at info@sheerluxe.com.