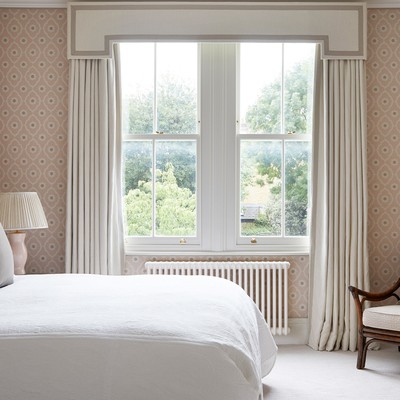 What You Need To Know About Buying & Styling Curtains

Anyone who's undertaken a decorating project will tell you curtains are one of the most important – not to mention costly – things to get right. For that reason, a little bit of knowledge goes a long way – be it choosing the correct fabric, the lining or the perfect finishing touches. To steer you in the right direction, we asked three interior designers to walk us through the process.

The Room
"The technical components associated with curtains mean you need to consider them early in the process," explains interior designer Christian Bense. "We've worked on projects where we delayed getting planning permission because we were still deciding on the window treatments. It may sound extreme but finding out where the curtain would actually stack once open meant the door and window openings had to be amended in the extension."
According to Christian, curtains will generally take up about 15-20cm of depth around a window, so if you're planning on built-in joinery, factor this in so the curtains work seamlessly with the design. As for colour, he says: "There really aren't any rules as to what colour your curtains should be – it's really about the mood you want to create. Curtains which match the walls tend to create a cocooning feeling, whereas contrasting curtains add architectural interest, and can even help to amplify the windows themselves. If you ask me, the debate over curtain headers, poles versus rods etc, is more important."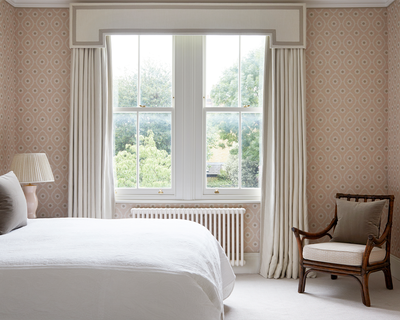 KATHARINE PARAVICINI/ANNA STATHAKI
The Fabric
"Curtains usually require a lot of fabric, so if you are on a budget, this is one area where it can get swallowed up," warns interior designer Henry Prideaux. "Sometimes, we'll specify a more affordable material for the main body and then use a more affordable embellishment or trim to elevate the look." As for pattern, Henry says it's important to remember you'll never see the pattern completely flat because of the folds in the fabric. "Try to avoid fabrics that might be affected by sunlight or could fade or even disintegrate," he adds. "That said, a decent quality lining will often help to avoid too much damage."
Additionally, looking after your curtains properly and getting them cleaned regularly will help them last. "The easiest fabrics to keep clean are ones you yourself can take care of," says Henry. On that note, it's worth giving some extra thought to practicality. "Different curtains have different purposes," explains Henry. "Blackout linings are very useful if you want to create a darkened environment like a cinema room, for example. Interlining in the middle of a curtain also adds more weight and gives it a fuller appearance." Finally, if you're going to see the back of the curtains – perhaps from outside the property – Henry advises lining them with an interesting material rather than using a neutral option.
The Design
According to Henry, if you're using a heavy fabric (like a heavy linen or weave) then curtains tend to look better when they just touch the floor. If you're using a lighter weight fabric, then a bit of pooling can help to make the space feel relaxed but still elegant. "Try to avoid windowsill height curtains," he warns. "They can look a bit mean – ask for them to skim the floor but not so much that they break, as this can leave an unsightly kink that clashes with the elegant draping above."
When it comes down to choosing between a track or a pole, Henry says this is ultimately about personal preference. "One benefit of a track attached to a lath and fascia over a pole is that you can avoid light bleed – think exterior daylight or streetlamp light coming into the room when the curtains are closed." Thankfully, Sarah Stemp from Sascal Studio offers a solution: "If you have to have to use a track (for example, in a bay window where budget won't allow for a bespoke pole) then use extra fabric to cover up the tracks – it will allow for a lovely detail which isn't as formal as a pelmet, but also means you don't have the track on show."
Speaking of pelmets, both Sarah and Henry agree they have their uses. "Notably to prevent light bleed around the top of a window treatment," says Henry, "but also to fill space above a low window to pretend it goes higher and that the room has more height." In Sarah's opinion, pelmets offer a more formal and elegant look. "They're quite often associated with a more traditional interior, but they can also lend themselves well to a contemporary space, too – a hard scalloped pelmet, for example, will instantly make a room look more modern."
If you're considering blinds, Henry says his preference is for the Roman variety. "We often design them with a higher pelmet to take your eye up and makes the room feel taller," he explains. "Occasionally we'll put a Roman blind behind a lambrequin (a decorative pelmet with extended legs that cuts out the light down the edges). We also use a lot of Roman blind voiles, which allow some natural light through but prevent people looking in – they're great for bathrooms and behind heavier curtains in bedrooms."
Sarah is equally supportive of blinds: "They're brilliant as they're so practical, and Roman blinds are our go-to as they allow for the softness of a curtain with the functionality of a blind. Ask your curtain maker to incorporate a fabric cover in the same fabric as the blind, to cover the mechanism on either side if it's on view – it makes such a difference." If budget's an issue, Sarah suggests clean, contemporary roller blinds and bamboo blinds as more affordable alternatives.
Finally, if you're contending with low ceilings, avoid having wide window treatments at all, says Henry. "This will draw the eye out rather than up," he says, "and make the room feel even lower. Where possible, take the window treatment as high up to the ceiling as possible. Sometimes, curtains won't be the most appropriate option, and a blind might be more suitable."
The Details
If you want to allow more light into a room and take fabric away from the window, one option is to use hold backs that are fixed in place, suggests Henry. As for decorative pleats, he believes more modern houses benefit from wave headings or pencil pleats. "I tend to avoid double or triple pinch pleats in favour of what we call 'fat cigars' – a more contemporary take on a goblet pleat. The more traditional the property, the more pleats and embellishments you can add." As for fringes, Henry's preference is to use them down the leading edge of curtains or an inset tape border. "It adds an injection of colour in the room, helping to create a sense of cohesion with other contrasting colours in the space."
The Budget
In Henry's opinion, it's worth allocating a decent sum of money to the curtains. "A good guess would be that the curtains and blinds amount to around of what is spent on the rest of the interior design – obviously, things like fabrics and who you get to make your curtains would influence that figure, but you tend to get what you pay for. A room which has good window treatments but was furnished on a budget beats any room with poor window treatments. Try to set aside a realistic budget if you're undertaking a serious renovation."
 
Visit ChristianBense.com, HenryPrideaux.com and SascalStudio.com for more information.
DISCLAIMER: We endeavour to always credit the correct original source of every image we use. If you think a credit may be incorrect, please contact us at info@sheerluxe.com.