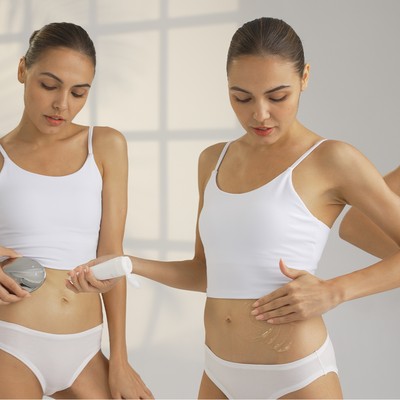 3 Body & Facial Tools Worth Trying For Sculpted Skin

Facial sculpting tools are still big news in the beauty world. Designed to repair damaged tissue and encourage collagen production, they work to create firmer, smoother-looking skin that's suppler and more even in tone. While there are several options on the market nowadays, one stands out from the rest. TOUCHBeauty's Revive tightening devices use innovative radio frequency to penetrate the skin and produce visible results. Here's a bit more about the brand, as well as three of our favourite tools…

CREATED IN PARTNERSHIP WITH TOUCHBEAUTY
First, The Brand Background…
TOUCHBeauty was launched in the 90s and made its name with the first electric eyelash curler – millions were sold worldwide. Over the years, the brand has developed several technologically innovative tools, many of which have been stocked at top beauty stores like Sephora. Covering everything from facial care to body care, make-up accessories and even manicure/pedicure tools, TOUCHBeauty now offers something for every task.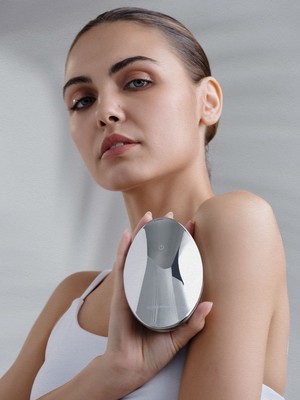 Why You Can Trust Its Devices…
With all tools developed in its own manufacturing centres, TOUCHBeauty's professional laboratory has high certification, meaning you can trust its tools to perform to the highest standards. What's more, the tools have won numerous awards for their modern techniques and impressive results. Now, the brand is expanding its knowledge and expertise with the launch of REVIVE – which brings together numerous benefits in one tool.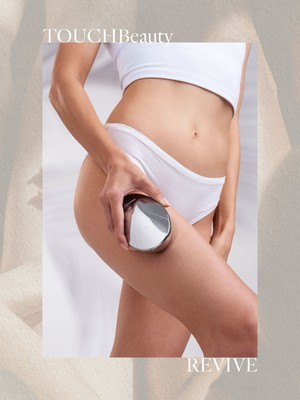 TOUCHBeauty REVIVE, £449
Best For: All-In-One Results
Why We Rate It: Combining three of the brand's most popular technologies in one, this tool is an investment, but worth it given the results. Designed to 'revive' the skin on your body, it uses light therapy, red therapy, NIR (near-infrared light therapy), EMS (electrical muscle stimulation) and an RF mode (radiofrequency) – all of which are proven to reduce the appearance of stretch marks, repair tissue and boost collagen as well as elastin production for smoother, more even results. The benefits don't end there: the EMS and radio frequency technology work together to target stubborn areas of fat. While neither will get rid of fat entirely, they are proven to firm up targeted areas for a more streamlined appearance. Finally, it also aids muscle recovery after exercising. Helping to massage muscles and ease any knots, it's incredibly satisfying to use. You can activate all three of these technologies at once, or combine just a couple, depending on the results you're seeking. If you're wanting to speed up the process, experts recommend using them all at once, but the choice is in your hands.
What Fans Say: "I normally use three devices in my daily routine and have been waiting for something like this. I bring my skincare essentials with me quite a lot and the REVIVE is really like having my whole essential kit but in one pocket. My waist is definitley much slimmer and I'm starting to see some old marks fade after using it for two months." – @KristyynmarieAvailable here 
Shop Our Other Favourite Tools...
TOUCHBeauty GLOW, £225
Best For: Gentle Exfoliation
Why We Rate It: If blackheads, breakouts or general dullness are some of your main skin concerns, this is the tool for you. Designed to gently exfoliate your skin, it cleans pores up to six times faster, and more thoroughly, than similar methods. Using ultrasonic vibrations, it loosens dead skin cells, draws out the debris then sweeps it all away with a clever antibacterial spatula. Try to use it on wet skin before following up with your other skincare products. You'll notice a smoother, fresher and more radiant complexion after just a few uses. 
What Fans Say: "I like that this device is effective and easy to use – plus, it's a good all-rounder. Though buying one requires a good chunk of change, if you compare it to the price of the average salon facial, over time it can definitely prove to be a worthy investment." – @OpposableThumbsBlogAvailable here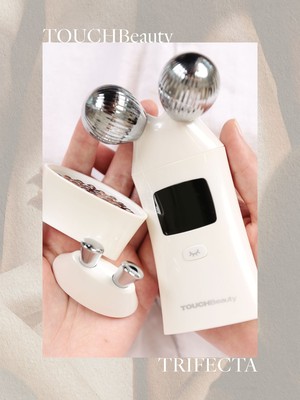 TOUCHBeauty TRIFECTA, £150
Best For: Toning & Sculpting
Why We Rate It: So many tools claim to tone and sculpt your face, but not many live up to the hype. This one uses microcurrent rollers and light therapy to deliver real results. The former works to gently exercise your muscles – loosening any tension, but also helping to drain away lymphatic fluids for a plumper, more defined appearance. No wonder A-list make-up artists swear by it pre-red carpet. As for the light therapy attachment, use it to improve your natural cell turnover and boost glow, as well as to even out dark spots and uneven tone. Available with different attachments, you can use the roller, the eye and lip treatment or the light therapy attachment, depending on your specific needs.
What Fans Say: "Since using the LED Light Therapy Head, my skin looks brighter and more even. I think with long-term use, I'm going to see more and more benefits. I'm hopeful that with continued use, my skin will become more even and bright. It's very relaxing to use, bringing that salon experience right into the comfort of your own home." – @AWomansConfidenceAvailable here
DISCLAIMER: We endeavour to always credit the correct original source of every image we use. If you think a credit may be incorrect, please contact us at info@sheerluxe.com.