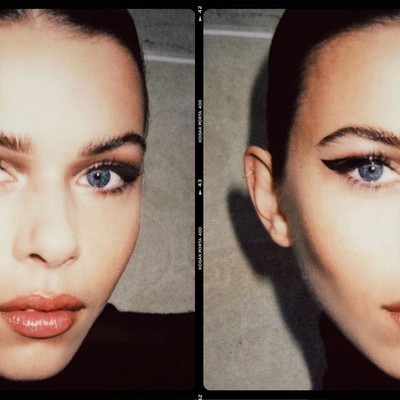 8 Make-Up Tips French Women Follow

A red lip, tousled hair, fresh-looking skin, soft, fluffy brows… the French beauty look is iconic. To find out how to replicate it, we asked Paris-based make-up artist Morgane Martini to share some of the main beauty rules French women follow – plus, the products they wouldn't be without…

All products on this page have been selected by our editorial team, however we may make commission on some products.
Be Yourself
"French women embrace their individuality, it's in our culture. We're not looking for perfection in any way, it's more about being yourself – natural, and probably with the odd flaw here and there. There's something about this approach and way of life that's very charming." 
Choose Your Beauty Camp
"French women tend to fall into one of two beauty camps. You're a liner girl, or a lip girl. As for colour on the lips, it's always red – it's a must-have for every French girl. It's just incredibly flattering – even if you think red lipstick isn't for you, trust me, there's one out there to suit. Nothing brings light to someone's face quite like a bold lip – plus, it's very empowering." 
Know What To Perfect
"It's a misconception that French women don't believe in doing touch-ups during the day – if I'm wearing a red lip, I'll always bring along some tiny Q-tips, concealer and powder to fix their shape when I'm out and about. There's nothing worse than a smudged red lip. The eyes are where you can get a bit messier. I love a smudgy finish – as do most French women – so you usually don't need to touch them up too heavily. A little scribble, smudge and blend of eyeliner, and you're good to go. There's nothing better than when you allow your eyelids to get slightly oily, too – that natural shine is so chic." 
Follow A Simple Skincare Routine 
"Because so many iconic brands are French, there's this misconception French women are obsessed with skincare. is the truth is, we don't use heaps of expensive or complicated products. In fact, I only started using serums and retinols quite recently. Most French women keep things quite simple. French pharmacy brands are known for their fuss-free formulas and the priority is always well-moisturised skin – it's the only way to ensure your make-up looks good." 
French women embrace their individuality, it's in our culture. We're not looking for perfection in any way, it's more about being yourself – natural, and probably with the odd flaw here and there.

Ignore Perfection
"Perfection is unattainable because it means something different to each person. Everyone has their own definition of beauty and in France, what matters the most is how you feel within yourself. As for make-up, trying to make it look professional every day isn't realistic. It stops you from experimenting and having fun, too – and that's the only way to work out what's best for you. The more you play with different products, the more comfortable you'll feel."
Go For Less Is More
"Don't try and do too much at once – focus on one feature at a time. Yes, you can focus on both the eyes and lips, but if you do, keep skin incredibly fresh-looking to ensure everything looks effortless. Make-up should feel easy and comfortable, so forget fake lashes, overdrawn eyebrows, heavy highlighter and contour – keep it light and natural. French women hate looking overdone." 
Skip The Foundation 
"Some people see foundation as a bit of a comfort blanket, but too much base is unflattering, and it's not French at all. We like to see pores and to let the skin breathe through make-up. I don't ever use foundation myself. Instead, I prefer a tinted moisturiser or concealer to correct dark circles, blemishes and uneven tone. Often, it's all you need, no matter how bad you think your complexion is." 
Find The Right Products
"French girl beauty is easy; it just requires the right kind of products. That includes a good French pharmacy moisturiser. I love Embryolisse – it's been in my kit since day one and the texture is so good for priming skin; I also love Avene and Bioderma. YSL's Touché Eclat has such a beautiful, thin texture which conceals, but never cakes. I love Dior's Iconic Overcurl Mascara for a night out and Glossier's Lash Slick for every day. As for lipstick, it's got to be MAC's Ruby Woo or Westman Atelier's Lip Suede Les Rouges. Finally, you'll need a good black kohl liner – and I love Lancôme's Liquid Pencil. The staying power is unbeatable." 
Shop Morgane's Edit...
DISCLAIMER: We endeavour to always credit the correct original source of every image we use. If you think a credit may be incorrect, please contact us at info@sheerluxe.com.