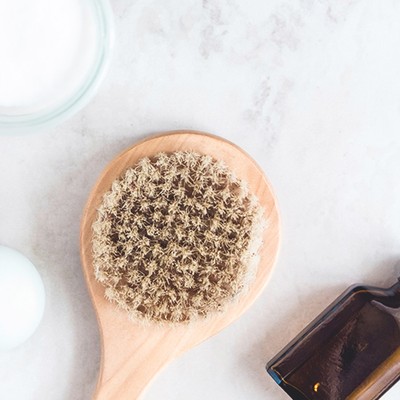 6 Reasons Why You Should Be Body Brushing

Here at SheerLuxe we're body brush obsessives and for good reason. With a host of skin saving benefits, ranging from boosting circulation to tackling cellulite - it really is a must-have product. Still not sold? We spoke to Mio to find out how to get the very best out of your brush.

CREATED IN PARTNERSHIP WITH MIO SKINCARE
1. It Helps Minimise Cellulite
When done regularly, dry body brushing can reduce the appearance of cellulite that you're most likely to find on your legs and bum. This is because it can both tighten skin and help with water retention, by improving lymph and blood circulation. In the long-run, your legs will be smoother and firmer. We suggest using Mio Skincare's Body Brush, £14.50 – it's equipped with massage nodules designed to deeply stimulate.
2. It Exfoliates Skin
As we get older, our skin becomes less efficient at shedding dead cells and, just like our faces, our bodies need exfoliation to boost the regeneration process. Usually we do this with a scrub but, let's be honest, when we're in rush, scrubbing our whole bod isn't really at the top of our shower priorities. Body brushing can be done anytime, anywhere, no shower necessary – which means there really is no excuse to not squeeze in a quick brushing session. It will leave your limbs smoother and more even-toned.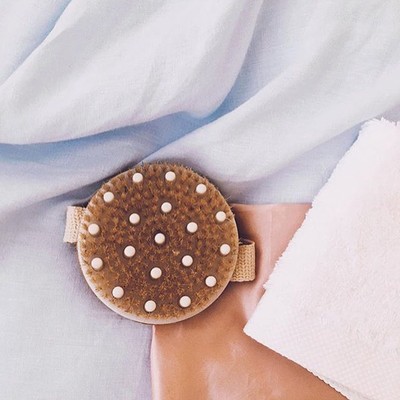 3. It Boosts Circulation
Turns out there's a knack for getting the most circulation-boosting benefits out of body brushing and it involves long, sweeping strokes going upwards towards the heart. This follows the body's natural circulation rhythm, helping to enhance it. Start at the bottom of your legs and brush upwards, always going towards the heart.
 
4. It Can Remove Toxins
The benefits aren't only external, body brushing has also been found to increase lymphatic drainage, the body's built-in waste removal system. While this does function automatically, certain factors can cause it to slow down and become sluggish. Exercise can help it improve, but if you spend most of your days sitting at a desk, chances are yours isn't running at 100%. When the system becomes stagnant, it allows toxins to build up. Body brushing is one of the easiest ways to jump-start this system, mainly because you don't even have to work up a sweat. By removing excess toxins and bacteria, we're helping to support our immune system. It has also been linked to improving digestion.
'A devout body brusher, I cant stress enough how amazing it is for your body. You might think you don't have time, but all it takes is 5 minutes before bed each night and you'll see results in a few weeks.'
Sheer Luxe Beauty & Health Editor Gabrielle
5. It Prepares Skin For Products
When we exfoliate and get rid of the build-up of older skin, we are essentially making it more able to absorb and reap the benefits of whatever we put on it next. This means that body creams, serums or oils will be even more effective, a bonus, we think. Our moisturiser of choice is Mio's Future Proof, £35, a rich and intensive treatment that helps lock-in moisture; deeply hydrating and improving the skin's tone and texture. It contains a blend of essential oils including almond, argan, blueberry seed and pomegranate oil, making it suitable for even the most sensitive skins. Use it post-brushing sesh to really reap the benefits.
6. It Prevents Ingrown Hairs
They're one of our biggest body bugbears and, try as we might, they always seem to keep cropping up. Ingrown hairs are caused by blocked pores and trapped hair follicles – body brushing releases congestion and if done daily, will help make your skin an unsuitable environment for ingrown hairs to develop.
 
Shop the 'Prep + Glow' bundle now at mioskincare.co.uk for just £32, saving 19% OFF RRP
Use the code: SHEERLUXE to receieve 20% off products sitewide. Shop our favourites here.
Expires: 30/09
DISCLAIMER: We endeavour to always credit the correct original source of every image we use. If you think a credit may be incorrect, please contact us at info@sheerluxe.com.