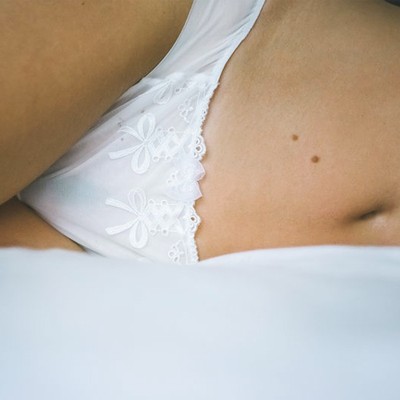 Beauty Buys For Your Vagina: Fad, or Fact?

Chances are you and your friends aren't in the market for fem hygiene products. But while you might think you don't need them, they're getting more popular. A recent WGSN survey has predicted the sector will expand by 7.2% by 2024 with more intimate self-care launches. We decided to hold off on our scepticism and put a handful through their paces.

Out of all the products on this list, this non-foaming, vegan-friendly shave gel is the one we would actively buy. Its gentle, clear liquid makes shaving seamless, while the pH formula aims to promote good bacteria rather than kill it off. It left the skin on our vagina feeling smooth and we could certainly see a difference when it came to less ingrown hairs and razor bumps. Thoroughly impressed.
Designed to soften pubic hairs and clear pores for fewer ingrown hairs, this product was one we could get on board with. Maybe not for its 'softening' benefits (eye roll), but definitely for less painful shaving bumps. It keeps skin calm and less inflamed between waxing and laser sessions. Plus, it's also dermatologist and gynaecologist approved. We're sold.
This brand has a whole range of high-end skincare designed to "rejuvenate, enhance and beautify the V". We were pretty sceptical, and frankly, the actual feeling of it is a little odd. But these sheets essentially act as cleansing wipes, and thanks to their pH balanced formula that is free from parabens and fragrance, they don't irritate one bit. Handy for holidays or festivals, or anytime you're feeling a little unclean, but we can't say we will be using these on a day-to-day basis. 
Formulated in Singapore, this was apparently made for those suffering with dryness, aiming to rejuvenate and brighten the skin of your vulva, while boosting lymphatic drainage. Our first thoughts? Aside from the fact the mask looked like an inverted rabbit, we weren't particularly taken with the idea it was made to "detox our downstairs area". Laced with a chamomile, cornflower and elderberry serum, there's no doubt it is cooling, but we couldn't help but feel it was completely unnecessary. Plus, we weren't too thrilled by the concept of using charcoal on our most sensitive parts – we won't be giving this a second chance.
We won't deny that these are easy to use and great if you want a quick freshen up – they can be used on your armpits too. They're also completely biodegradable and the aloe formula is gentle for everyone, so completely harmless if you want a quick fix. But it's worth noting that many dermatologist's claim a splash of water down there will yield the same results as any wipe – if not better, so don't become accustomed to regular use. 
We were pleasantly surprised to see this oil had some rave reviews, with one even stating they love "the glow it gives below". Laced with sunflower and jojoba seed oil, its primary job is to soften and calm irritated skin while delivering a subtle, zesty, fresh scent. But our favourite part? It can be used on other areas of the body too as a nourishing skin booster. So, if you're not feeling brave yet, slather this on your limbs first as a trial run. 
THE TAKEAWAY: Try to remember just how clever your vagina is when left to its own devices. Its highly effective self-regulating system isn't a myth – it's true, and this keeps it healthy most of the time without the need to douche, soak and wipe out all the good microbes that protect your vagina. So, if you don't want to jump on this trend, be safe in the knowledge that you're doing A-OK. And always remember to see a doctor if you're experience itching, burning or redness.
DISCLAIMER: We endeavour to always credit the correct original source of every image we use. If you think a credit may be incorrect, please contact us at info@sheerluxe.com.