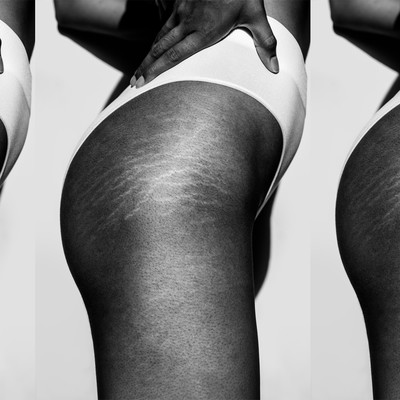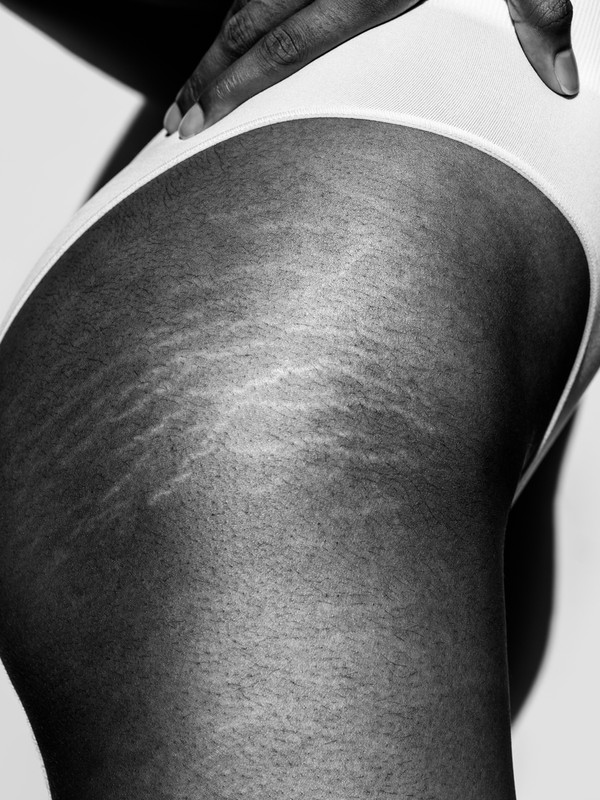 Everything You Need To Know About Stretch Marks

Some might be more prone than others, but most of us have at least the odd stretch mark or two. Although hard to eliminate altogether, there are things you can do to improve their appearance. Here, two experts explain all…

By Rebecca Hull
All products on this page have been selected by our editorial team, however we may make commission on some products.
Stretch Marks Are Actually Scars
"Stretch marks, also known as 'striae', are actually a form of scar. They look like soft lines or streaks in the skin. When they first appear, they are pink or purple and sometimes even red in tone, but as they mature, they become silvery or white. When they change colour, people often find they can ignore them altogether as they tend to look fainter over time." – Dr Sophie Shotter, founder of Illuminate Skin Clinic 
"Stretch marks usually occur when our skin stretches or shrinks quickly – the clue is in the name. This causes tears in the collagen and elastin fibres within the skin's dermis. Then, as the skin begins to a heal, the marks start to appear. At first, you can expect them to be raised and sometimes itchy – don't be alarmed about the latter, it's normal." – Natali Kelly, aesthetic practitioner 
They're Incredibly Common
"Around 90% of us will have to deal with stretch marks in our lifetime. The reason they're so common is because they happen most often during periods of rapid growth. Normally that's during puberty or pregnancy, but they can appear any time. They're more common in women and girls, but men can get them too – though they have more collagen and robust skin, so the dermis is less likely to tear." – Sophie 
You Can Improve Their Appearance
"As with any scar, it's impossible to completely get rid of stretch marks. However, you can significantly improve their appearance. While there's no magic cream, there are in-clinic treatments that offer impressive results. Usually, these treatments focus on building the collagen and resurfacing the affected area of skin. Options include fractional radiofrequency, mesotherapy, microneedling, laser and chemical peels. All of these stimulate the skin and promote cell turnover. In my opinion, the best results come from combining treatments with good aftercare at home. I also swear by combining mesotherapy with radiotherapy – a technique I use in my latest Venus Vivatreatment." – Sophie
"Like any scar, over time, you may find the colour fades by itself. While they won't disappear, the narrow bands of silver will sink further beneath your skin, so technically, they should become less noticeable. One way to minimise their appearance is to really hydrate your skin. It's a known fact that moisturised skin doesn't develop stretch marks as quickly as dry skin, so loading up on hydration is essential. As for more in-depth treatments, microneedling and radio frequency can really help to restimulate collagen, improving the overall look of the stretch marks. To really see a difference long-term, you will need to commit to a course of treatments, though." – Natali
Like any scar, over time, you may find the colour FADES BY ITSELF. While they won't disappear, the narrow bands of silver will sink further beneath your skin, so technically, they should become LESS NOTICEABLE.

Retinoids Are A DIY Remedy
"If you can't afford treatments and want to just minimise the look of stretch marks in a less intense way, try retinoids. They can be an excellent remedy when used on fresh stretch marks – however, you should never use them when pregnant. Likewise, regular exfoliation is a great way to smooth the skin. My go-tos are Ameliorate's Body Lotion and Medik8's Body Exfoliating Kit." – Sophie
"Creams rich in vitamin E are brilliant, too. It's an antioxidant, and known for is anti-ageing and skin regenerating benefits, which is why it's ideal for minimising issues like stretch marks and scars. Look out for it in body creams and serums – combining it with essential oils or fatty acids will also help to strengthen skin and boost its overall resilience." – Natali
A Firm Massage Can Help
"It's true massage can't cure torn skin, or restore lost collagen entirely, but it can help speed up scar maturation. Put simply, this means the stretch marks become silver or white much faster and in turn, less visible. It's proven to work, but you need to do it daily (and be quite firm) to see results." –Sophie 
Several Myths Should Be Ignored
"Many people believe thinner people don't get stretch marks – but as we now know, they can develop when you lose weight drastically, too. It's all about the stretch and shrink. It's also a myth that they can completely disappear. They will never go away entirely,  so it's important we don't think of stretch marks too negatively. Everyone needs to be far more educated to understand they're entirely normal and can develop on anyone's skin. It's not something that can be prevented, but how you deal with them is under your control." – Natali
It's Worth Keeping An Eye On Them
"Striae can sometimes be associated with a medical condition known as Cushing's syndrome. This is where your body overproduces cortisol, leading to rapid abdominal fat gain. It can also be a sign of Marfan's syndrome, where people grow exceptionally tall. Both these conditions have serious medical complications and, while rare, it's important to consult your doctor if you're concerned or feel your stretch marks or symptoms are getting worse." – Sophie
5 Places To Try Stretch Mark Treatments… 
DISCLAIMER: We endeavour to always credit the correct original source of every image we use. If you think a credit may be incorrect, please contact us at info@sheerluxe.com.