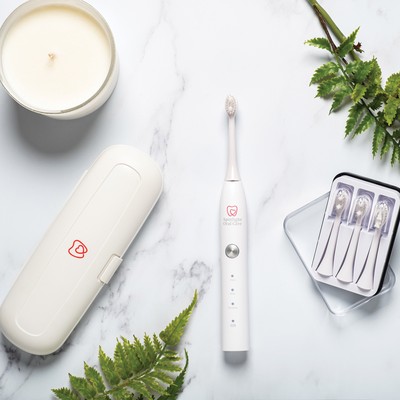 The Oral Healthcare Brand To Know

Founded by sisters and dentists Dr. Lisa and Dr. Vanessa Creaven in 2016, Spotlight Oral Care has fast become one of the UK's hottest oral hygiene brands. Making luxury dental hygiene accessible for all, Spotlight's science-backed products guarantee a healthier, whiter smile in as little as 14 days. Packed with effective ingredients to transform your teeth and restore radiance, Spotlight gets our vote every time. Plus, readers can now shop the brand with an exclusive 25% off the entire range, just enter code SHEERLUXE25 at checkout...

CREATED IN PARTNERSHIP WITH SPOTLIGHT
It Makes Oral Care Feel Luxe
According to recent statistics, we're a nation obsessed with a sparkling smile – 32% of us want whiter teeth, and four-in-ten people under 35 have already had some form of whitening treatment. Moreover, British women spend 11% more a month on their teeth than skincare. If, like us, you're on a mission for a brighter, whiter smile, Spotlight has you covered. Proof that luxury oral care needn't break the bank, their gold star line-up has everything you need for a healthy smile. For example, the stain-busting Teeth White Wash has become our daily beauty staple and, containing hydrogen peroxide, is perfect if you're an avid tea or coffee drinker. The mild mint flavour is just the right side of refreshing and it also rejuvenates oral tissue for a 360-boost. And only Spotlight could make floss chic – the pretty pastel packaging will look great on your bathroom shelf, and there are three different kinds, each dipped in an active ingredient to help tackle common concerns including decay, bleeding gums and whitening. Clever stuff.
The Eco Credentials Are Impressive
When sisters Lisa and Vanessa set out to create Spotlight, their aim was to revolutionise the oral care industry by creating a range of products that is cruelty free, vegan friendly, free from toxins, ocean safe and 100% recyclable. To this day, Spotlight remains one of the most eco-friendly oral care brands with both clinically effective, active ingredients and clean labels. You can be rest assured that when you invest in a Spotlight essential, it's doing good for the planet, too. In fact, every Spotlight toothpaste tube is made from sugar cane, making them the world's first ever 100% recyclable tube. 
A Brighter Smile Is Guaranteed
Looking for a better, brighter smile? Spotlight's Whitening System will kick-start your journey. We've been using the whitening strips for just one week and have already noticed real results (the recommended usage time is 14 days). We love how easy they are to apply and the way the strips dissolve into the teeth to dislodge stains, meaning there's no need for clunky trays or gels. Spotlight's clinically proven system works by breaking down complex stains that have built up over time on the tooth surface by penetrating the top layer of enamel to brighten colour, all with minimal sensitivity. The Whitening Pen has also become a go-to – simply twist and apply the gel to teeth and wait for five minutes before rinsing with water. It's a fool proof way to keep stains at bay, especially if you drink a lot of coffee or pigmented foods like beetroot, turmeric and curries.
…As Is A Healthier Mouth
If your toothbrush needs an upgrade, look no further than the Sonic Toothbrush, the brand's hero product. We've been loyal to our trusty electric toothbrush for years, but couldn't believe the difference when using this high-tech iteration. A total game-changer, it uses clever sonic technology, which allows the gentle feel of a manual toothbrush alongside a deep clean effect. Efficient, high-frequency brush movements ensure both toothpaste and oxygen are delivered to every corner of the mouth to leave your mouth feeling dentist-clean, every time. Plus, it also has an impressive long-life battery life, making it perfect for your upcoming staycation.
Gums Will Also Be Happier
As well as noticeably whiter teeth after just a couple of weeks, we also noticed the Sonic Toothbrush has had a real effect on our gum health. When we asked Lisa and Vanessa why this might be, they explained it's all down to the gentle yet effective sonic vibrations. "Our Sonic Toothbrush is scientifically proven to help keep gums healthy," they said. "Teeth appear shinier, more polished and less stained and gums are healthier." The toothbrush also comes with a two-minute timer to ensure you're not over-brushing your teeth, and protecting gums in the process.
There's Something For Everyone
If you're after a whiter smile but are also experiencing sensitive teeth or bleeding gums, rest assured Spotlight has a product for you. Take, for example, their toothpaste collection, which boasts five different formulas for varying oral needs. Lisa and Vanessa told us they recommend combining toothpastes if you are tackling simultaneous concerns – for example, you could use your whitening toothpaste in the morning and switch to your sensitive toothpaste before bed. Plus, given the mouth is 3,000 times more absorbent than our skin, Spotlight has gone above and beyond to ensure their formulas are clean, meaning no nasties will be actively absorbed into the bloodstream.
 
Shop Spotlight Oral Care's award-winning products here, and enter code SHEERLUXE25 at checkout for an exclusive 25% off the entire range…
Visit UK.SpotlightOralCare.com
*Features published by SheerLuxe are not intended to treat, diagnose, cure or prevent any disease. Always seek the advice of your GP or another qualified healthcare provider for any questions you have regarding a medical condition, and before undertaking any diet, exercise or other health-related programmes.
DISCLAIMER: We endeavour to always credit the correct original source of every image we use. If you think a credit may be incorrect, please contact us at info@sheerluxe.com.