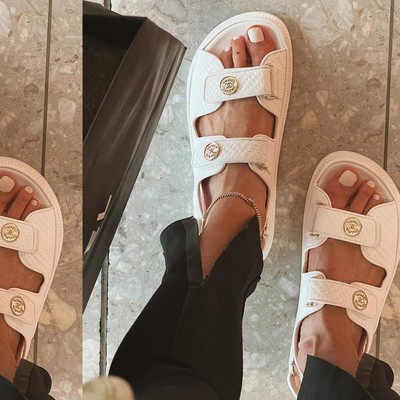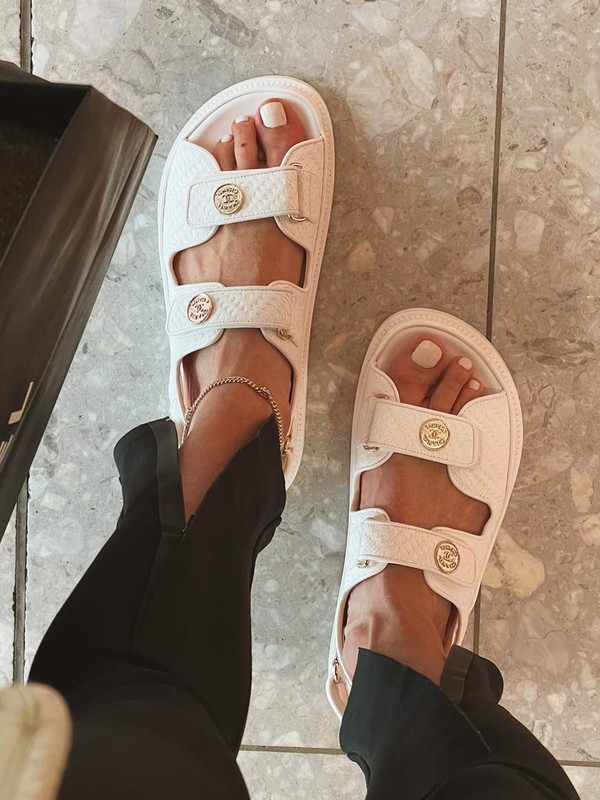 Simple Steps To Prep Your Feet For Summer

If your feet could use a quick overhaul now sandal season is here, there's plenty you can do. We asked a podiatrist and a manicurist for their tips…

By Rebecca Hull
All products on this page have been selected by our editorial team, however we may make commission on some products.
From never buffing damp skin to the importance of using scrubs, podiatrist Margaret Dabbs OBE shares the basics…
Use A Foot File Not A Brush
"It can be tempting to quickly use a dry brush on the feet, but nothing works better than a foot file. All the foot creams in the world won't work if there's hard, dry skin lingering around, so you need to really buff at this and remove it with a dedicated tool. You can use the same foot file to safely take off corns from your toes and to soften the ridge of skin that builds up under your little toe."
Work On Dry Skin
"I've never understood why people recommend 'soaking' feet before buffing them. You want the skin to be dry so you know the areas you need to focus on, but also to really work at the dead skin. If the skin is soft, it won't come off as easily as when it's dry. Always use your foot file before a bath or shower. Trust me, the results will be much greater this way round."
Invest In Scrubs
"Another thing to do pre-shower is slather on a scrub. Just like the file, scrubs will work best on dry skin to remove dead cells. As you massage one on, concentrate your application on the heels and balls of your feet, taking it in between the toes and to the top of the feet and over the nails, then rinse it all off in the shower. You'll see the results immediately – skin will look softer but also more replenished and fresh. Exfoliation helps boost better blood flow in your feet, so aesthetics aside, it just feels great."
Try These Ingredients
"When it comes to dissolving dead skin cells, some ingredients work harder. They include pumice – it's a brilliant exfoliant but it also has antifungal and antibacterial properties that are ideal for the feet. Also look out for tea tree and lemon myrtle oil in any products you buy, as well as turmeric and oregano oils. All of these soften, smooth and prevent germs building up."
Treat Cracked Heels Differently
"Every good foot routine needs a cream, but especially if you have cracked heels. I am biased, but I recommend our Foot Hygiene Cream to everyone. It contains antibacterial and anti-fungal properties to treat discoloured, damaged nails, but also deeply cracked skin. I recommend applying a thick layer at night and sealing the moisture in with a sock. This will work more intensely and help the product absorb deep down into the layers of your skin. You'll see a difference after just a few uses – it's so buttery and velvety. To up the moisturiser ante, you can begin with a dry foot oil. This will act as a carrier, giving your moisturiser a base to adhere to – a little like how you would use a serum and moisturiser on your face to bolster hydration levels."
Stick To A Weekly Routine
"If you want healthy, softer feet long term, you need to stick to a weekly routine. Upkeep is essential to ensuring the skin here stays smooth and crack free. I recommend exfoliating and scrubbing at least once a week, but ideally you should be using a moisturiser every day to see consistent results."
For neat-looking nails, follow these simple tips from leading manicurist Faye Dennis…
Stay Straight
"When trimming toenails, you need to work in a straight line. It's important you don't cut them too short either, or trim at an angle – this will lead to ingrown toenails, especially if your shoes rub. Once you've trimmed them, file directly across the top of your nail – a crystal nail file is best as it's gentler than a traditional emery board. Avoid working back and forth too much. Toenails are softer and this can cause premature breakage."
Use Clippers
"You can use scissors, but I recommend good-quality nail clippers. Navy Pro Tools are expensive, but so worth it for the results you get – the Betty or Beryl clippers are best. My advice is to use clippers in two cuts. Take the first one slightly off the side of your nail to create a straight edge, then take the second cut to remove the rest of your nail, following the previous line. Always ensure the bladed edges are without any snags. When finished, follow with a gentle file to take down any excess length."
Smooth Ridges
"If you have any toenail ridges, I recommend using a 'filler' base coat to smooth the appearance of bumps. The best is Bio Sculpture's Seaweed Calcium Base. It minimises the appearance of ridges, and contains calcium from red algae seaweed extract to strengthen and increase the flexibility of your nails. There is magnesium and zinc inside too – both help boost nail health."
Minimise Yellowing
"Toenails are prone to yellowing as they're often hidden behind socks and tights for months. They are also more likely to have a bacteria build-up, especially if toenails get damp. To bring them back to life, try Elim Fungal Force. It's a powerful nail serum full of active ingredients which fight bacterial and fungal infections. Use it repeatedly for 14 days – everything inside is natural, so you can't overdo it. Key ingredients include tea tree, glycine, oat protein and a pH stabiliser which minimises bacteria further."
Don't Underestimate Base Coats
"If you're not wearing gels on your toes, it's essential you use a good base coat. Without one, the polish you use will just fight for survival and chip. There are so many available now, with one for every nail type. Great brands include Essie, BioSculpture and OPI. Just make sure the base coat is completely dry before you add any more colour – you'll just cause streaks and patchiness otherwise. Likewise, finish with a quality top coat. Only apply one coat as additional layers will increase your chances of chips. Avoid hot tubs, warm water and chlorine where possible – all these things diminish shine and colour fast."
Finally, Be Experimental
"So far this year, I've seen my clients ask for a French tip pedicure above anything else. It's classic and, as it's natural-looking, it's not obvious when the toes are slightly grown out. In other words, it's ideal for those seeking a low-maintenance option. That said, it's not easy to do yourself, so don't be afraid to experiment with other shades. Rich, high-shine colours look best on short, square toenails, but if you don't have a steady hand, stick to nudes that won't draw too much attention to mistakes. Match the nude to your natural nail bed colour for the most flattering result."
---
SHOP OUR FOOT MAINTENANCE EDIT...
DISCLAIMER: We endeavour to always credit the correct original source of every image we use. If you think a credit may be incorrect, please contact us at info@sheerluxe.com.