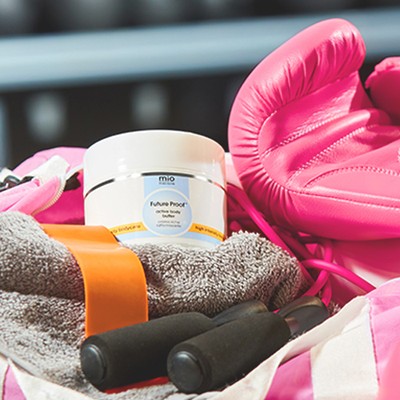 Why It's Never Too Late To Kick-Start A Healthy New Year

Resolutions, especially those of the New Year variety, tend to begin with determination, willpower and purpose, but slowly as the weeks go by, you lose the drive to continue. You'll always find a valid excuse to throw in the towel. Giving yourself unrealistic resolutions, fad diets and gym membership that build debt rather than muscle, will more often than not, result in failure. Mio Skincare, the skin and bodycare brand, are here to help to change your mindset and show you how to kick-start new, healthy habits that last.

CREATED IN PARTNERSHIP WITH MIO
We're half way through January and how many of your New Year's resolutions have already failed? Committing to a healthier lifestyle isn't about making five resolutions at once, it's about focusing on one goal and taking small steps each day to achieve it. And that's why Mio have teamed up with influencer and fitness enthusiast Flora Beverley (@foodfitnessflora) to support you through January and beyond, with helpful weekly tips on how to make small, achievable lifestyle changes that add up to make one big difference to your body, mind and skin. It's this focus on overall wellness that leads to a happier, healthier you.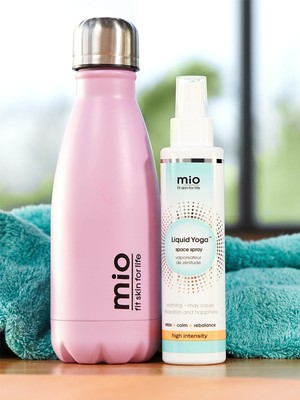 For added skincare benefits, Mio products will support your everyday activity while also helping you gain some much needed me-time. When exercise alone won't give you the stomach you want, Mio's Get Waisted lends a helping hand. Crammed with nine key ingredients that help de-bloat puffy tums and give your mid-section a firmer, tauter appearance. Combine this with eating well and exercise and you're sure to see results. Similarly, Future Proof Body Butter will do more than just boost moisture levels. This Omega-packed, anti-oxidant rich formula will give you strong, smooth and fit looking skin with an added healthy glow. And taking time to do these beauty rituals every day can have positive effects on your wellbeing.
It's important to make time to rebalance your mind and relax your muscles at the end of the day too. Create instant zen with a spritz of Mio's Liquid Yoga Space Spray. Packed full of essential oils and Mio's signature V-Tonic blend that will bring instant calm. Spray in the air, on your pillow and even your body for complete relaxation.

If you're in need of more inspiration on how to make small steps to being a healthier, happier you, Mio asked Flora for her tips on how to get in the zone and make the most out of the Month of Mio.
Why is it so important for you to fit in being active into your lifestyle?
It keeps me sane. I mean I love working out, for me, the benefits are way beyond the physical benefits that people promise. It's the mental health benefits, that keep me going.
What is your post-workout bodycare routine?
It depends what workout I've done. If I've gone for a long run or finished a heavy lifting session, a nice warm bath with Liquid Yoga is my go- to, I absolutely love it. I'm going to be recommending it to absolutely everyone. Once I've finished soaking, I'll slather on the Future Proof Body Butter all over my skin, especially the dry parts.
How important for you is it to practice mindfulness?
I think mindfulness is vital to my overall health. I use exercise as a practice of mindfulness. So being in the moment, without having to think has done wonders for my mental health and has been a key part of why I continue to box. When you box you can't think about anything that you did previous nor anything in the future either, you're just focusing on the now.
What advice would you give someone starting out on their journey towards a healthier lifestyle?
People try to do too much all at once, and then as a result they lose motivation or they miss a 'good' day and they think right, I've already failed, I might as well stop now. So, I recommend finding an activity you love and you're able to stick to. It then becomes habit and at the point it becomes habit, you've already won. It's just something that you do without thinking, so it doesn't feel like a chore at all.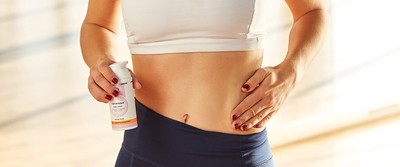 6 Small Lifestyle Tweaks To Do Now
1. Schedule Your Workouts – Planning the week ahead will ensure you stay on track with your new fitness regime. Same goes for food too. Plan your meals to avoid temptation.
2. Eat More Colourful Foods – Try adding rainbow brights to your plate, this will instantly make your food look more appealing and more nutritious too.
3. Stop Talking To Yourself Negatively – Be kind to yourself. Negative words such as fat, stupid, useless are terrible for your self-care and body image. Focus on the positive and be proud of every goal, however small.
4. Keep Hydrated – Buy a stylish and functional water bottle you'll want to show off and take everywhere with you. This will encourage you to drink more without consciously trying.
5. Give Yourself Some Me-Time – Whether you book a mani, a massage or simply make time to wallow in the tub. Self-care has a big impact on both your physical and mental wellbeing.
6. Sign Up To An Event – Motivate yourself with a fitness goal. It will give you a time frame and a schedule that you need to stick to. Encourage your friends to get involved for added determination.
It's never to late to kick-start healthy lifestyle changes, why not take part in the Month of Mio now? For more information on Mio, the Month of Mio or if you're simply in need of some New Year inspiration, visit MioSkincare.co.uk.

Shop the products below...
Plus, SheerLuxe readers will receive a FREE Mio thermal bottle with all orders this January, using code SHEERLUXE.
DISCLAIMER: We endeavour to always credit the correct original source of every image we use. If you think a credit may be incorrect, please contact us at info@sheerluxe.com.