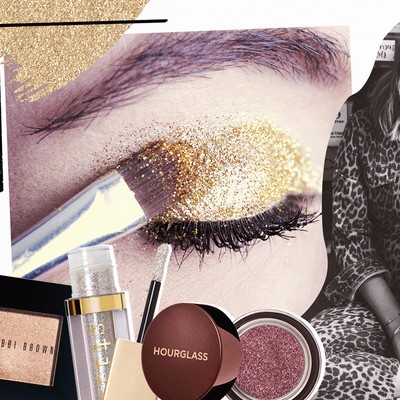 The Beauty Insider: Shimmer & Shine

Make-up artist Lisa Potter-Dixon is sharing her tips and tricks of the trade on what's new, what's cult and what you really need to know in the world of beauty. This week she's putting on the glitz with a heavy dousing of shimmer and shine.

I love glitter. Like PROPER love it. I would go out dressed as a disco ball everyday if I could get away with it.  My husband, Theo, does not like glitter quite as much. Mainly because it's EVERYWHERE in our house. He has been to many an important meeting with an accidental touch of sparkle in his beard! "It will bring you extra luck", is my slightly unconvincing go-to line.
The great news is, that a touch of sparkle can make a huge difference to your makeup look. And the perfect excuse to wear it, (not that you need an excuse in my opinion) is Christmas time.
Now, first things first, you can wear glitter at any age. And when I say 'glitter', don't think OTT. There are tons of amazing products out there that can help you create as subtle or full on look as you like. Here are my favourite ways to shimmer and shine.
A Wash Of Sparkle
This can be beautiful and understated. It's also a great look for those of you who haven't worn glitter before. There are tons of different shadows out there with a hint of sparkle in them. Powder ones or press pigments are foolproof  as they are easy to blend, and they tend to have a delicate balance of shadow and glitter. They also don't require any glue: Simply blend from the centre of the lid outwards.
Stick to champagne shades if you're unsure, the deeper your complexion, the more gold the champagne tone should be.
A Touch Of Shimmer
When using glitter,  think beyond your eyelid. Adding a small amount to  the inner corner of the eye is the perfect brightener. Alternatively, try a glitter eyeliner. These are great for those of you who adore a classic feline flick. I also adore  glitter under the lower lash line paired with a nude lid and tons of mascara.
Spotlight Eyes
I always feel like JLO when I sport a spotlight eye. It's her signature vibe and is so easy to achieve. All you need to do is apply glitter onto the centre of the eyelid. The light always hits this area of your face first as it's the highest point of the lid; hence the name, spotlight.
For this technique I love using a liquid glitter eyeshadow or a cream version. Both blend beautiful over powder shadow and add a "wow" factor. Use your finger or a flat brush to pat your chosen product into the centre of the lid, over your Smokey eye. Pat gently until it looks part of the overall look. Don't use a fluffy eyeshadow brush as this will diffuse the sparkle too much and take away from the spotlight look.
The Glitterati
Better known in my house as, "The Cher". In my opinion, no-one in the history of celebrity does a sparkly eye better than Cher. The iconic shot of her in the 70's with the dreamy disco eye and drawn on jerry curl will forever be my inspo for, well, everything.
This kinda look is where the loose glitter comes out to play. Don't even bother doing your base first, you'll just have to re-do it due to the inevitable fall out. And have some masking tape on hand (the type you use when painting a wall), as this is the best thing to use to remove loose glitter from areas of the face  where you don't want it.
When I create this type of look, I tend to do a simple base shadow in a matte. This can be any colour, although I always love jewel tones. Next, get yourself a good glitter glue, place it on the areas of the lid that you want the glitter to go, leave it to get tacky for a few seconds, and then press your glitter in place with either a flat brush or your fingers. I love layering different tones and sizes of glitter for added texture. But if you're going for it, then don't hold back. Keep the base fresh and simple. This look should be all about the eyes. And of course, I've found that glitter always turns out better if you have Cher's greatest hits blasting in the background!
So, the morale of the shiny story is, when in doubt, add glitter!
Love and lipstick,
Lisa xx
Make sure you tag us in your glitter pics. @Lisapotterdixon and @Sheerluxe on Instagram #LearnwithLisa
DISCLAIMER: We endeavour to always credit the correct original source of every image we use. If you think a credit may be incorrect, please contact us at info@sheerluxe.com.