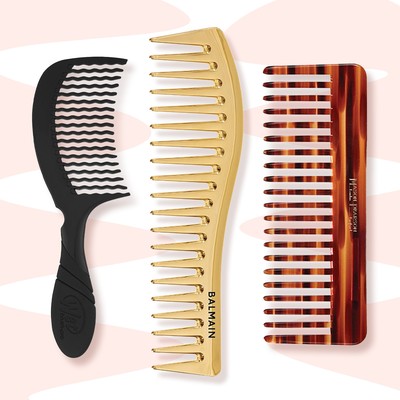 5 Of The Best Detangling Combs

Wide toothed combs are an underrated beauty tool. Not only do they prevent breakage, they also help get rid of static, and are far gentler than traditional brushes. Better yet, you can also use them to sweep through conditioning treatments, ensuring even product distribution and in turn, softer, more conditioned hair. Want to give one a go? Here are five worth trying…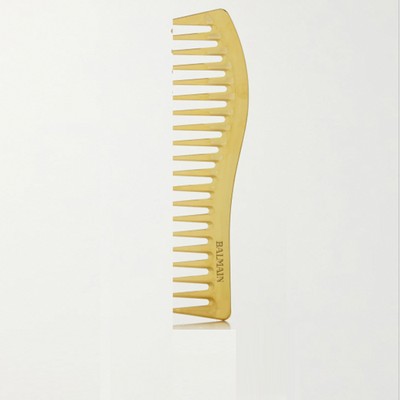 1
The One That Smooths…
Balmain Gold Plated Styling Comb, £28
Not only is this aesthetically pleasing to look at, it's also versatile, with a unique shape that suits all hair types. The firm, widely spaced teeth are ideal for swiftly removing knots without causing any friction, and it glides especially well through wet hair. The best bit? It holds your hair taught as you blow-dry it for soft and shiny results. Experts recommend using it to split your hair into sections, too, before then brushing through, holding the hair in place and blasting with your dryer. Available at NET-A-PORTER.com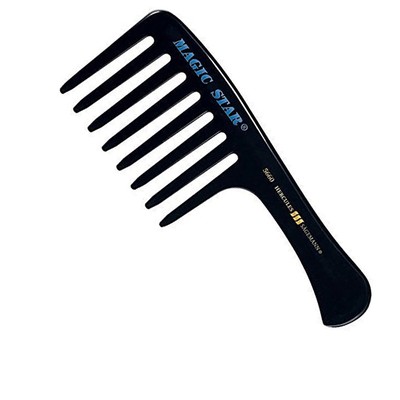 2
The One Experts Rate…
Hercules Sagemann Magic Star Hair Comb, £9.29
Hair pros love this comb, and it's often sold out as a result. Ideal for textured hair, it has extra-wide spacing between the teeth, so you can break through knots with ease. The smooth design and rounded prongs ensure little to no snagging, either. To make it work harder, experts recommend applying a mask or leave-in conditioner, then letting the teeth of this comb glide through your saturated strands. It will help to distribute the formula evenly, so that every bit of hair is coated and nourished.Available at CoolBlades.co.uk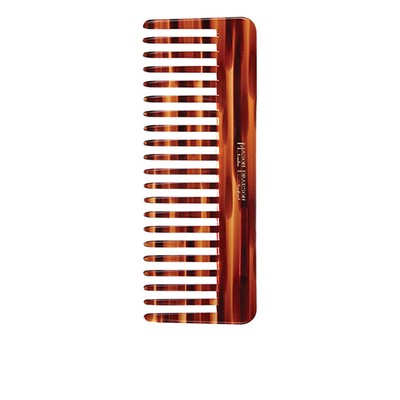 1
The One For Thick Hair...
Mason Pearson Rake Comb, £22.40
To this day, Mason Pearson create some of the best hair tools on the market and this rake comb is no exception. Unlike others out there, it's made from a single piece of material. The benefit? A better glide and smoother, consistent results. Why do stylists prefer to use this comb on dry hair? Not only do the soft teeth gently massage the scalp, they help to comb through our own natural oils for better hair health and shine. It looks great on any beauty shelf, too.Available at Amazon.co.uk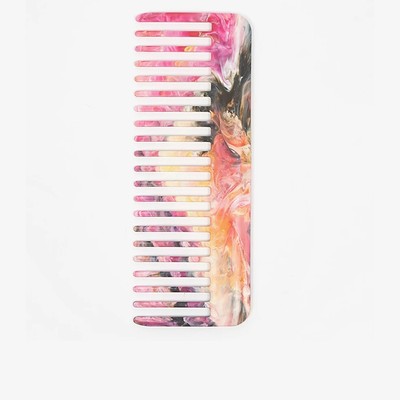 1
The One That Gives Back...
RE=Comb Recycled Plastic Hair Comb, £16
We discovered this brand through word of mouth and have been recommending it to anyone who will listen ever since. Made from recyclable plastic, it features flexible teeth that are gentle on all hair types and help to distribute product evenly – think masks, oils and conditioners – for deeper, nourishing benefits. The beautiful print is a bonus. 
Available at GoodHoodStore.com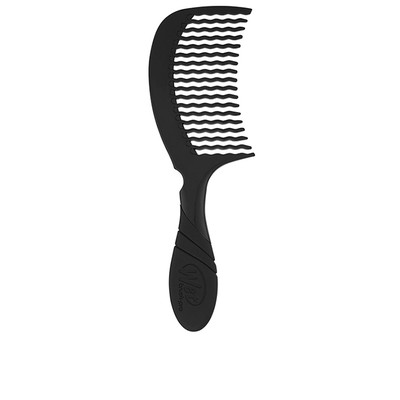 2
The One For Knots...
WetBrush Pro Detangling Comb, £8.99
No doubt you're familiar with the WetBrush, but if you've never tried this gentle comb, you're missing out. One of the best detanglers we've tried, it's lightweight, easy to wield and seamlessly separates all knots without ever tugging or snagging the hair. You can thank the soft rippled teeth for this, which glide through strands smoothly. It works for all hair lengths and textures – as well as synthetic and real extensions – while the evenly spaced bristles gently stimulate scalp circulation, too. If you're looking for one that ticks every box, this is it.Available at CultBeauty.co.uk
Three Tips For Getting The Most Out Of Your Comb:
1. Work From The Bottom Up
You should never brush your hair from root to tip – in fact, experts claim this can be a key cause of premature breakage. Instead, use your wide comb to brush from the ends up. This avoids any unwanted knotting, that can lead to split ends and breakage. Instead, you'll find the separate prongs glide through far easier than a brush. 
2. Do Comb Through Your Conditioner
As mentioned above, a key benefit of wide toothed combs is how gently they glide through hair, and distribute product evenly. If you're someone who suffers with severe knots, or you find brushing your hair post-shower a real struggle, then this is an essential step. Keep a comb shower side and get into the habit of running it through heavily conditioned hair with every wash. Not only will it hydrate parched strands, it'll also prevent matted knots and seal your cuticles, too, for shinier, healthier-looking hair. 
3. Make Sure You Get The Right One For You
There are some easy rules to follow when shopping for a comb. First, look at the spacing between each tooth on the brush – this will give you an indication of what's best for you. Those with larger spaces are great for anyone with thicker, curlier hair as they detangle without breaking apart your natural curl pattern. Anyone with fine hair should stick to combs with narrower spacing for more control. Finally, experts recommend combs with a curved edge for those seeking straight, glossy hair. You can use these to section your hair up before blasting it with a hairdryer. 
DISCLAIMER: We endeavour to always credit the correct original source of every image we use. If you think a credit may be incorrect, please contact us at info@sheerluxe.com.