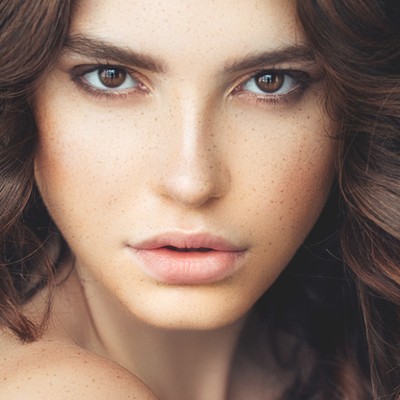 Everything You Need To Know About Getting Thicker Hair

Those with thin hair can feel like it's a constant battle trying to boost volume and get more body. But whatever the cause – from genetics to hair loss – know that there are ways to permanently thicken and densify your strands. We sat down with the experts at Grow Gorgeous to ask all questions you've ever wanted to know, and find out what really works...

What causes our hair to thin? 
Hair thinning and loss can be a result of two factors. Firstly, a genetic predisposition resulting in a sensitivity to male hormones. And secondly, it can be triggered by an internal imbalance, nutritional deficiency, crash dieting, stress or illness. Other factors that could also be playing a part are hormones, iron and B12 deficiencies or thyroid issues, so it's always worth seeing your GP.
 
 
When it comes to haircare, what ingredients should look out for?
Caffeine and biotin are known for encouraging hair growth and densifying thin locks. Biotin is a B vitamin that helps strengthen hair, thus preventing breakage, whereas caffiene targeting the hair follicles at the root, helping to stimulate them below the scalp.
Grow Gorgeous' Intense line caters specifically to those with noticeability thinning hair. One of their hero products is the Hair Growth Serum Intense, which can increase the thickness of each strand by as much as 13%.
The Hair Growth Serum makes strands up to 13% thicker.
Should we be using a specific shampoo & conditioner?
It's best to stick to a sulphate-free shampoo and conditioner as sulphates can strip away natural oils from your hair and scalp; leaving your hair frizzy and brittle, which can lead to breakage. The Grow Gorgeous Hair Density Shampoo and Conditioner re-strengthens hair follicles and intensively hydrates, so it's ideal for thin, damaged and colour treated hair.
And a targeted treatment?
To keep your hair in the very best condition try to use a hair mask at the very minimum once a week – and, if you can find the time, two or three times a week. Grow Gorgeous' latest product the Intense Thickening Hair & Scalp Mask is a multi-mask treatment proven to visibly increase thickness in as little as four weeks. It deeply hydrates and repairs hair, without weighing down fine strands, and combines a cocktail of volume-boosting pea proteins, biotin, caffeine and niacinamide, alongside strenghtening amino acids, hyaluronic acid and coconut oil.
How should you use the Grow Gorgeous thickening hair mask? 
Step 1: Begin by washing and conditioning hair with the caffeine-enriched Hair Density Shampoo and Conditioner Intense. This duo is formulated with hyaluronic acid and blended with amino acids and biotin to help stimulate hair follicles.
Step 2: Next double-condition by generously coating the hair and scalp with the new Thickening Hair & Scalp Mask Intense. Make sure to massage into your scalp before smoothing all the way through the lengths and ends of your hair. Leave for ten minutes, then rinse thoroughly.
Step 3: Finish with the Hair Growth Serum Intense, which is also proven to make hair visibly fuller and thicker in just four weeks.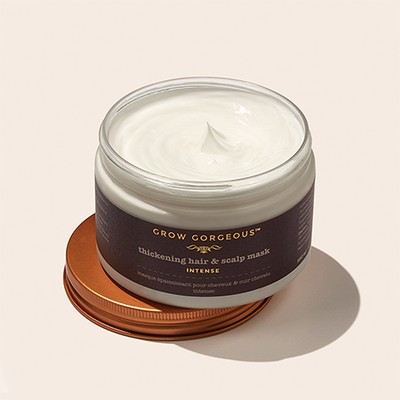 Our hair always falls out when we brush it in the shower, what can we do to prevent this?
When hair is wet, it's more prone to tangling – and it's also at its weakest, which makes it easier to break. You should either brush your hair before you shower or use a comb after applying conditioner. If you find your hair is breaking when you brush it in general, try using a wide-toothed comb.
 
Should you dry your hair in a special way to help boost volume?
Air dry: The key to getting the perfect air dry is imitating the action of a blow-dry and getting as much air as possible through and around your hair. Flipping your hair upside down every few minutes and shaking it out helps air get around it and encourages volume at the roots.
Flip it: Volume made easy. Flip your head upside down and blast the roots to create a natural lift. Blow-drying hair downwards will give you that sleek, smooth finish but concentrating some of that heat at the roots will help boost volume and stop strands from falling flat.
Cool Down: Once you're happy with your blow-dry, give your hair a minute to cool down. We like using a cool blast of air right at the end of styling when your rounded hair brush is still in your hair to really lock in the style.
Avocado, Greek yoghurt, salmon, poultry and iron-rich greens all contribute to hair health.
Are there any foods we can eat to improve general hair health?
If you're already eating a healthy, balanced diet – and don't have any nutritional deficiencies – it can be worth adding more biotin- and protein-rich foods to your daily meals. Avocado, Greek yoghurt, salmon, poultry and iron-rich greens all contribute to hair health.
Any other insider tips to try?
Scalp massage: The most effective way to do this is in the shower with a pre-wash treatment, like the Grow Gorgeous Scalp Detox. Spend at least five minutes really massaging it in, it helps remove dandruff and stimulates the hair follicles.
Strategic colouring: Speak to an expert colourist about using a multi-tonal technique when dying your hair. This will add depth and creates the illusion of thicker strands.
Cool blow-dries: Use your hairdryer on a cool setting, as less heat causes less damage. To do this, leave your hair a little longer to dry naturally before blow drying. Also try drying your hair upside down to create more volume. 
Visit GrowGorgeous.co.uk
DISCLAIMER: We endeavour to always credit the correct original source of every image we use. If you think a credit may be incorrect, please contact us at info@sheerluxe.com.