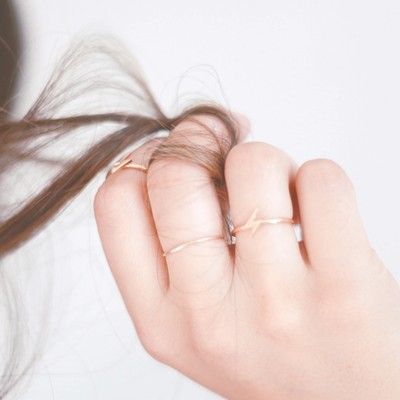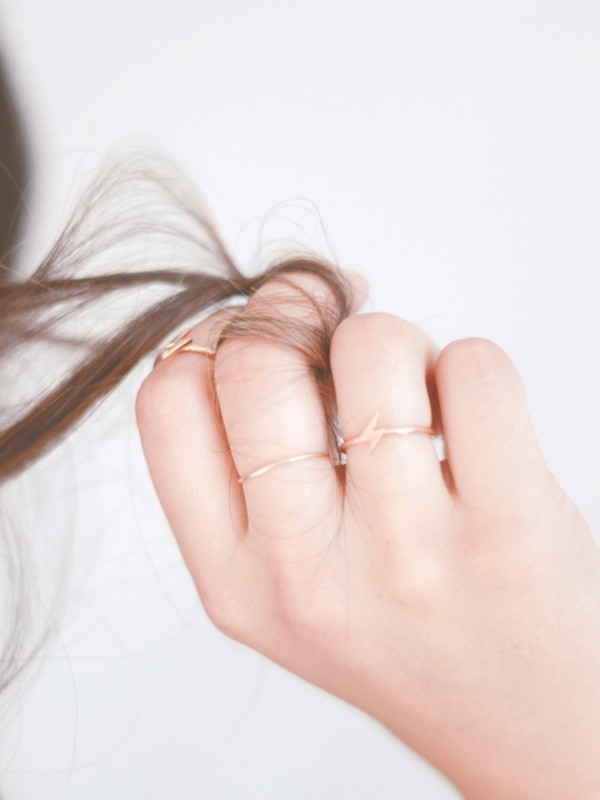 Expert Advice For Growing Out Damaged Hair

From diet and stress to excessive styling, so many things can affect the length and strength of your hair. If yours could do with some TLC, you're in the right place – here, two experts explain how to bring damaged hair back from the brink and encourage healthier growth in the future.

By Sapna Rao
"Hair is a very reactive tissue that's sensitive to lifestyle, health and environmental factors. There can be many reasons for hair loss and thinning, but thankfully there are always ways to treat it. Results are largely dependent on your hair type and concern – for example, active and pronounced genetic hair thinning is more complex to treat. Understanding your issue is the best first step. You can then manage the issue with treatments, products or prescription medical-grade solutions." – Anabel Kingsley, brand president & trichologist at Philip Kingsley
"Damaged hair can manifest as breakage, split ends and hair loss. Understanding where the issue lies is an important step in figuring out how and what to treat. Breakage is caused mainly by chemical damage to the bonds and structure of the hair. On the other hand, split ends are more commonly caused by heat damage from hair tools. Poor diet can also have an impact on your hair, causing it to thin and break."– hair stylist Hollie Rose Clarke
Take A Break From Heat Styling
"Heat styling is a key culprit in hair breakage. Since our hair is not a living tissue and therefore has no nerves – meaning we can't feel it burn – it's tough to know when to stop or give it a rest. As a rule of thumb, if it's too hot on the back of your hand, then the temperature is too hot for your hair. I would also recommend never straightening wet or damp hair – the moisture inside the hair shaft can boil, causing the hair shaft to burst, eventually leading to breakage. There are plenty of heat-less hair trends doing the rounds these days, so where you can it's best to avoid heat styling." – Anabel
"Dirty hair dryers can cook your hair – it's not very commonly known that the filter or grill on the back needs cleaning regularly. Dust gathers in this filter and can cause the hair dryer to overheat and burn your hair – so make sure you remove and clean this filter once every two weeks or so. Personally, I'm a big Dyson fan, as it tells you when the filter needs cleaning." – Hollie
"When your hair is wet, it's in its most fragile state, so always use a soft defanging brush such as a Tangle Teezer to avoid damage. When towel drying your hair, you can even swap your towel for a microfibre towel or old cotton t-shirt to minimise the damage. Overdoing it with chemical and colour treatments can do more harm than good – your hair needs time to recover. Opt for a professional gloss treatment occasionally instead, to limit the damage. Similarly, prolonged periods of having hair extensions can cause hair loss if they're not fixed and removed with care, so always be sure to have this done by a professional. Additionally, excess pressure caused by hair ties, elastics and ponytails can cause the hair to break if it's too tight. This can even cause tension hair loss from the root. To be on the safe side, opt for silk hair ties and looser styles when possible." – Hollie
Look At Your Overall Health
"Optimise each possible factor that can affect your hair growth cycle, including: health, nutrition, thyroid function, stress levels and scalp health. Eating a healthy, balanced diet can really help, although it's quite hard to give your hair everything it needs through diet alone. I often recommend adding in nutritional supplements such as Density Amino Acid to boost protein." – Anabel
"For anyone trying to get their hair back to its optimal health, I'd recommend regular hair trims every eight to 12 weeks. Trimming away anything that is past saving and snipping away the split ends before they travel up the hair significantly improves the look and feel of your hair. I often use a micro-dusting technique which involves only cutting the ends and damaged bits. This is the perfect way to remove split ends, if you'd rather not sacrifice length." – Hollie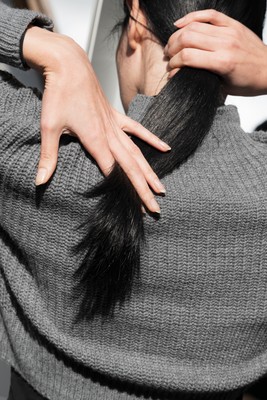 SIMONE WAVE/STOCKSY UNITED
"If you're starting from scratch, the first step is to use a shampoo and conditioner that are suited to your hair texture. A moisture balancing or re-moisturising duo and a stimulating toner for your scalp are all valuable additions. You can also exfoliate your scalp to lift away dead skin cells and improve suppleness. A weekly pre-shampoo treatment such as an Elasticizer will help restore moisture – which is the key for improving your hair's overall stretch and retention to breakage. You also get the added benefits of increased shine and reduced frizz too." – Anabel 
"A shampoo and conditioner that contains quality, active ingredients will go a long way to improving the condition of your hair – after all, you should invest in your hair, just like you would your skin. Virtue Labs recovery shampoo and conditioner is the holy grail – I recommend it to all my clients." – Hollie 
Pay Attention To Your Scalp
"Your scalp should be looked after in the same way you'd look after your skin – after all, the scalp is simply an extension of the skin on your forehead. When it comes to hair health and growth, if your scalp is not clean and healthy, it simply won't produce beautiful, strong hair. If you think of each strand as a flower, and your scalp as the soil supporting it, it makes complete sense to nourish and care for it properly." – Anabel
"Hair follicles on your scalp that are blocked by dead skin, dandruff or infection will have a big impact on the quality of your hair growth. If the follicles are permanently blocked, dirty or go untreated, it can even cease to produce hair at all. If you have any concerns regarding your scalp, always speak to a professional. Start with your hair stylist and if the issue turns out to be more complex, they can then recommend seeing a trichologist." – Hollie 
"The correct hair masks and treatments can work wonders in rehabilitating dry, damaged hair. Giving your hair some nourishing, intense conditioning will not only leave your strands feeling silky soft, it'll improve the hair's flexibility and vitality. Bond repair treatments such as K18, Olaplex or the Living Proof Triple Bond Complex are cult favourites for a reason. They restore the core of the hair shaft and strengthen the strands. As a result, your hair will be less prone to breakage." – Hollie
Finally, Book In For Salon Treatments
"In-salon restorative treatments are a great option for rehabilitating dry, damaged hair. For example, you could add a bonding treatment into your colour service. Depending on your hair type and the level of damage, keratin treatments can be effective. I personally love 72 Hair – a chemical-free British, vegan brand. The smoothing treatment penetrates the hair to bring it back to its original healthy state. Speaking to a professional is always worth it too – especially if you're weighing up different hair growth treatments. A trichologist is always a great point of call – I'd recommend famed Ricardo Vila Nova or Hannah Gaboardi, who specialises in hair loss and thinning hair." – Hollie
"A scalp facial thoroughly cleanses and hydrates, and your hair stylist will use products specifically tailored to your concerns and hair texture. Afterwards, your hair will feel seriously conditioned and look lustrous and full." – Anabel
DISCLAIMER: We endeavour to always credit the correct original source of every image we use. If you think a credit may be incorrect, please contact us at info@sheerluxe.com.