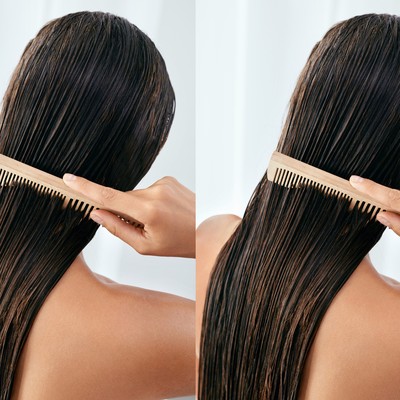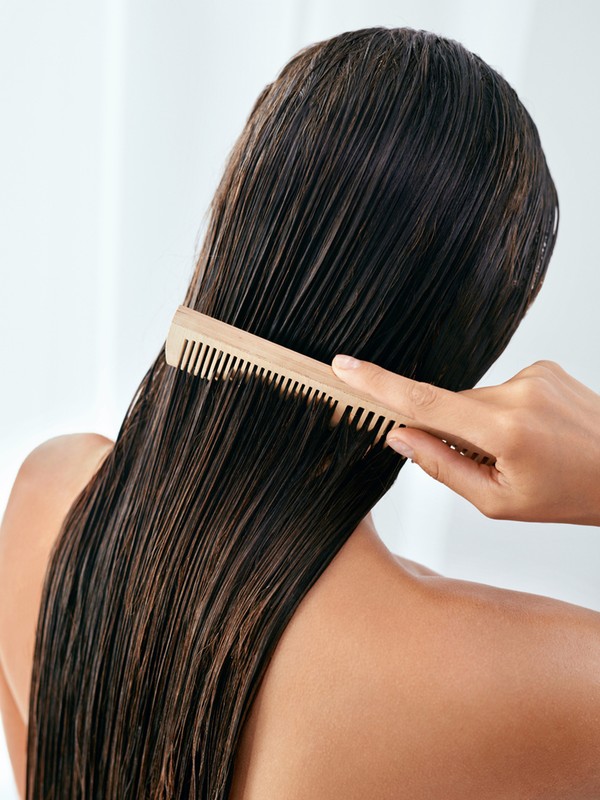 7 Hair Mistakes The Experts Want You To Stop Making

Talk to any industry expert and they'll agree there are some things no one should do to their hair. To find out what they are and how avoid making a damaging mistake, we asked two of them to share their top seven hair sins.

By Sapna Rao
All products on this page have been selected by our editorial team, however we may make commission on some products.
"Chopping your baby hairs will blunt the ends, making them even more noticeable in the long-run. In fact, cutting them will mean they just grow back in shorter stumps that are harder to hide. Instead –hard as it is – it's best to let them grow out and soften them into the hair when it's possible. In the meantime, a good blow dry will help them settle. Alternatively use a bit of mousse or oil to flatten them down." – Jake Wanstall, Larry King hair stylist
02
Putting Wet Hair Into A Tight Bun
"Your hair is at its most fragile when it's wet, so pulling your hair into a tight bun post-shower is a bad idea. Think of your hair like an elastic band; it stretches even more when it's wet. But if you're pulling at it with lots of tension it will eventually snap, causing the most breakage at the exact place where you're tying your hair back." – Patrick Wilson, hair stylist
03
Washing Your Hair Every Day
"If you're washing your hair every day, you're washing away the natural oils that your hair and scalp need to stay healthy. If you follow up using heat tools, you're only going to dry out the strands further and cause damage to the cuticle, making your hair feel rough and develop more split ends over time. Instead, try to plan your wash days. When it starts looking greasy, pop it in an up-do to buy yourself an extra day or two, or use a spritz of dry shampoo to end the time in between washes." – Patrick
04
Forgetting To Use Heat Protection
"It sounds obvious, but you'd be surprised how many people still skip using heat protection on your hair. Think of it like sunscreen for your hair – it's essential if you want to create a healthy barrier that stops the hair drying out when it's met with intense heat." – Jake
05
Over-Conditioning Your Roots
"Using too much conditioner on your roots will only weigh your hair down. Generally, conditioner isn't needed at the root at all because this is where most of the natural oils are produced by the scalp. As such, stick to using conditioner on the mid lengths and ends only." – Jake
06
Using Lemon Juice To Lighten Your Hair
"It's like using Sun In – squeezing lemon juice on your hair is only going to dry out the hair shaft and cause damage. It's true that it can help lighten your hair, but it will be left feeling straw-like. I would always recommend going to a professional for a colour service, especially blondes. They can give you a thorough consultation and decide on a shade that is achievable for you." – Patrick
"Pulling out one grey hair will only product a new grey hair in its place – there's only one hair that's able to grow per follicle. The surrounding hairs will not turn grey or white until the pigment in their own follicle cells die. I say embrace them. But if that's not your style, you could use a root powder or a temporary colour chalk to conceal them." – Patrick
DISCLAIMER: We endeavour to always credit the correct original source of every image we use. If you think a credit may be incorrect, please contact us at info@sheerluxe.com.