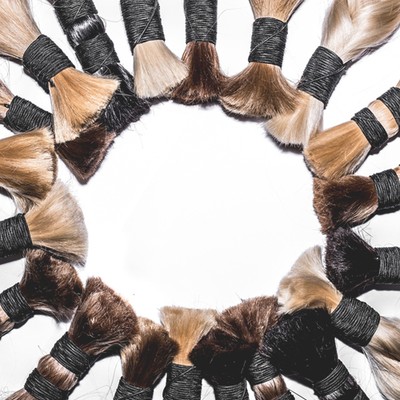 The Shocking Truth About Hair Extensions

Mention hair extensions and the likes of OTT noughties style, visible bonds (think Britney Spears circa 2010) and the cast of TOWIE may spring to mind. But these days they can look so natural, that you'd never even guess the world's most sought-after supermodels, actresses and Instagram stars are wearing them. In fact, over a third of British women are, too. But are they really safe to wear? Where does the hair actually come from? And at what cost?

As celebrity hairstylist Jen Atkin – responsible for looking after the locks of the Kardashians, Jenners, Hadids, and Chrissy Teigen – told W magazine last year: "It's 2017. If you're not born with the hair you want, buy it." And women most definitely are. The global hair extension market is estimated at around £3.64bn per year, and between £45m and £60m in the UK alone – a 70% increase in just five years.
Why? Some industry experts have put the growth down to rising concerns about self-image, propelled by celebrity culture and social media, while others say it's also due to the ease and 'invisibility' of modern-day extensions – a 2014 survey by HairTrade.com revealed out of the 34% of UK women who wear extensions as a regular part of their beauty routine, over three quarters used them for extra volume, rather than unattainable length.
"It's not that I keep my extensions a secret, but they're just so good nowadays that no one can tell it's not my own hair," one woman told the website. "It used to be a beauty product that only celebrities had, but now it's much more accessible to everyday people and there really does seem to be something out there for everyone."
From iPhone apps that let you order clip-ins to your door, high street salons offering individual bonds and websites with free colour-matching services, getting hair extensions has never been so easy. But it can come at a cost to your own hair. Hair loss – specifically, traction alopecia – is a common side-effect of regular hair extension use, and can lead to seriously thinned hair and even permanent bald patches.
"Traction alopecia is caused by anything that pulls on the hair, ultimately damaging the root and can lead to scarring and permanent hair loss," Doris Day, dermatologist and hair loss specialist at New York University, explains. "It's a process that usually takes years. Underlying causes can be hair extensions, tight braiding, tight ponytails, or even just pulling at the hair." She also adds that the condition is more common among women of colour: given the Afro hair type is naturally more brittle than Caucasian and Asian hair, this puts it at a higher risk of damage.
So what are the symptoms of traction? Trichologist Evie Johnson describes them as "redness, soreness, irritation, tenderness of the scalp," adding that more severe manifestations can include bumps and blisters. "You then may start to notice broken hairs around the hairline as it begins to recede," she says. If the restrictive hairstyle causing your hair loss is stopped at an early stage, the trauma to the hair follicles may be reversible and it's likely that the hair will grow back on its own – however, the damage can last forever.
Blogger Chidera Eggerue, who suffers from traction alopecia, covered the topic in a BBC Newsbeat documentary earlier this year, Too Young to Go Bald. Eggerue revealed that her hair loss began when she wore large, heavy extensions tied up in a high bun; the weight gradually pulled on the follicles around her hairline, eventually resulting in a balding band of frontal hair loss. As a result, she felt deeply uncomfortable when going out: "I would never wear hair upwards or in an afro without covering it," she said.
In the documentary, Eggerue also spoke to Paigey Cakey, a rapper from north London, who underwent a hair transplant at the age of 25 after her hair begun falling out at 18 due to tight braid extensions, and unfortunately never grew back. She travelled to Turkey for the procedure – which is not usually carried out on the NHS and can reach up to £30,000 – and had 3,400 hair follicles replaced. Cakey described the anaesthetic injections to numb her head as the "worst pain" she had ever experienced.
But this isn't the only shocking truth about extensions – as the industry is largely unregulated, hair is often sourced unethically. A recent exposé by Refinery29 revealed the business is filled with "scammers and con artists who prey on desperate women in the developing world to cut their hair off for a few dollars", and even criminals who attack women and children for their hair, holding them up by gun or knifepoint and forcibly cutting off their ponytails.
According to the publication, these 'hair brokers' target conflict zones and war-torn countries where it's easy to exploit women for their last valuable possession – hence why a lot of the hair in the current market is coming from places like Myanmar, Ukraine, Tunisia and Venezuela, where starvation from a government in turmoil has driven women to walk to the Colombian border; "There, booths are set up to shave or cut hair for pennies on the dollar of what it's actually worth," Refinery29 reported.
There are, however, hair extension brands striving to source fairly, like Great Lengths, Woven Hair, Just Extensions and Remy New York. Refinery29 noted that India has become the most popular option for these companies, as women freely give their hair during a religious Hindu ceremony called tonsuring. "Because they don't accept money in return, the temples profit, but costs are still low for bulk hair buyers," the publication revealed.
DISCLAIMER: We endeavour to always credit the correct original source of every image we use. If you think a credit may be incorrect, please contact us at info@sheerluxe.com.