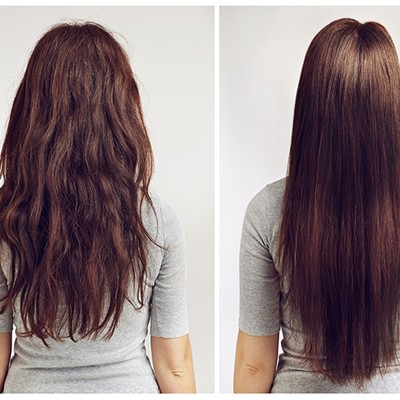 What To Do About Frizz

If you're someone prone to frizz, you'll know what a nightmare it can be. We went to seven top stylists to find out how they advise tackling it...

Dry Like A Pro
"When you dry your hair with a cotton towel, each separate loop made of thread rubs individually against the strands of your hair, roughing it up, which causes friction and creates frizz. It can also lead to breakage (your hair is 60% weaker when wet), resulting in a more permanent frizz situation. One of my secret weapons is The Aquis Hair Turban Lisse Luxe, it's a smoother, more absorbent fabric, that gently dries your hair up to four times faster than a cotton towel, it's also super thin, so it's much easier to wrap your hair up in." – Adir Abergel, Creative Director of Virtue
 
"Try to reduce the amount of blow-drying by leaving your hair to dry naturally until it's around 80% dry, then finishing with a hairdryer for the last 20%, preferably on a medium heat." – Stefan Bertin, session hairstylist & Mane 'n Tail Ambassador
 
"After washing, Prime your hair with Charles Worthington's Volume & Bounce Express Blow Dry Primer after washing to seal the cuticles, and leave your hair to dry naturally until it's not damp, pressing your hair with the towel to remove excess moisture. When you blow-dry it, you'll find it's much smoother. Finish styling with a light mist of hairspray which will act as a barrier and keep your hair sleeker for longer." – Ken O'Rourke, celebrity stylist & Charles Worthington Ambassador
 
"When drying, I recommend using a leave-in conditioner and a balm to control frizz, moisturise and provide thermal protection. Another tip is to always point the nozzle of the hair dryer down the shaft." – Gareth Bromell, Evo Hair Global Brand Ambassador
Use A Frizz-Fighting Shampoo
"Sulfates are the foaming agent that cleans our hair, however they also strip it of its natural oils, leaving it dry and more likely to soak up humidity in the air. Instead, aim for shampoos that are high in glycerine and sulfate-free. Glycerine coats the hair with moisture from the inside out to block that outdoor moisture from getting in, such as Evo's Mane Tamer Smoothing Shampoo." – Gareth Bromell
 
"When it comes to frizz, the shampoo you use can definitely make a difference. Mane 'n Tail Deep Moisturizing Shampoo, contains glycerin, hydrating the hair from the inside out, combatting frizz and leaving a protective coating around the hair shaft." – Stefan Bertin
 
"Some shampoos have increased moisture content and are able to deliver it back into the hair, thus improving the appearance of frizz. Ingredients in all products have a 'molecular weight' meaning that they have a size; the smaller the molecules the deeper they can penetrate the hair. Also, the less harsh the ingredients are in your shampoo the better, this way frizz can be improved before applying any masks or oils. The My Hair Doctor Re-Hydrate Shampoo is super-hydrating, and contains botanical ingredients such as baobab oil and sea buckthorne, to nourish and replenish." – Guy Parsons, stylist, certified trichologist and Founder of My Hair Doctor
Use A Hair Mask
Enriched with castor and olive oil, which are high in vitamin E and fatty acids, Phillip Kingsleys's Elasticizer delivers a rush of moisture to the hair's cuticle, helping to lock in and retain moisture. The result is healthier hair with increased suppleness, elasticity and shine." – Anabel Kingsley, Phillip Kingsley Trichologist
"The Restorative Treatment Mask by Virtue is the ultimate hair saver. The key ingredient is the Alpha Keratin 60k – pure, whole, ethically sourced human keratin protein. It has the same molecular size as our own keratin, making it instantly recognizable by our body, seamlessly filling in and repairing damage in every strand of hair. Its lightweight yet intensively hydrating, allowing even those with the finest of hair to use it. Just three minutes in the shower will completely transform your hair." – Adir Abergel
"For an affordable option, I love the Body Shop's Banana Truly Nourishing Hair Mask. It gives long-lasting protection against humidity and frizz, nourishes from the inside out, is vegan and really purse-friendly." – Gareth Bromell
Protect From Heat Damage
"Hair that's broken and dry is more prone to looking frizzy. Hydrate your locks with a weekly pre-shampoo conditioning treatment to discourage breakage and smooth cuticles. A daily protective spray will also help shield your hair from daily environmental weathering and damage. Key ingredients to look out for are moisture regulators such as pro-vitamin B5, lightweight conditioning anti-frizz agents such as babussu oil and anti-statics such as Lanolin." – Anabel Kingsley
 
"Try to reduce the amount of heatstyling and never use heat on your hair without applying a thermal protector first. When hair is heat damaged, the outer layer of the cuticle lifts, increasing the hydrophilicity and allowing moisture to pass through, swelling your hair strands, which results in frizz." – Gareth Bromell
 "Invest in good heat styling tools, the less damage to your hair, the less likely it will become frizzy." – Ken O'Rourke
Finish With An Oil
"Thick, drier hair types should always apply an oil after washing to tame frizz. For those with fine hair, I'd suggest only applying a tiny amount onto the ends when necessary." – Ken O'Rourke
"Virtue's Polish Un-Frizz Cream is a leave in conditioning cream that smooths the hair from root to tip, ideal for those with thick, curly and frizz-prone hair." – Adir Abergel
"Oils are great when used as a finisher – I love the Sachajuan Shine Serum. But ensure you use them as a finishing touch and team with a nourishing shampoo and conditioner – it's important to focus on moisturising the hair from the inside out first." – Stefan Bertin
Try A Professional Treatment
"If you're finding nothing is working, there are a number of in-salon options you can try, one of the most effective being a keratin treatment. KeraStraight Ultimate Treatment uses multiple protein technologies to repair, straighten and smooth the hair. The treatment's low pH makes hair incredibly ionic which interrupts its ability to form a curl and creates the resistant to humidity. It also restructures and strengthens, leaving your hair less prone to breakage, and the results will last for around four months if you use the right aftercare." – Jez Barrnett, founder of Kerastraight
 
Prices start from around £150; find your nearest salon at KeraStraight.com
DISCLAIMER: We endeavour to always credit the correct original source of every image we use. If you think a credit may be incorrect, please contact us at info@sheerluxe.com.