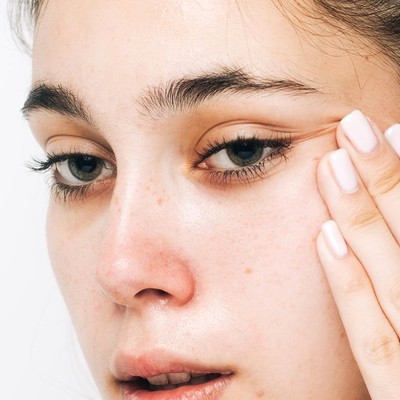 How To Conceal Spots Without Making Them Worse

Most of us have to cover up at least the odd spot from time to time. Get it wrong, though, and you not only risk drawing more attention to it – you could also make the problem worse. Here, make-up artist Jessica Kell shares her top tips and three skincare specialists reveal what ingredients to avoid.

All products on this page have been selected by our editorial team, however we may make commission on some products.
Use Different Textures
"Navigating the best formulas and textures when it comes to breakouts can be overwhelming," admits make-up master Jessica Kell. "On the one hand, you want your skin to look fresh and healthy, but you also want enough coverage to conceal the flare-up. The best thing to do is aim for a mixture of textures. Look for a lighter or more medium coverage from your foundation and a heavier, more matte texture in your concealer. This will keep the overall look fresher and limit the strongest coverage only to where you need it most. A great medium coverage base is the new Charlotte Tilbury Beautiful Skin Foundation which looks good paired with Nars Soft Matte Complete Concealer. The two will create an even canvas, but still let your skin breathe." 
Choose Non-Comedogenic Products
"When choosing make-up for acne-prone skin, look for products that are marked as non-comedogenic," adds Dr Anjali Mahto, consultant dermatologist & author of The Skincare Bible. "This literally means 'will not block pores', so you can be confident it's oil-free and suitable for your complexion. It's worth looking for gel-based textures that will add some hydration, too, as these will nourish and support barrier function for healthier-looking skin. Hourglass Immaculate Liquid Powder Foundation is a great example of a base that's non-comedogenic and hydrating. It contains cashmere kaolinite clay, which regulates oil control and draws impurities out of your pores."
Steer Clear Of Primers 
"It can be tempting to go for illuminating base products, like primers, that also give some coverage," continues Jessica. "Everyone wants to put as much luminosity back into their skin as possible, but this can make your complexion look oily and really accentuate enlarged pores, as well as uneven skin texture and tone. Instead, opt for hydrating skincare that nourishes the skin and gives it a smoother appearance – I recommend the Aqufons Hydration Lotion from Suqqu." Anjali agrees: "While some are suitable, those prone to oily skin and breakouts shouldn't rely on daily primers. They act as an occlusive layer, in turn, clogging your pores and this can lead to dull, lifeless-looking skin. Instead, use replenishing moisturisers that can act as a primer, while also keeping your skin in good condition."
Disregard Matte Textures 
"While it's worth avoiding illuminating products, you should also avoid going the other way and looking too matte," says Jessica. "It's all about striking the right balance. If you only look for formulas that are matte, you're going to strip all the radiance out of your skin and this can make everything look flat and your make-up too heavy. You'll end up camouflaging everything at once, rather than just the affected areas. Try to focus only ont he areas that need it the most, then let the rest of your skin breathe through."
Illuminating concealers are great for your eyes, but for spots, you want something with a creamy and slightly matte finish that stays put.

Beware Of Synthetic Ingredients
"Check ingredients lists for fragrance, perfume, or parfum," says Dr Tiina Meder, dermatologist and founder of Meder Beauty. "These aren't suitable for anyone suffering with adult acne because they can irritate already inflamed skin. Oils with a prevalence of saturated fatty acids should be avoided too: these include coconut, cocoa, shea, mango and cupuacu oil. Also, avoid any products that contain sodium lauryl sulphate, which is commonly found in cleansers. All of these can damage the skin's protective barrier, resulting in irritation."
Focus On Your Application
"There are a couple of application tips that can help you cover breakouts," advises Jessica. "If you are trying to cover a larger area of skin, start by using a buffing brush to apply your foundation. Really work in the coverage over the areas that need it most to get a more even result. Then you can go in with a smaller, detailing brush to cover specific areas. I love the Zoeva 110 Face Shape Brush for this. When you cover smaller areas or particular spots, an eye brush will also come in useful. They're smaller, so they're better for more delicate work." 
Call In The Big Guns
"If you find your skin is really flaring up, use an acne-specific concealer," says Jessica. "I always carry both the Vichy Dermablend Colour Corrector Concealer and Keromask Camouflage Cream with me for strong, but gentle coverage. I also rate the Double Wear Stay in Place Concealer by Estée Lauder."
Layer Up 
"Layering your products is the key to a seamless finish," says Jessica. "Always start with a great moisturiser to create a hydrated base for your foundation to sit on top of. That way it won't go dry or flaky over the breakout zones. Once you've done this, go in with a light layer of your foundation all over your face. Start with just one even coat and blend it down your jawline towards the neck. Once you have your first layer, stop and look at where you need a bit more coverage – focus on any areas of redness, or darker pigmentation. After this, you can go in with your concealer. Apply it with a detailing brush directly to any spots you have and then tap it with clean finger to blend. Using the same brush, apply a second layer to any little spots that need it. Leave everything to set before using a very finely milled powder – like one from Laura Mercier – on top." 
Look for a lighter coverage from your foundation, and a heavier textured concealer. Mixing both will limit the strongest coverage to where you need it most, keeping everything fresh.

Try Colour Correctors
"They may not instantly spring to mind, but colour correctors are a really handy tool for acne sufferers," advises Anjali. "Try using them underneath your base make-up. Green-toned correctors can neutralise redness, while peachy tones will cancel out any pigmentation or dark marks. Vichy's are brilliant and deliver great coverage. They're gentle and kind to the skin, too."
Lock Down Your Make-Up
"Those prone to breakouts will know how hard it is to keep coverage in place all day," says Jessica. "It's tricky not to end up with a flat, or cakey finish, but there are definitely things you can do to ensure it stays put. For starters, creating a good base will always help. I also advise using blotting papers after applying moisturiser so your skin is hydrated, but doesn't have excess product or oil sat on the surface – the Muji Cosmetic Papers are ideal. A light layer of powder is also helpful. Try pressing some onto specific areas with a flat foundation brush – this is better than a fluffy brush as it's more likely to secure everything in place."
Find The Right Concealer For You
"By now, it's clear a good concealer is crucial – but it's so important to pick the right one," adds Jessica. "Illuminating and brightening concealers are great for under your eyes and enhancing skin tone around the nose, but for spots, you want something with a creamy and slightly matte finish that stays put – so make sure you have different concealers for different purposes in your make-up bag." 
Finally, Keep Everything As Clean As Possible
"It's all very well and good having the right make-up to hand but being diligent about cleanliness is vital," concludes Jessica. "It is so important to wash your brushes after every use if you have troublesome skin. Use antibacterial wipes to clean the packaging of your products and never use your hands to apply skincare or make-up without washing them first. Bacteria is one of the main causes of recurring acne, so always use antibacterial wipes to clean your phone screen and never touch your phone to your face when you're on a call – try to use headphones instead. It's the little things that can make such a difference, in addition to the right make-up."
Shop The Expert Approved Products Below...
DISCLAIMER: We endeavour to always credit the correct original source of every image we use. If you think a credit may be incorrect, please contact us at info@sheerluxe.com.