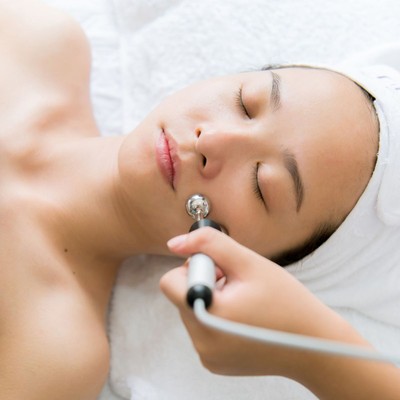 How Microcurrent Facials Work & Why They're Worth A Try

Dubbed a 'non-surgical face lift' it's no wonder interest in microcurrent devices and treatments is at an all-time high. By sending bolts of electricity into the skin, the procedure works to lift and firm the face in as little as five minutes – plus, it's completely non-invasive. The benefits don't end there, either – the treatment can also stimulate lymphatic drainage, boost collagen and reduce the appearance of fine lines over time. To find out whether it really makes a difference in the long-term, we asked A-List facialist Abigail James to explain all.

First, What Exactly Is A Microcurrent Facial?
"Microcurrent facials have actually been around for years, but it's the technology and methods that have come a long way recently. It's often dubbed 'the non-surgical face lift' because it uses tiny, low-level electrical currents via metal probes to stimulate the skin and boost circulation, as well as collagen. These probes manipulate muscles and physically move them into place – lengthening and shortening them as they glide. It works in a similar way to facial massage by lengthening the muscles that have contracted and shortened due to years of various facial expressions. It's great for tackling the visible signs of ageing, too, as it boosts skin's vibrancy and improves overall tone. Traditionally, microcurrent technology was used to treat conditions like Bell's Palsy, which is why to this day, it continues to be an effective treatment for facial healing. It's one of the key reasons it's a hit in the medical world – and now among skincare experts, too." 
What Does The Procedure Entail?
"During your treatment, a therapist will work around all of your facial muscles with the probes, lifting and holding, allowing the current to do its job on each muscle. When used alongside aesthetic beauty treatments, this procedure re-educates the muscles to lift, tone and re-energise, and also stimulates cellular activity (collagen) and boosts product penetration, so you can expect quite instantaneous, radiant results. Its benefits go far beyond this, however. When done regularly, skin's elasticity will be stronger, while textured and uneven tone will be gradually smoothed, too. You'll feel a slight tingly sensation and potentially a metallic taste, too. This is because the current has an impact on the enzymes in your saliva – it's nothing to worry about and the treatment itself is never painful."
During your treatment, a therapist will work around all of your facial muscles with the probes, lifting and holding, allowing the current to do its job on each muscle.

Is It A Non-Invasive Alternative To Botox? 
"For some clients, it will be enough, but it does depend on your expectations. Microcurrent technology doesn't stop your muscles from moving, but it does improve the quality and tone of them. If you're looking for a natural, healthy glow – no matter your age – then this is the option for you. It works well in conjunction with other treatments, too. Think of it as a treatment akin to the gym – it stimulates and rejuvenates cells, boosting blood flow for a healthier-looking glow." 
Can Anyone Try It Or Is It More Suitable For Certain Skin Types?
"All skin types can benefit from microcurrent facials and as mentioned above, the treatment can be combined with other methods if you want more tailored results. It's especially useful if you're concerned about ageing – likewise if you want something that yields visible results without any pain or downtime. That said, if you're pregnant, steer clear until after you've given birth – you can continue with these kinds of treatments while breastfeeding. Also, avoid this treatment if you have epilepsy, a pacemaker or suffer with chronic acne – the treatment may stimulate further inflammation. The only other thing to consider is that results can take time, so you do need to stick with it. Don't get me wrong, you'll see a glow almost immediately, but firmness and other long-term results are more likely to be seen over a course of treatments." 
Which Other Treatments Can You Combine It With?
"It's best combined with other methods as part of a complete facial. This includes mixing it with procedures like peels, LED, radiofrequency and massage, too. It's brilliant for aiding serum application, too, as it allows the product to penetrate your dermis better – the benefits are endless. Typically, microcurrent treatments are offered as a course. Your aesthetician may think differently, and anything can be advised from two sessions a week to every now and then every six weeks – it comes down to your individual skin type and preference." 
Want To Give It A Go? Five Of The Best Places To Try A Microcurrent Facial:
Visit AbigailJames.com
 
DISCLAIMER: Features published by SheerLuxe are not intended to treat, diagnose, cure or prevent any disease. Always seek the advice of your GP or another qualified healthcare provider for any questions you have regarding a medical condition, and before undertaking any diet, exercise or other health-related programme.
CREDITS: MAAHOO STUDIO/STOCKSY UNITED
DISCLAIMER: We endeavour to always credit the correct original source of every image we use. If you think a credit may be incorrect, please contact us at info@sheerluxe.com.