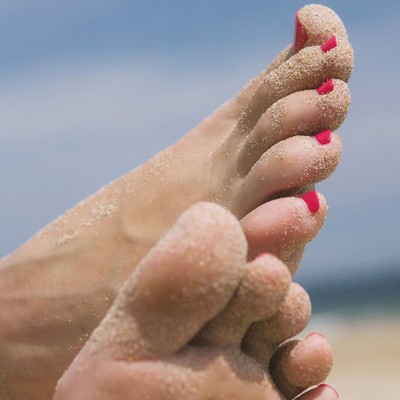 How To Prep Your Feet For Summer

Ahead of sandal season, it might be time to give your feet some TLC. If you're struggling to get a pedi and might end up doing it yourself, what the professionals had to say might help...

All products on this page have been selected by our editorial team, however we may make commission on some products.
Use A Foot File, Not A Scrub
It may be tempting to reach for a foot scrub to instantly slough off hard skin, but for real results, the experts recommend starting with a foot file. "All the foot creams in the world won't work if there's hard, dry skin lingering around, so start by using a foot file to remove hard skin and calluses," advises podiatrist Margaret Dabbs. "You can also use a file to safely take off corns from your toes and soften the ridge of skin that tends to build up under your little toe," she says. "Once you've filed, you can move on to a scrub. Use a very small amount on wet hands, rub it all over the foot, concentrating on the heels and ball of the foot, and then take it in-between the toes before working your way to the nails. Rinse with warm water and you will instantly see the results – skin will look refreshed and replenished."
Opt For Foot-Focused Products
Using your body moisturiser on your feet just won't cut it, says Margaret, who explains the skin on your feet is 12 times thicker than the rest of your body. "For a full treatment, start by using a dry foot oil, which will act as a carrier, and follow with a foot lotion, a little like how you would use a serum and moisturiser on your face." It's worth looking out for specific ingredients too, says Margaret. "Emu oil is one to look out for. It's been used for thousands of years and is prized for its healing powers – it will transform even the driest of feet and leave them silky smooth and rejuvenated." Antibacterial ingredients like pure oregano and Manuka tree oils are also good for soothing dry areas, while products containing salicylic and benzoic acids will target infection and remove dead skin cells. 
Don't Discount Tanning
Tanning guru James Harknett says adding some colour to your feet is a sure-fire way to make them look instantly more groomed. His advice? "Prep your feet before tanning and go slowly for the best results." James recommends using a tanning liquid with a natural looking guide colour. "Start by moisturising your feet and heels with an oil-free moisturiser to create a barrier. DHA, the main tanning ingredient, clings to dry skin, so ensuring this base layer is in place will guarantee seamless results. If your skin is particularly dry, soak your feet for 20 minutes in warm water and pumice away the build-up. Then use sweeping motions with a mitt to apply your tan, starting with your legs. When you get to the ankles and feet, use the remnants of tan already on the mitt and dust over the skin. Remember, you can always add more tan, but you can't take back." To avoid stark white gaps in between your toes, James recommends using a barrier cream here too, especially around the nail, before using a small amount of tan on a make-up brush. "This is my secret tip for tricky areas. A make-up brush will dispense just the right amount of product on the skin for an even, not overly-saturated finish."
It may be tempting to reach for a foot scrub to instantly slough off hard skin, but for real results, the experts recommend starting with a foot file.

Try Exfoliating Socks
Foot peels and exfoliating socks offer a minimal-effort solution for at-home maintenance. We rate BeautyPro's Foot & Callus Peel, a dual-layered sock treatment concentrated with 16 botanical fruit extracts to swiftly break down dead skin. The formula gets to work gradually over seven days, at which point, the foot surface will peel and shed away. Despite its efficacy, it's gentler than other peels, so you can use a foot file to remove any excess that isn't breaking away on its own. For a more hardcore treatment, the perennially popular Footner Exfoliating Socks are worth a try for baby-soft feet.
… Or Sleep In A Pair Of Socks
For softer feet as you sleep, try using a foot scrub on wet skin before applying a nourishing foot cream and immediately popping on a pair of cotton socks, advises Bee Sidhu, beauty therapist at Nails & Brows. "Keep them on for at least an hour, or ideally as you sleep, which will allow the moisturiser to really penetrate into your skin, keeping it soft and supple. Try Bliss' Softening Socks, which come pre-loaded with jojoba oil, ceramides and vitamin E to smooth and soften dry patches."
Go For A Rounded Shape For Your Nails 
Once hard skin has been dealt with, look to your toenails, says manicurist and nail expert Loui-Marie Ebanks, who recommends using a coarse file to keep things tidy. "If you haven't touched your toes for the last few months, chances are your toenails are out of shape and a little jagged. If this is the case, cut them down with a nail clipper straight across to shorten before using a coarse file to shape them. Just be careful of clipping the sides, which can cause ingrown nails," Loui says. "File straight across the top of your toenails and create a slightly rounded edge for a neat, groomed looked. Be wary of cutting them too short though – toenails look good with a little length and this will prevent them from growing inwards, too." If you're plagued with discoloured nails, Loui recommends using a buffer, which will instantly make things appear cleaner and smoother.
For softer feet as you sleep, try using a foot scrub on wet skin before applying a nourishing foot cream and immediately popping on a pair of cotton socks.

Know When To Seek Professional Help
Nails can be easily stained by polish, fake tan or excess dehydration, in which case a light buffing works wonders, but yellow nails can also be a sign of a fungal infection. When the issue is fungal, the nail will usually look yellow and thicker, but a specialist can confirm this for you. Topical applications can help – look out for treatments containing tea tree, terbinafine and amorolfine. Similarly, dry skin is normal, but flakiness isn't, says Margaret. "Flaking skin on the feet can be a sign of a fungal infection, so always get this checked by a qualified podiatrist. A healthy foot sole is one that is even, doesn't have any cracks and doesn't itch or smell."
Choose The Right Colour
When it comes to better-looking feet, the right polish shade is worth its weight in gold says Emily, nail technician from InParlour. "Chanel Rouge Noir is the most flattering colour across all skin tones and never goes out of trend despite launching in 1995. The rich, high shine colour can disguise all manner of sins and looks best on a short square toenail. That being said, if you have unsteady hands (and don't have the luxury of someone doing a pedicure for you), stick with a nude that won't draw attention to your toes. Match the nude to your natural nail bed colour for the most flattering results." Nails & Brows founder Sherrille Riley also recommends sticking to a pastel shade. "Lighter skin tones should try grey pastels and pale mink, which can neutralise pink undertones, while tanned skin is best suited to pale greys. Meanwhile, delicate greys and nudes will flatter darker skin tones."
Know The Shortcuts
Time not on your side? Loui says there's plenty that can be done on a tight schedule. "If you only have 15 minutes, start by removing any chipped nail varnish. Remember that a clean nail is far better than a badly chipped nail. Then file your nails and clean any dirt or debris from under the nails before applying a topcoat for a little shine. Most importantly, moisturise and finish with cuticle oil. A clean, moisturised foot makes the world of difference – it's the secret to a more polished, groomed look."
Shop our edit of products...
CREDITS: RAYMOND FORBES PHOTOGRAPHY/STOCKSY UNITED
DISCLAIMER: We endeavour to always credit the correct original source of every image we use. If you think a credit may be incorrect, please contact us at info@sheerluxe.com.