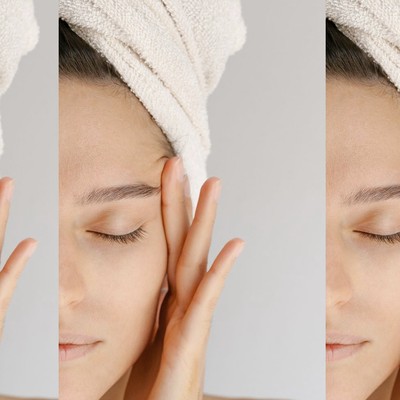 How To Prevent & Get Rid Of Clogged Pores

While clogged pores and blackheads can lead to breakouts and a dull complexion, there is plenty you can do to prevent and treat the problem, from using the right skincare to facial steaming. We asked several beauty experts for their advice.

All products on this page have been selected by our editorial team, however we may make commission on some products.
First, Understand What Pores Are 
"You have pores all over your body which are tiny hair follicles that contain a sebaceous gland," explains skincare expert and holistic facialist, Nataliya Robinson. "These glands produce sebum (oil) on the surface of the skin to protect it from external aggressors, but they can become clogged if there's too much oil. This results in visible pores and a congested complexion." If pores are blocked for a long time, it can also lead to breakouts. "Having a good skincare routine and using the right products is key to ensure all traces of dirt and make-up are removed every day. It's the simplest and easiest way to prevent a build-up of bacteria from getting ingrained," says Nataliya.
Use Acids Not Exfoliators
One of the best things you can do is look for skincare that contains the right ingredients, like acids. Physical exfoliators can work to help get rid of blackheads for example, but overusing them can lead to further problems down the line. "Acids are much more effective at tackling clogged pores than standard exfoliators," explains skincare expert and global director of education at Pixi, Amanda Bell. "Salicylic acid is great at getting rid of excess oil and dissolving impurities, especially when it's left on the affected area. This is because it is a beta hydroxyl acid and has a larger molecular size, so it stays on the surface for longer, giving better results. Look for products with at least 2% of salicylic acid and use it regularly in the morning and night. Once your skin looks clearer, continue using it to prevent your pores from re-clogging. The only downside of salicylic is that it can be quite drying, so if your skin is one the drier side, glycolic acid is a better option."
You should also look out for light-weight textures to prevent the problem happening in the first place, says the founder of Adonia Medical Clinic, Dr Ifeoma Ejikeme. "Benzyl peroxide helps to decongest the skin, while vitamin C, niacinamide and glycolic acid help stimulate collagen and improve elasticity, resulting in greater cell turnover. Just remember, consistency is key, so you have to use these regularly to see visible results."
Avoid Scrubbing & Picking 
Clogged pores can result in blackheads, whiteheads and papules (tiny inflamed bumps), but attacking them with your fingers can make problems worse. "Don't try and scrub off or squeeze your breakouts, as this will just irritate the skin and make them worse," says Sonia Deasy, founder of Pestle & Mortar. "Instead, build a good, daily cleansing routine and stick to it. Skin loves monotony and you'll notice a big difference if you keep it up. Avoid overly astringent products too (this includes fragranced products and anything with sulphates) as these will just dry out the skin, triggering more sebum production, resulting in further breakouts." If you have particularly oily skin, try using a clay mask to help congested pores, says Amanda. "They're a gentle and affordable way of removing toxins and impurities, without stripping the skin completely. Medik8's Natural Clay Mask is an industry go-to."
Use A Facial Steamer
Steaming has numerous benefits, including warming and softening dead cells sat on the skin's surface, explains facialist Sarah Chapman. "If your skin feels congested, steam is especially good at loosening blocked pores and minimising breakouts and blackheads. It softens the oil trapped in pores and makes extraction much easier, so any products you put on top will work more efficiently. Combine steaming with a thick, balmy cleanser if you're after a deeper clean. The heat from the steam will loosen the dirt and sebum in your pores, while your fingers can push the formula into the dermis. There are so many DIY steamers on the market now, it's easier than ever to make the most of this professional technique at home. Try steaming for a maximum of two or three ten-minute sessions a week, but avoid touching your face afterwards to avoid reintroducing bacteria onto the skin."
"Immediately after steaming your face, wash your face with cold water and pat dry instead of rubbing it to reduce redness and irritation," says Sonia. "Also, avoid any harsh active skincare straight afterwards (i.e. retinol, AHAs or chemical exfoliants) as this may irritate your skin. Instead, opt for nourishing actives like vitamin C serums, hyaluronic acid or niacinamide that can help reduce redness and inflammation. These actives may also work better as your skin is cleansed and much more porous after steaming, helping to increase their absorption."
Acids are much more effective at tackling clogged pores than standard exfoliators. Salicylic acid is great at getting rid of excess oil and dissolving impurities, especially when it's left on the affected area.

Look For Non-Comedogenic Products
Ideal if you have sensitive or oily skin, non-comedogenic products help prevent the build-up of product and dirt on the skin. "Non-comedogenic products will help your skin breathe better as they prevent dirt, oil and sebum becoming trapped," explains co-founder of Raw Beauty Lab, Sonia Bainbridge. "If you suffer with hormonal breakouts, ensure most, if not all, of your products are non-comedogenic." Check the ingredients list of your skincare and avoid comedogenic ingredients that can clog pores. These include palm oil, avocado oil, coconut oil, evening primrose oil, wheatgerm oil, certain alcohols (like hexadecyl), lanolin, cocoa butter, lauric acid and algae. "I recommend the CeraVe Foaming Cleanser and Face Theory Super Gel Oil Free Moisturiser. In terms of SPF, the Heliocare 360 Gel Oil-Free SPF50 is excellent," adds Sonia.
Try A Retinol
"Retinol is one of the best ways to clear clogged pores and prevent blackheads from forming," says skincare expert and facialist, Teresa Tarmey. "Vitamin A works on the receptors in the skin to regulate cell turnover and alleviate congestion. Cleanse, tone, apply any serum, use your retinol and then moisturise – that's your go-to regime right there. Retinol is very impactful, but people tend to overuse it, or use it incorrectly to rush results. The key is to allow your skin to build tolerance to retinol slowly." New York-based aesthetician Dr Dennis Gross agrees: "Using a cocktail of acids at low levels [like retinol, glycolic and salicylic] will help to loosen the 'glue' that binds dead skin cells together. Once this dead skin is removed, you're much less likely to run into an issue with cell build up, which is a key cause of spots and blackheads." 
Protect Skin From The Sun
"Large and clogged pores can be the result of UV and free radical damage," explains Nataliya. "This is because sun damage depletes collagen levels, causing skin to weaken and pores to look visibly stretched. Dry skin then settles around the outside of gaping pores and can cause them to appear coarser and less glow-y." This is particularly important if you're using active ingredients. "AHAs and retinol can make your skin more sensitive and suspectable to sun damage, so wearing an SPF during the day is vital," adds Teresa. "This can also safeguard your pores to ensure they're in the best condition."
Shop Our Edit Below To Help Clogged Pores…
DISCLAIMER: We endeavour to always credit the correct original source of every image we use. If you think a credit may be incorrect, please contact us at info@sheerluxe.com.