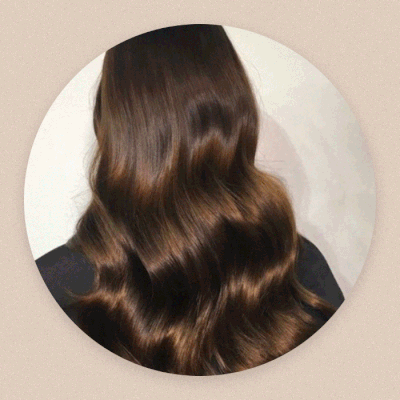 How To Refresh & Brighten Your Hair Colour At Home

Do-it-yourself dye jobs aren't the only way to refresh your hair colour during a lockdown. In fact, there are several, potentially easier, alternatives to help beat dullness, boost shine and improve pigment. From gloss treatments to nourishing oils and the importance of using sulphate-free formulas, two experts share some of their simple solutions to tide you over.

All products on this page have been selected by our editorial team, however we may make commission on some products.
FOR BLONDES…
"For blondes, there's a balance to be struck between keeping colour vibrant, but also healthy," says Adam Reed, UK editorial ambassador for L'Oréal Professionnel. "Silver shampoos have anti-yellowing agents which will counteract any unwanted brassy tones and maintain shine as well as vibrancy – they're pretty key while salons are closed." Francesca Dixon, HARI's creative colourist agrees: "It's important you use sulphate-free shampoo and conditioners, too. Sulphates wash the colour out quicker, so not having them in the mix helps with longevity of colour. You can also buy shampoos that have hints of colours in them, which enhance depth and tone – John Frieda have some excellent ones. Another trick is to use glossing treatments. Often, we only use professional ones in the salon, but Josh Wood's iconic at-home ones offer great results for this in-between period. Finally, try a clarifying shampoo. You don't want to do this too often, as they can strip the natural oils out. But for times when you quickly need to hit refresh, they're essential for boosting dull, lacklustre hair, while also getting rid of product build-up that blocks shine." 
FOR REDHEADS…
"If you have dark red or a cool burgundy hair colour, the last thing you want is to see your shade turn orange or brassy," adds Francesca. "Regular use of a colour-balancing (purple or blue) shampoo, conditioner and hair mask will stop this from happening. Likewise, specialised shampoos for red colour-treated hair shouldn't be ignored – they're essential for maintaining luminosity and vibrancy. That said, try to rethink how often you wash your hair. Over shampooing is the quickest route to premature colour fade – especially with red hair, which features large dye molecules that are more difficult to lock in." Adam adds: "With this in mind, try using a lightweight dry shampoo that can keep your hair, scalp and colour looking and feeling fresh. Stick to washing it every other day – or better still three times a week max." Francesca finishes: "Every hair colour looks more vibrant and alive when it's shiny, but that's especially true for red hair. Try applying a treatment hair oil – I swear by Rahua's Amazon Legendary Oil – before drying your hair. It will enhance shine, reduce frizz and make your colour really stand out." 
FOR BRUNETTES & DARKER HAIR…
"Brunette hair tends to appear dull quite quickly and one of the root causes is dryness," explains Adam. "To counteract this, hydration is key and the answer to keeping your hair looking nourished and bright. As always, work preventatively and incorporate a thick mask into your routine to quench thirsty, colour-deprived strands. L'Oréal Professionnel's Nutrifier Masque is silicone free and packed with Glycerol and Coconut Oil to hydrate, nourish and add instant shine. Root touch-up sprays are great, too. Ideal while we eagerly await the salon, they remain one of the best ways to balance out colour and conceal anything that's growing out. Try using a combination of shades. This will help you to find a perfect match, but also bring extra vibrancy and volume with bespoke results." 
FOR OMBRE & BALYAGE… 
"Purple shampoo is a great remedy for those with ombre or balyage – whether you're naturally brunette or blonde – as it gets rid of yellow tones and maintains a paler look where you want it," continues Francesca. "If you don't like using purple shampoo, give lemon juice a try instead. It's an age-old technique but it works. Depending on the length of the hair, the juice of one to three lemons can help you keep lighter tips paler for longer. Add a little bit of honey to the juice to prevent damage and lock in moisture. Just like the other hair types on this list, it's best to use a colour safe (or colour protective) shampoo and plant-oil based conditioner. The latter will coat each strand of hair, protecting the colour that sits on it. Rahua's Colour Full Conditioner contains lilac clay pigments which protect colour from oxidation, and in turn, this balances out any deviation of tonal value." Adam adds: "These two hair colours are some of the easiest to maintain during lockdown. However, keeping the ends and mid-lengths healthy is key, as due to the brush strokes of colour, this is the area that will suffer from dryness. Plan one night a week where you can sleep in a mask or hydrating oil – either will deliver maximum nutrition to your strands, keeping shine and colour vibrancy high."
OTHER GENERAL COLOUR MAINTENANCE
TIPS TO TRY:
Avoid Certain Ingredients
"Sodium laureth sulphate is a type of anionic detergent that's found in many personal care products," says Francesca. "This ingredient is used to produce a foaming effect to your shampoos and conditioners. Using this actually runs the risk of stripping your hair of its natural oils and moisture, which in turn, induces colour fade. Where possible, use a sulphate-free shampoo and conditioner to prevent this from happening. Always check the ingredients label and do your research – there are more options than you think for every hair type out there – from frizzy, to curly, straight and fine hair." 
Don't Dismiss Hair Towels  
"My mantra with hair is always prevention," explains Adam. "Your product use should be ongoing to keep hair healthy, rather than being used once the damage has been done. Incorporating a mask will make all the difference to the colour and health of your hair. Also, reduce heat styling as much as possible, too – that includes blow drying your hair post-shower. It's no secret that styling tools can play a huge part in dulling down colour, so use this time wisely and invest in other accessories – like hair towels – for gentler drying that doesn't require excess heat. It's a simple switch but it works." 
Take A Cold Shower 
"When you wash your hair with hot water, your hair's cuticle is opened, so your colour washes out much quicker," advises Francesca. "To stop your colour literally going down the drain, try shampooing with slightly warm water, then rinse with cold water after conditioning. The warm water will allow the shampoo and conditioner to penetrate and cleanse, while the cold will seal in moisture and your hair's cuticle, preventing colour from fading too fast. Try washing your hair less often, too. Every time you shampoo, you wash away the natural oils that moisturise and keep your colour looking fresh – you also wash a little hair dye away every time, too. Try washing just twice a week – this should be doable in lockdown – and you'll see how much brighter and glossier your colour stays." 
INSPIRATION CREDITS: Instagram.com/HarisHair
DISCLAIMER: We endeavour to always credit the correct original source of every image we use. If you think a credit may be incorrect, please contact us at info@sheerluxe.com.