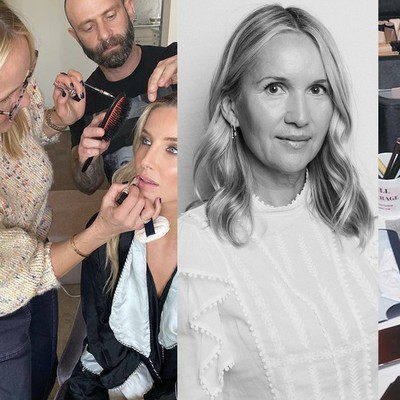 Make-Up Artist Monika Blunder Answers 12 Common Beauty Questions

In this series, we ask top industry insiders to answer the questions they're asked most often. From how best to use a Beautyblender to truly covering under eye circles, A-list make-up artist Monika Blunder has the answers.

All products on this page have been selected by our editorial team, however we may make commission on some products.
Question #1: What's The Best Way To use A Beautyblender?
Monika's Answer: "Beautyblenders are one of those tools people own but don't know how to use that well. My biggest tip is to make sure you get the sponge completely wet so that all the cells are drenched in water. Then, ring it out but not until it's dry – you want it to stay damp. That way, it will stop the product – be it foundation or concealer – from sinking into the sponge, meaning dewy, fresher-looking coverage."
Question #2: What's The Best Way To Fill & Shape Your Brows?
Monika's Answer: "You want to make sure you do your brows up close, before taking a step back to look at the result from a distance. It's the only way to get subtle, but still impactful results. You want to make sure they're not too dark, and that you've not accidentally gone outside of the natural hair line. Less is more, so work in layers to slowly shape and fill until you're happy with the look – that's the main rule to follow no matter what you're using, be it gels, pencils or waxes."
Question #3: How Often Do You Need To Clean Your Make-Up Brushes?
Monika's Answer: "You should clean your make-up brushes ideally two to three times a week. Clean brushes equal clean skin and smoother-looking make-up – it's paramount you do it regularly. I like to use either a brush cleanser, or even a gentle shampoo, working the brush into the suds and creating a gentle lather on my hand. Then, just rinse them until the water runs clear. Make sure you leave your brushes hanging off the edge of a counter so the bristles aren't sat in a puddle of water, either."
Question #4: Can You Actually Hide Dark Circles Or Under-Eye Bags With Make-Up?
Monika's Answer: "If you suffer with puffiness and skincare isn't cutting it, use a foundation or a concealer one shade lighter than your skin tone to conceal the issue. This will give the effect of a brighter, more lifted under eye. Be careful not to overdo it – you just need a little dot right underneath the inner corner of your eye. Simply blend it inwards, towards the centre to lift the entire area." 
Question #5: When It Comes To Eyeshadow, What's Your Advice For Getting It Right?
Monika's Answer: "The best thing to do is to stay close to your natural eye shape and simply define and enhance what you've got. Usually, this means deepening the crease a bit, and if you want a slightly more lifted and pulled-out look, you can extend the shadow into a little wing at the outer corners. Personally, I love to layer creams, then set them with powders for maximum longevity."
Question #6: Same Goes For Eyeliner – Is There A Correct Way To Apply It?
Monika's Answer: "If you want a smokey line, try to use something creamy, like a soft kohl pencil. I usually apply one of these close to the lash line and then blend it outwards before setting and softening things up with a powder shadow on top. For a neat and precise line, you can't beat a liquid liner. Practice does make perfect, but if you make mistakes, just use a small-angled brush dipped into micellar water, or a Q-tip to clean it up. For even more precision, use a bit of concealer under the wing and around your liner to define that really crisp edge."
Question #7: What's The Secret To Dewy, Luminous-Looking Skin?
Monika's Answer: "It's all about skincare. I really can't stress enough how important it is to have a well-prepped base. I'll always layer my skincare products, starting with a mist, followed by a serum, then finishing off with a nice rich cream or salve. You need to let it all settle, but it will allow your foundation and face products to move more naturally, as well as giving you a radiant, dewy look that looks like you're glowing from within."
Question #8: What Are Your Top Foundation Application Tips?
Monika's Answer: "Aside from skincare, work with products that layer well. Even for a full coverage base, you don't necessarily need heaps of it applied all over your face. Start with a sheer layer, then build up only in the areas where you want more coverage – this is often the T-zone and under your eyes. It's this approach which will give you a smooth, polished and even look without ever being cakey – it lets your natural skin still come through."
Question #9: You're On A Budget But Want To Hit Refresh – What Five Products Should Everyone Buy?
Monika's Answer: "If you want to keep things simple, five items are plenty. First, a moisturiser that works well with your skin type – even better if it works well for both day and night. Second, a good foundation that you can sheer out or build up – you need it to be as versatile as possible. Next, a lash curler. It's incredible how much curling your lashes can change your entire face – you just need to get into the habit of doing it. Another staple is an eyeliner – usually a black or brown, just look for a shade that's roughly five shades darker than your hair. Finally, a lipstick that doubles up as a cream blusher – there are so many ways to use this one product."
Question #10: Speaking Of Lipstick, Is There A Way To Find The Right Red For Your Skin Tone?
Monika's Answer: "The most important thing is knowing your skin's undertones. If you have cooler undertones (this is common with paler skin), opt for a blue-based red or pinky red. For people who are warmer in skin tone, a coral or an orange-based red tends to work the best. For people with olive or neutral undertones, you can get away with both, but a true red, or a brick red one, tends to work best."
Question #11: Can You Use Highlighter At Any Age?
Monika's Answer: "In my opinion, there are two types of highlighters: glittery and dewy. The former are great for younger skin, or if you simply want to have some fun. But they can accentuate wrinkles and lines – especially on older skin types. Personally, I prefer a dewy highlighter, such as a clear glossy balm, or a soft pearly cream. They won't enhance wrinkles and offer such a beautiful glow. The natural sheen in our skin isn't sparkly, it's dewy, so you always want to find products that replicate that look."
Question #12: Contouring – Is There A Way To Do It Subtly?
Monika's Answer: "I like to use the same foundation or concealer that I've used as my base for contouring. It makes sure the formulas all blend together. And I'll always work in layers. For instance, start with a cream base, then set and deepen the contour with a powder bronzer, sometimes two, depending on how dramatic you want the contour to be. Bring that contour into the eye socket as well – it adds more cohesion to the overall look."
DISCLAIMER: We endeavour to always credit the correct original source of every image we use. If you think a credit may be incorrect, please contact us at info@sheerluxe.com.