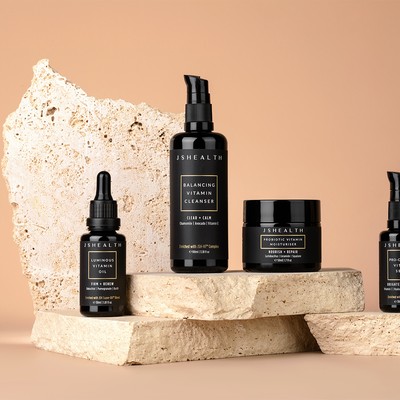 Meet The Australian Nutritionist Behind This Cult Skincare Range

Nutritionist, bestselling author and all-round wellness guru Jessica Sepel is renowned for her holistic approach to health. Having battled with an eating disorder for ten years, she's passionate about helping people overcome fad dieting and her award-winning supplement range provides science-backed support for everything from bloating to mood swings. Now, she's offering a new way to experience the power of vitamins with her own skincare range – which has been two years in the making. We sat down with Jessica to learn more about her story and the new collection…

CREATED IN PARTNERSHIP WITH JSHEALTH
Nutrition has always been in my DNA. I grew up in South Africa, with an incredibly healthy family as my main role models. My parents were active, dedicated to wellbeing and only served wholesome, nourishing food at home. My grandmother was also a very healthy influence. I have vivid memories of her starting each day with lemon water and papaya, taking supplements, walking and meditating. She took me to a health retreat at a young age and I remember listening to a nutritionist's presentation and thinking, 'This is what I want to do.'
That said, my relationship with food hasn't always been great. When I was 14, my family moved to Australia. I was going through puberty and was insecure about my changing body. I then discovered dieting, and food started ruling my life in an unhealthy way. I lost a lot of weight in a short period of time, and this was the beginning of years of dieting, weight obsession and food control. It was stressful and exhausting. After school, I decided to study health and nutrition to better understand how the body works. I realised I had the knowledge and power to heal myself and ultimately change my life. 
The JSHealth community continues to grow to this day. It wasn't long before I needed an outlet for my learning, and I wanted to share my experiences with others. I started writing honestly and openly about fighting diets and finding balance, and people responded in a big way. We all struggle sometimes, and I believe in journeys, not just outcomes. Through my recipes, advice, supplements and community, I am passionate about helping women find balance – whether its sky-high stress levels, bad sleep, poor energy levels or a mind that doesn't switch off. I learned to heal my body and life and I am passionate about helping others do the same. 
You can't underestimate the power of nutrition. I used to live off diets that were low in nutrients but quickly learnt the body needs nutrients to thrive. Do you want clear skin, sparkly eyes, strong nails and thick, healthy hair, to name but a few? Then, you need to concentrate on what you're putting into your body. At every meal, I include a complex carbohydrate, a quality protein, a good fat and lots of greens. The JSHealth App is packed with recipes and ideas to get you going – my current favourites include the Japanese salmon and teriyaki chicken. My team will also tell you how much I love cheese and tomatoes on toast with a glug of olive oil, salt and pepper – simple but delicious. 
Protein is essential for energy and hormone balance. A protein-rich snack at 4pm or 5pm is one of my non-negotiables, as this helps keep blood sugar levels stable until dinner. Avoid coffee in the afternoon – it won't do your stress and hormone levels any favours. Instead, try carrots with almond butter, protein balls, Greek yoghurt with cinnamon and berries, or crackers with avocado and cottage cheese. I also can't resist a sweet treat in the evening – my baked nectarines served with Greek yoghurt are a crowd favourite.  
When it comes to exercise, your body usually knows best. You don't need to put your body through an exhausting workout – just 20 minutes a day of movement is my foundation. Today, I only work out in ways I love, with a kind, compassionate and gentle approach. Exercise is a fantastic stress-reliever, and it helps keep your cardiovascular and nervous systems in tip-top condition, but there's no reason to overdo it. I recommend 30-45 minutes of exercise a day and no more – I love yoga, Pilates, barre, weight training and HIIT. If you're strung out on stress and pushing yourself to exercise hard, let yourself off the hook for a week. Swap one of your intense sessions for a restorative yoga class or simply enjoy one or two rest days.
The right supplements can support your health goals. As a nutritionist, I saw how incredibly powerful supplements with herbs, vitamins and minerals were for my clients, but also how overwhelming the market can be. So many women struggle with mood swings, sleep problems, bloating, low libido and thinning hair, and I wanted to simplify the supplements world and create targeted formulas. Quality is at the core of everything we do – every ingredient used in our formulas meets quality standards and is lab tested prior to use as well as being free from nasties. Some of our bestselling supplements include Hair + Energy, Skin + Digestion and Detox + Debloat.
"The Luminous Vitamin Oil is a standout product as it contains bakuchiol, a natural alternative to retinol. Apply with a gua sha to enhance absorption."
"The Luminous Vitamin Oil is a standout product as it contains bakuchiol, a natural alternative to retinol. Apply with a gua sha to enhance absorption."
Vitamins can also work wonders for your skin. When I started researching the science behind using vitamins topically, I was blown away with how powerful they can be. The JSHealth Vitamins Skin range is over two years in the making and offers the very best ingredients from nature coupled with proven results. Each of the four products in the collection is infused with our bespoke complex, which contains seven vitamins, nutrients and botanicals proven to improve the health of our skin for a more radiant, lit-from-within complexion. 
The face oil is a personal favourite. Our Luminous Vitamin Oil contains bakuchiol, an incredible plant-derived ingredient that provides natural alternative to retinol. It's been clinically shown to mimic the actions of retinol but without any irritation or sensitivity. I love applying the oil with a gua sha after a busy day, which supports lymphatic drainage and oxygenates the skin to improve tone and texture and increase product absorption.  
A skincare routine is the best form of self-care. I believe skincare should be pure and powerful yet simple to use and understand. Our signature four-step system is created for all skin types and taking the time to apply the products morning and night will revive the skin and help you glow from the inside out. Plus, taking time for yourself has never been more important, and as someone who has battled with anxiety, I understand how important that is. I'm a real advocate of taking ten minutes each day to go into a 'stress-free zone' – try going for a walk, meditating, stretching, making a cup of chamomile tea or taking your time with your skincare in the evening. When you're less stressed, your body will find a true state of health and wellbeing, and that's the definition of wellness. 
Discover the JSHealth Vitamins Skin collection here…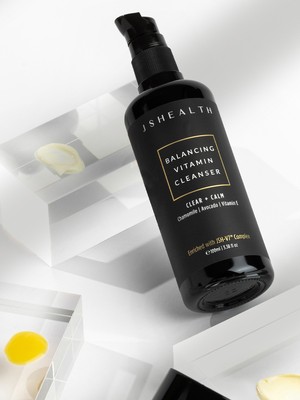 Balancing Vitamin Cleanser, £27.99
Whatever your skin type, this creamy cleanser – packed with chamomile, avocado and vitamin E – will gently remove make-up and pollution while calming redness and hydrating dry patches. 
Available here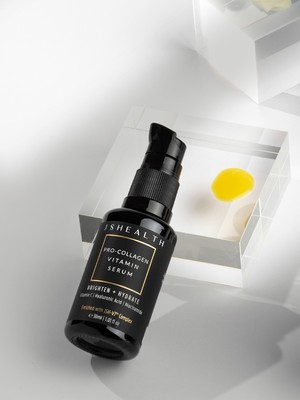 Pro-Collagen Vitamin Serum, £39.99
This lightweight serum, concentrated with brightening vitamin C, hydrating hyaluronic acid and clarifying niacinamide, will improve the appearance of fine lines and uneven skin tone. 
Available here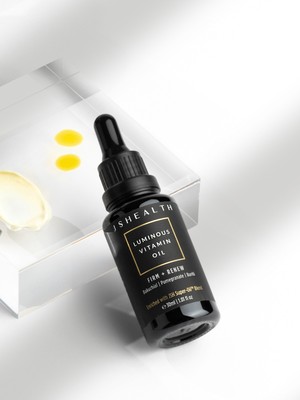 Luminous Vitamin Oil, £37.99
Just a few drops of this nutrient-rich oil will transform your complexion. It's all thanks to moisture-quenching marula oil, barrier-supporting ceramides and antioxidants to kickstart collagen production.
Available here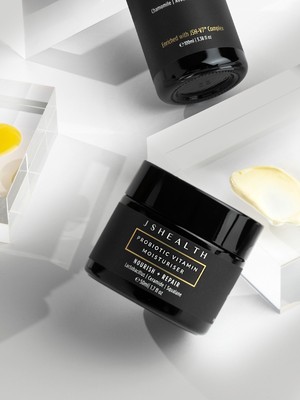 Probiotic Vitamin Moisturiser, £34.99
A lightweight yet deeply nourishing cream designed to support the skin's microbiome with topical probiotics, this gentle formula also contains kelp to brighten, calendula to calm and arnica to soothe a winter-weary complexion.Available here
DISCLAIMER: We endeavour to always credit the correct original source of every image we use. If you think a credit may be incorrect, please contact us at info@sheerluxe.com.