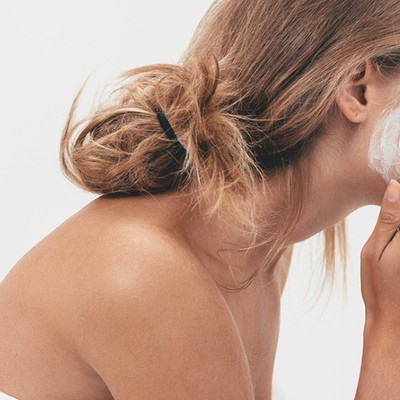 12 Skincare Rules From An Industry Expert

When it comes to skincare, we're less about fads and more into long-term, holistic results – an approach super facialist Lisa Franklin embraces wholeheartedly. Championing a pared-back but results-driven approach towards skincare, this is the kind of advice we can get on board with. Whether you're baffled by exfoliation or wondering what ingredients really cut it, here are her words of wisdom...

1. Invest In Your Skin
It's absolutely worth spending the most you can on your skin – that includes products and treatments. Skincare brands are constantly developing new and innovative ingredients and so much research is being done into the skincare market that most expensive products really are worth the extra cost.

2. Consider Supplements
The beauty shelves are oversaturated with supplements promising a more youthful complexion but, as with skincare products, some supplements are more effective than others, so it pays to do your research. Studies have shown the nutrients you feed the skin are vital to maintaining skin quality over time, so consider both your diet and supplementation. Our body is an efficient machine that can only function well if we feed and nurture it.

3. Use A Retinoid
Considered the 'gold standard' in anti-ageing, it really is worth using a retinoid (a derivative of vitamin A) if you're after a clearer, smoother and more youthful complexion. Retinoids work to increase cell turnover, unclog pores and boost collagen, but not at all products were created equal – do your research and, if in doubt, speak to an expert who'll be able to advise you on the right retinol product for your skin. My Night Renew Treatment contains high-tech encapsulated retinoids, which deliver the active ingredients deep down where they're needed.

4. Think Twice About Botox
My philosophy is all about enhancing natural beauty and all of my treatments are non-invasive. Be wary of Botox and fillers – they can become addictive and change your identity. Try treatments and products first before you consider injectables, you might find the same kind of results are available to you and your skin without invasive measures.

5. Always Massage
Facial massage is nothing new but it's often forgotten. Think about it – you'd treat your body to a massage, so why not treat your face? Our facial muscles move constantly and could always use some TLC. Plus, a facial massage can actually encourage detoxification and lymphatic drainage, which in turn can reduce inflammation and swelling. A simple technique is to slowly roll the palm of the hands flat starting at the forehead, working down to the cheeks and rolling up the neck. If you suffer from tension headaches, a pressure point massage can be helpful – using your ring finger, apply firm pressure from the start of the brow working outwards, holding each pressure point for five to ten seconds. Then, working outwards under the eyes, apply a medium pressure to the temples and pressure to the back of the ears by the lobe.

6. Don't Ignore UV Damage
Whilst I always advise clients to wear SPF on a daily basis, I also understand it's not for everyone. My advice would be to use, at the very least, a moisturiser or serum that offers protection against electromagnetic radiation and also to limit time spent in direct sunlight. Both my Luminescent Base and Pollution Defence Cream contain actives which can reduce the amount of UV penetrating the skin and causing damage.

7. Tackle Redness Like A Pro
As a rosacea sufferer, I feel passionate about helping others with the condition, as well as those prone to redness. It's important to know your triggers – certain spicy foods, alcohol and pollution are the most common ones. When it comes to ingredients, try frankincense – it's a strong anti-inflammatory agent that has a soothing effect on sensitive and over-reactive skin.

8. Treat Blemishes Gently
The most common mistake I see women with blemish-prone skin making is picking and probing at their skin – try to avoid this at all costs if you want clearer skin. At the same time, give some consideration to the products you use. Opting for a product that strips your skin of its natural oils so the skin overcompensates is such a common situation, with women resorting to heavy camouflage make-up to simply mask the problem.

9. Don't Be Afraid To Exfoliate
Traditional granular exfoliators have fallen out of favour in recent years, but under-exfoliating is the most common mistake women with dry skin make. Failing to remove dead skin cells decreases the effectiveness of your moisturiser as it is unable to penetrate as efficiently, so make sure to properly exfoliate at least twice a week using a gentle micro-exfoliator.

10. Keep An Eye On Your Diet
A high-glycemic diet can have an effect on the condition of the skin, so be wary of foods high in sugar as this can increase glycation, a process which effectively breaks down collagen over time, accelerating the visible signs of ageing. The same goes for alcohol or too much caffeine – alcohol can be extremely dehydrating, while excess caffeine can make the skin look red and swollen. If you're prone to spots, dairy and sugar are a bad combination.

11. Stick To A Routine
It's crucial to stick to a skincare routine, especially when it comes to cleansing and exfoliating. My advice would be to keep it simple but use multi-functional products with a high concentration of antioxidants and nutrients.

12. Clean Your Pillowcase
It may sound obvious, but I always advise my clients to clean their pillowcase on a regular basis – at least every few days. To supercharge your slumber, consider sleeping on a silk pillowcase, which will help prevent facial creasing and protect the delicate eye area as you sleep.
Prices for a Signature Facial with Lisa Franklin start from £100; visit LisaFranklin.London for more information
Shop our favourites below...
DISCLAIMER: We endeavour to always credit the correct original source of every image we use. If you think a credit may be incorrect, please contact us at info@sheerluxe.com.