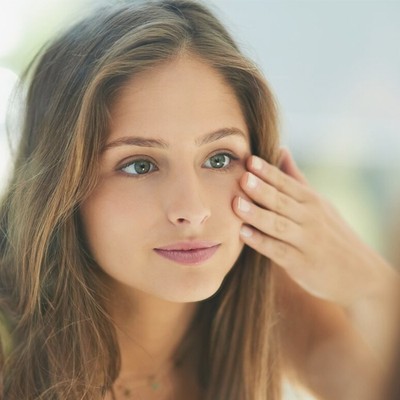 5 Ways To Ditch Your Face Wipes For Good

With the government planning to phase out all non-biodegradable wet wipes – meaning many face wipes will also be stripped from the shelves – it could be time to abandoned your go-to wipes in favour of a more eco-friendly method of make-up removal…

As well as lending a helping hand to the environment, ditching the wipes could work wonders for your skin. Studies suggest that wipes simply push make-up, dirt and grime around your face, instead of actually removing it. This leftover residue then sinks into your pores and causes them to get clogged, which you guessed it, means more spots.
"Wipes don't effectively clean the skin, as you need a product that actually breaks down debris and clears pores, ready for your next skincare step," explains Director of Corium Skincare Aesthetics, Negin Erfani. "They also contain high levels of alcohol, which causes dryness and irritation."
We understand that your love for make-up wipes probably comes from wanting a quick fix – because, quite frankly, a six-step cleansing routine is eating into some serious Netflix binge-watching time, but here are the five best alternatives that will easily erase make-up in an instant…
 
Micellar Water
With no rinsing needed, micellar water is ideal for make-up removing in a rush. Simply sweep a cotton pad soaked in micellar water over your face to blitz daily grime and make-up – the supercharged water contains tiny micelles that cling to impurities (like make-up and dirt) and completely dissolve them. Bioderma's bestselling Sensibio H2O Micelle Solution gets our vote as it's simple, effective and won't irritate even the most sensitive of skin – even around the delicate eye area.
Jelly Cleansers
Originating from Korea, jelly-textured cleansers are more popular than ever – and there's a valid reason behind the hype. The unique formula thoroughly cleanses skin without stripping it of natural oils, meaning that you won't get that uncomfortable tight feeling that comes with other astringent cleansers. Glossier's Milky Jelly Cleanser not only smells amazing, but works wonders when it comes to quick make-up removal, too.
Cleansing Brushes
Introducing the king of all cleansing products – the cleansing brush. Pair your facial brush with any type of liquid cleanser to create a make-up-busting combo. The buffing motion of the bristles also works to gently exfoliate your skin, leaving you with baby-soft, more radiant complexion. Try the Clarisonic Mia 2 to turbo-boost your daily routine – in just 60 seconds, it removes six times more makeup, dirt and sebum than cleansing with your hands alone.
Make-Up-Removing Towel
This might look like the humble flannel you'd find at the back of your bathroom cabinet, but it's actually something of a beauty game-changer. Made from super-soft skin-friendly microfibre (no red, raw faces here, please) Revolution's Pro Make-Up Eraser Towel removes every scrap of make-up – even waterproof mascara – on their own, meaning you don't need to use a cleanser. Just run it under the tap, gently wipe away the day's impurities and wash in the machine, to be used again and again.
Bio-Degradable Wipes
If you really can't give up the convenience of face wipes (as skincare guru Caroline Hirons says, they do have their place: for "fannys, flights and festivals"), fear not – there are already bio-degradable options on the market, and we're sure there'll be lots more as the ban creeps closer. RMS's Ultimate Make-Up Remover Wipes are both eco-friendly and individually wrapped, making them ideal for on-the-go use.
DISCLAIMER: We endeavour to always credit the correct original source of every image we use. If you think a credit may be incorrect, please contact us at info@sheerluxe.com.