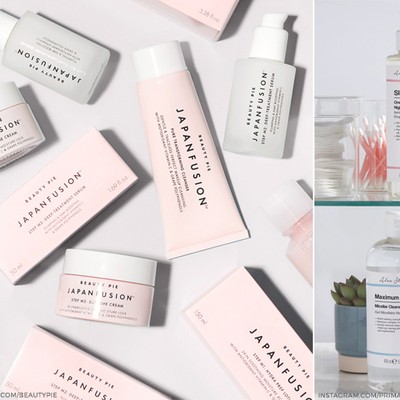 6 Affordable Skincare Brands Just As Good As The Ordinary

Fans of The Ordinary were left fearing for their skincare regimes when the brand's then-CEO Brandon Truaxe announced it would be shutting shop last week. Luckily, it turns out Estée Lauder – which owns 28% of the brand – has stepped in to save it. But all the panic got us thinking about alternative brands making affordable skincare to rival luxury names. Here are the brands to know, plus the SL-approved products all for tenner or less…

Alex Steinherr X Primark
A who's who of hot-right-now ingredients, we didn't expect anything less from Alessandra Steinherr's just-launched skincare collaboration with Primark. As one of the beauty industry's most renowned editors and skincare experts, she knows her stuff – and with such a large online fanbase to impress, you can trust she wouldn't put out any old product. The 20-product range is designed to target her followers' most-mentioned skincare needs – from pollution-tackling masks and on-the-go hydrating serums to night-time cleansers and blemish-busting stickers. It's also completely fragrance-free and cruelty-free.
SL loves: The Plump & Glow Facial In A Stick – a multi-tasking hero that removes every trace of make-up and doubles up as a hydrating treatment. Follow up with the Sleep Spa Sleeping Face Mask for a Steinherr-worthy #SundayFacial.
Available at: Selected Primark stores; find your nearest stockist here
The Inkey List
Just like The Ordinary, The Inkey List are firmly anti-jargon; focusing on straightforward, single-ingredient formulas at accessible prices. From the well-known retinol, vitamin C and hyaluronic acid, to the more unusual turmeric, Q10 and squalene, each product in the 15-strong range targets a specific concern – which makes customising your routine an absolute doddle. Confused about what each ingredient does, and which ones your skin really needs? They've also gone a step further than the Deciem-owned brand, providing a 'beauty translator' service on their website – simply type in a question and receive expert, tailored advice.
SL loves: Their acid serums are an absolute steal at under £8. Sensitive skin types should opt for the lactic acid – a gently exfoliating formula enriched with hyaluronic acid for a boost of hydration – whilst the AHA serum is ideal for battling blemishes.
Available at: BeForBeauty.co.uk, CultBeauty.co.uk and FeelUnique.com
Beauty Pie
The brainchild of Marcia Kilgore – the entrepreneur behind Bliss, FitFlop and Soap & Glory – Beauty Pie is a game-changing members' club offering high-end skincare, cosmetics, make-up brushes and candles at transparent factory costs. Not just any old factories, but those used by some of the world's leading beauty manufacturers – spanning France and Italy to South Korea. In short? You're getting the same luxury formulas for up to 12 times less than they normally cost with brand mark-up. Members pay a fixed fee of £10 per month (excluding shipping fees) to have access to the online store, but with plenty of products giving you change from a fiver, it's well worth it.
SL loves: The serums – some of which would cost over £80 (compared to around £10 or under) if you bought the same formulas from a big-name brand. Each comes packed with a cocktail of innovative ingredients, including new-to-the-market plant actives you'll be hearing about everywhere soon.
Available at: BeautyPie.com
Visit Sheerluxe Vouchers For A Beauty Pie Discount Code
Revolution Skincare
Makeup Revolution's cosmetic launches have been big hits with beauty bloggers as of late (in fact, some have even gone viral thanks to Instagram tutorials with millions of views) – and this summer the British brand turned its hand to skincare with equal success. A very purse-friendly line of high-potency skin solutions, their products are all ingredients-led – along with being vegan and cruelty-free like the rest of their range. And the pick-and-mix concept couldn't be easier to navigate – thanks to the transparent labelling, you'll never need to Google what an ingredient actually does.
SL loves: The Skin Tone Correcting Serum – with 2% granactive retinoid – seriously rivals The Ordinary's. And the Skin Blemish and Pore Refining Serum – with 10% Niacinamide + 1% Zinc – is our favourite blemish-buster right now.
Available at: RevolutionBeauty.com, and selected Superdrug stores.
Garden Of Wisdom
Despite its humble beginnings – a family-run business based in Arizona – Garden of Wisdom has built up a huge global following (luckily for us, it finally hit UK shelves this summer). It's got nothing to do with clever marketing, or its Insta-presence; but simply how effective their products really are. The brand favours natural, gentle approach – encouraging skin balance and stability – and all of their formulas contain as few ingredients as possible to allow the actives to penetrate as deeply as possible. Plus, they're also cruelty-free, suitable for vegetarians and free from other potentially irritating substances like alcohol and silicones.
SL loves: Their range of cold-pressed organic oils (the argan-oil is non-comedogenic and a godsend for dry but spot-prone skin), and their wide range of exfoliating acid serums – choose from glycolic, salicylic, lactic, mandelic or azelaic.
Available at: VictoriaHealth.com
e.l.f. Skincare
e.l.f. Cosmetics (aka, the internet's favourite budget beauty brand) is well known for their cruelty-free make-up, but have since branched into skincare… Because, as they say, great make-up starts with great skin. The range is all about getting a glow, covering the basics with a dose of 'skintertainment' thrown in – think K-beauty-inspired sheet and bubble masks and Insta-bait magnetic masks. Those on a perma-quest for a flawless base are also catered for, with their solution-focused primers (choose from gels, creams, mists and sticks) and make-up setting mists.
SL loves: The Booster Drops – concentrated-yet-lightweight boosters designed to supercharge your skincare routine. Our favourite? The Antioxidant Drops: packed with vitamin E and C, along with hydrating snow mushroom extract. Add a few drops to any skincare liquid or cream (or even your foundation) for brighter, plumper skin.
Available at: ElfCosmetics.co.uk, and selected Boots and Superdrug stores.