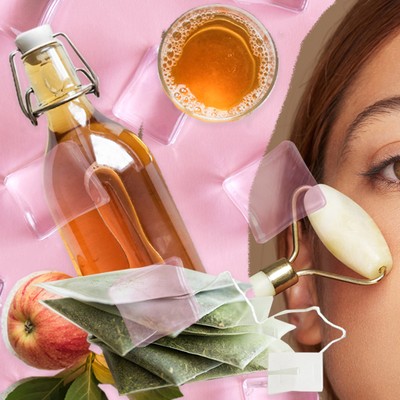 7 Post-Party Skincare Hacks To Try Now

Party season tends to mean less sleep and more sugar. Then there's the daily drinking to factor in. All of these can wreak havoc on your skin. Although no beauty product can replace a solid snooze or rid you of the previous night's antics, there are a few expert-approved tricks that will help to rehydrate and give skin its glow back. Start with these seven right here…

Reach For The Roller 
No time or budget for a facial? A few minutes massaging your face can boost blood circulation and reduce lymphatic congestion (the culprit behind that tired puffiness). Skincare experts and make-up artists like Pati Dubroff (Margot Robbie's guru) swear by facial rollers for a non-invasive way to boost your skin. They increase circulation, allowing the body to pump more oxygen and nutrients into tissue. Plus, they stimulate the flow of your lymph – the body's natural defence system – which helps to reduce puffiness and speed up general detoxification of the skin, while giving it an instant glow and lift. 
Crack Out Some Ice 
If you're after a budget option, skincare experts like Abigail James swear by ice cubes to depuff your face. Whether you wash your face with icy water or wrap some cubes in a towel, it's the easiest way to hit refresh on a budget. Not only does the cooler temperature wake you up, it tightens pores, calms inflammation and reduces redness that's often caused by alcohol dilating your blood vessels. 
Steam With Green Tea
Loved by the likes of Miranda Kerr, steaming with green tea is a speedy way to reduce irritation, sensitivity or feelings of tightness. This is because it's rich in antioxidants, giving you a direct hit, while soothing and clearing your pores too. If you don't have time to steam, green tea bags soaked in cold water and applied to your eyes for 15 minutes can help, as caffeine decreases swelling by constricting the blood vessels underneath the skin. 
Kick Dryness At Night
Alcohol dehydrates the skin. If you don't replenish at night, you'll notice it the next day. It's also easier to get rid of dryness at night than to reverse it the day after. Look to hydration-focused creams with lightweight gel formulas; these will nourish the skin without overloading it and causing a breakout. Origins GinZing Boosting Gel Moisturiser and Neutrogena's Hydro Boost Water Gel Moisturiser are ideal for this, absorbing fast for speedy nourishment. If your skin is really suffering, look to overnight masks that offer the same hydration but are laced with more active ingredients to rid both inflammation and dullness – we love Fresh's Black Tea Firming Overnight Mask. 
Get Clever With Concealer 
Not technically skincare, but a brightening trick nonetheless. When time is tight, use your concealer to cover up the night before, but also to highlight your T-zone. It's a trick recommended by make-up artist Patrick Ta. Grab a colour that's a few shades lighter than your complexion and blend it across the centre of your forehead, down the bridge of your nose, and onto your chin with a dampened Beautyblender. It takes seconds, but is very effective at waking up the skin. 
Stick To Liquid & Cream Formulas 
The only thing worse than dull skin is when your foundation flakes and actually highlights your late night even more. To prevent this, look to foundations with a creamier texture which glide smoothly over the skin, provide a glossy sheen and generally last longer. Matte formulas will just dry out your complexion and settle into creases as the day continues. Look to formulas with added skincare benefits, like Kevyn Aucoin's new Foundation Balm and Hourglass's Illusion Skin Tint – both of which contain hyaluronic acid and vitamin E for a luminous, even glow. 
Try An Extra Pillow
If you're suffering with puffy eyes (or skin in general) add an extra pillow under your head while you sleep. It sounds simple, but it works as gravity drains enough fluid to help with next-day swelling. Experts claim it's worth investing in a silk one, as they don't soak up as much of your night-time skincare as cotton ones do. In turn this means your products and the potent ingredients inside can penetrate much deeper. Slip's Silk Pillowcases are a worthy investment and are said to ward off creases on your skin and also make your hair shinier over time.
DISCLAIMER: We endeavour to always credit the correct original source of every image we use. If you think a credit may be incorrect, please contact us at info@sheerluxe.com.