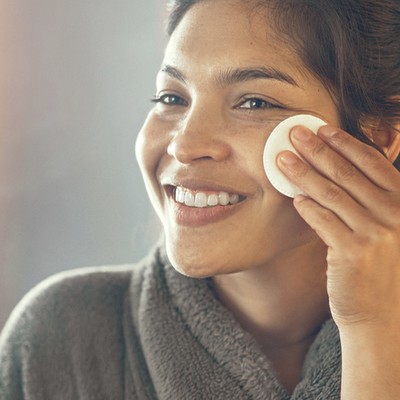 AHA's Vs Enzymes: Which Anti-Ageing Exfoliant Do You Need?

Chemical exfoliants are big business in beauty, but with countless different formulas all promising to brighten and resurface better than the next, the shelves can be tricky to navigate. We spoke to three skincare experts to find out more about the difference between AHAs – one of the most popular types of acids – and enzymes; including the anti-ageing benefits of both, and how to tell which will best suit your skin…

Firstly, what's difference between chemical and physical exfoliants? 
"Physical exfoliation can be either using a cleansing brush such as a Clarisonic, or a product with tiny particles such as silica, sugar or ground fruit seeds that will manually remove dead skin. Chemical exfoliants work by breaking down the keratin proteins that bind together the dead skin cells in the top layer of your skin, and require no scrubbing, so can be gentler on your skin, if used in a low percentage." – Dr Emma Wedgeworth
Are AHAs and enzymes the only chemical exfoliants? 
"No – BHAs and PHAs (both types of acid) are also popular skincare ingredients. BHAs (beta-hydroxy acids) like salicylic acid, 'unglue' the bonds holding dull, dead skin on the surface, and can penetrate blocked pores – making them great for acne sufferers. Whereas PHAs (polyhydroxy acids) like lactobionic acid are functionally similar to AHAs, but potentially less sensitising on the skin." – Paula Begoun, Founder of Paula's Choice 
Why are AHAs and enzymes so good for anti-ageing? 
"Both offer exfoliation in varying degrees to leave your skin brighter, smoother, age spots diminished and your skin prepped to accept hydration." – Georgie Cleeve, Founder of OSKIA 
AHAs: 
What are AHAs? 
"AHA stands for alpha hydroxy acid. These are a group of products which can either be synthetic or naturally occurring – often derived from food stuffs such as sugar cane, sour milk, tomato juice and apples. They have a profound effect on the outer layer of skin – increasing cell turnover and reducing the thickness of the stratum corneum by loosening bonds between the skin cells. This can improve the appearance of fine lines, dullness, smooth roughness, unblock pores and result in softer, more radiant skin." – Georgie  
Are there different types? 
"Yes. Glycolic acid is one of the best-known and most-studied AHAs, but there are many others such as lactic acid, malic acid, citric acid and mandelic acid. Glycolic acid is one of the smallest AHAs, which means it can penetrate deeper into the skin, and there's also some evidence that glycolic can boost hyaluronic acid and collagen synthesis, resulting in firmer skin." – Georgie 
Who are AHAs best suited to? 
"AHAs tend to provide quick results, but also have the potential to irritate the skin – they're best used with caution if you have sensitive skin, of if the product has a high percentage of acid. I would advise people with eczema or rosacea to avoid AHAs altogether, unless directed by their doctor, however most other people can tolerate them reasonably well." – Georgie  
How often should you use them?  
"I always advise starting active skincare once or twice a week to see how your skin responds and then building up to using most days. The skin is very dynamic, so you may find you can tolerate it much better in warmer weather and then have to reduce your usage in the winter months when skin tends to be drier and more sensitive. Listen to your skin!" – Georgie  
Shop our top-rated AHA products below...
ENZYMES: 
So, what about enzymes – how do they differ? 
"Unlike acids, which can exfoliate both dead skin cells and remove living skin cells, enzymes are proteins that can only digest other proteins – meaning they can exfoliate dead skin cells and scar tissue, without damaging any live tissue." – Georgie  
Are there different types? 
"Papaya, pomegranate and pumpkin are at the forefront of enzymatic exfoliation. Papaya, and pumpkin also contain vitamin A and C which are very anti-inflammatory and help to soothe skin. Papaya is also hailed for its brightening properties, so using products with papaya enzymes will help diminish age spots and even out your complexion." – Georgie  
Who are enzymes best suited to?  
"As enzymes are by far the gentlest form of exfoliation, they're a miracle ingredient for anyone who suffers with sensitivity. They also work slower than AHAs, so can be incorporated into your everyday skin regime." – Georgie  
Shop our top-rated enzyme products below...
DISCLAIMER: We endeavour to always credit the correct original source of every image we use. If you think a credit may be incorrect, please contact us at info@sheerluxe.com.