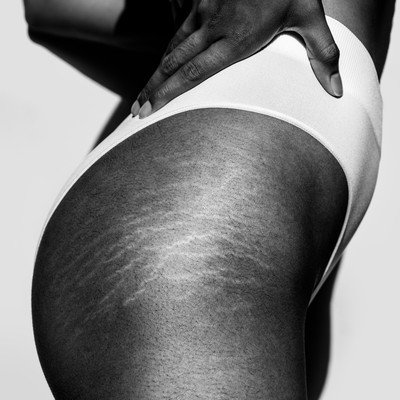 Beauty 101: What You Need To Know About Stretchmarks

Chances are, if you have stretch marks, you're pretty self-conscious about them. While there aren't ways to eliminate them altogether, it is possible to minimise their appearance. Here, founder of Illuminate Skin Clinic, Dr Sophie Shotter explains how.

Stretch Marks Are Actually Scars
Stretch marks, also known as 'striae,' are actually a form of scar. They look like soft lines or streaks in the skin. You'll find that when they first appear, they are pink/purple and sometimes red in tone, but as they mature, they become silvery or white in texture and colour. When they change colour like this, often people find they can ignore them altogether as they tend to become fainter over time. 
You Can Improve Their Appearance
As with any scar, it's impossible to completely get rid of stretch marks. However, you can significantly improve their appearance. While there's no magic cream, there are in-clinic treatments that yield impressive results. Usually, these treatments focus on building collagen and resurfacing the affected area of skin. Options include fractional radiofrequency, mesotherapy, microneedling, laser and chemical peels. All of these stimulate the skin and promote cell turnover for smoother limbs. In my opinion, the best results happen when you combine treatments with homecare. I swear by combining mesotherapy with radiotherapy – a technique I use in my latest Venus Viva treatment which launches in spring – hopefully just in time for the reopening of clinics. 
"If you want to minimise their appearance in a fuss-free way, look to retinoids or DIY chemical exfoliants – though avoid the former if you're pregnant."
Retinoids Are A DIY Remedy
If you can't afford treatments and want to just minimise the appearance in a fuss-free way, look to retinoids. They can be an excellent remedy when used on fresh stretch marks, however you should never use these when pregnant. Likewise, regular exfoliation is a great way of minimising their appearance while smoothing the skin's surface overall. This can be through chemical exfoliants – my go-tos are Ameliorate's Body Lotion and Medik8's Body Exfoliating Kit. 
It's Worth Keeping An Eye On Them
Believe it or not, striae can be a sign of a medical condition. Stretch marks are sometimes – but not often – associated with Cushing's Syndrome. This is where your body overproduces cortisol, leading to rapid abdominal fat gain. It can also be a sign of Marfan's Syndrome where people grow exceptionally tall. Both these conditions have serious medical complications and while rare, it's important to consult your doctor if you're concerned or feel your stretch marks and the aforementioned symptoms are worsening.
Follow @DrSophieShotter & visit IlluminateSkinClinic.co.uk for more treatment information.
DISCLAIMER: We endeavour to always credit the correct original source of every image we use. If you think a credit may be incorrect, please contact us at info@sheerluxe.com.