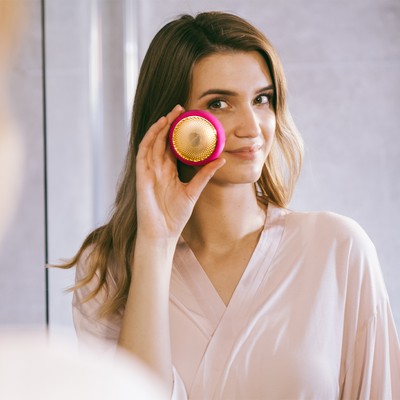 The Beauty Device to Try For A Salon-Worthy At-Home Facial

Renowned for their sonic-powered cleansing tools, beauty-tech powerhouse FOREO is a brand that continues to push boundaries in the skincare world. Their latest LED light therapy device, UFO 2 is designed to work in conjunction with premium and powerful smart masks to deliver professional-level facials at home. Powered by LED light therapy and skin-boosting pulsations, it not only balances skin tone but boosts collagen whilst delivering a deep massage too. Skin will be left feeling firmer and with more glow. Keen to find out more? Here's what you need to know…

CREATED IN PARTNERSHIP WITH FOREO
The Technology Is Top Of The Range
We've fallen hard for this smart beauty device which provides you with a full-spectrum LED facial treatment in the comfort of your own home. Not only does it get to work fast, but the impressive high-tech spec also allows you to personalise your regime, while reaping the benefits of powerful LED face mask ingredients. Designed as a luxurious at-home facial treatment, it uses eight different LED lights, thermo and cryotherapy settings, as well as T-Sonic™ pulsations for glowing, firmer-looking skin from the first use. We recommend gliding it over your face, and letting the warm heat relax any existing tension while the cool cryotherapy setting will reduce puffiness and shrink pores. Just be sure to keep movements light and slow for best results. If you prefer to follow the app-guided treatment, connect the app, scan the mask, and start the treatment. On just a couple of uses we could feel our skin becoming smooth and retaining its natural radiance. The clever Cyan LED Light we used calmed inflammation and healed any swelling. In testing, we've noticed fewer breakouts and a smoother, even complexion, which has helped us get the most from other products in our regime. 
Designed as a luxurious at-home facial treatment, this tool uses eight different LED light, thermo and cryotherapy settings for glowing, firmer-looking skin from the first use.

It Uses A Range Of LED Lights For Optimum Results
The state-of-the-art UFO 2 incorporates more technologies within one simple, sleek design than any other beauty gadget of its kind with eight different LED lights for full spectrum. The LED light treatment and benefits are:
Red Light: Perfect for reducing the signs of aging, it helps your skin to produce more collagen and elastin, making it look firmer and lifted.
Blue Light: Ideal for blemish-prone skin, it helps to prevent breakouts by reducing acne-inducing bacteria and stabilizing overactive oil production.
Green Light: Ideal for uneven skin tones, it helps to brighten dull-looking complexions, whilst reducing the appearance of dark circles and age spots.
White Light: With the ability to reach the deeper layers of your skin, it helps your skin to renew and rejuvenate itself.
Purple Light: Perfect for dull-looking skin, it helps to boost your skin's radiance by helping it to heal, soothing inflammation and eliminating toxins.
Orange Light: A great way of treating sun damage, it helps to revitalise your skin, giving it a healthy glow.
Yellow Light: If you ever suffer from sunburn, this will soothe the swelling and improve your overall skin tone.
Cyan Light: Ideal for calming stressed-out skin, it acts as an anti-inflammatory, soothing and healing swollen skin
It Works For All Skin Types & Needs
The UFO 2 delivers heat to your face with flash thermotherapy. The benefit being, every product that you apply afterwards (think eye creams, serums or moisturisers) will sink in faster for optimum results. FOREO's signature T-Sonic™ pulsations is another bonus! Giving up to 10,000 sonic pulsations per minute, these soundwaves gently massage the skin to relax underlying facial tension and improve detoxification. The best bit? It's gentle enough for all skin types to use, and there's a mask for everyone. While LED Light Therapy helps treat an abundance of skin woes (including acne and inflammation), it also promotes and stimulates collagen for plumper-looking skin. The red light works to stimulate your skin, promoting collagen and elastin for a firmer appearance, while blue light is ideal for those with blemish-prone skin as it helps to stabilise overactive oil production.
The Results Are Impressive  
Delivering professional-level results in a matter of minutes at home, the device condenses a 20-minute treatment into just two minutes (for FTF range). After trialling the device ourselves with the H2Overdose Mask, we noticed our skin was smoother and more refined, thanks to hyaluronic acid which fed our dry, thirsty skin with soothing moisture from the get-go. As for the in-built cryotherapy system, this refreshed and instantly firmed our skin, shrinking both the appearance of pores and puffiness within a couple of weeks use. Clinical trials are impressive, too, with results showing that the UFO 2 significantly reduces the appearance of wrinkles in just seven days.
It's Customisable To Your Needs
Connect and control your UFO 2 using FOREO's beauty app. Working in unison, the app lets you alter and amend the settings to build a tailored skin profile. It also gives you expert beauty tips and advice about which mask is best for your individual needs. Plus, you can track your usage and set reminders to maintain a thorough and sturdy regime
Each Mask Delivers Results Fast 
The UFO 2 works in conjunction with powerful UFO-Activated masks that utilise the latest science, ingredients and formulations to give you a spa-worthy facial at home. There is a variety to choose from so you can decide which is best for you according to your skin's needs. The LED power-masking device can be paired with a variety of masks in order to infuse powerful ingredients and mask essence deep into the skin. Each mask comes with a tailored routine that uses different lights, temperatures, and sonic waves to make the treatment as effective as possible. With 13 different masks to choose from, you'll be sure to find a treatment that works for you. Our favourite is their brand new Cannabis Seed Oil Mask which is part of their clever Farm to Face collection. Brimming with 210mg of Cannabis Sativa Seed Oil, nourishing Chamomile and powerful Magnesium to help calm red and irritated skin for a clear and hydrated complexion. Other masks include: Bulgarian Rose, Green Tea, Coconut Oil, Manuka Honey, and Acai Berry.
Shop The UFO 2 & Other Foreo Devices At Foreo.com
DISCLAIMER: We endeavour to always credit the correct original source of every image we use. If you think a credit may be incorrect, please contact us at info@sheerluxe.com.