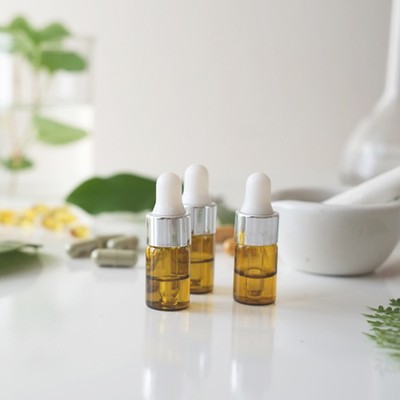 CBD Oil In Beauty & Skincare: The Benefits You Need To Know

By now, you've likely seen Cannabidiol (derived from cannabis plants) infused in everything from lip balms to moisturisers, but there's still some confusion over what it does. We're on hand to help break it down with Donia Hilal, Holland & Barrett's Senior Nutritionist. Consider this your CBD cheat sheet.

CREATED IN PARTNERSHIP WITH HOLLAND & BARRETT
 
For those still unsure, what is CBD?
CBD (cannabidiol) is an ingredient naturally sourced from hemp plants that are bred for nutritional purposes. The CBD is typically extracted from hemp paste, made from the leaves and flowers of the hemp plant, with hemp seeds as a secondary source.
But is it legal and safe to use?
CBD oil is legal in the UK, as long as it is manufactured in a way that does not result in unacceptable levels of undesirable substances such as THC, the psychoactive substance in cannabis.
So what are the differences between THC and CBD?
Marijuana types of cannabis contain high levels of THC. It makes you feel high, is addictive and is a regulated substance that cannot openly be sold. CBD is a cannabinoid, a substance which is formed in the leaves and flowers of the hemp plant. CBD is extracted from fibre hemp, a variety of the cannabis sativa plant species. The CBD in the products we sell at Holland & Barrett is standardised to contain less than 0.05% THC, meaning the user definitely won't experience any psychoactive effect when taking it. Others are completely THC free. CBD as a substance, is not addictive.
And what about hemp oil and CBD oil, what's the main difference there?
Hemp oil is derived from the hemp plant, which is a form of cannabis sativa that's typically grown for industrial purposes. These plants contain low levels of cannabinoids including the two most commonly known: CBD and THC. Hemp oil is mainly extracted from hemp plants by pressing the seeds they produce – since these don't contain any THC, hemp oil in the main part doesn't either. In contrast, CBD oil, whilst also often being derived from hemp plants refers to oil that contains a concentration of CBD or cannabidiol. Like hemp oil, CBD derived from hemp plants only contains trace amounts of THC.
Why do you think CBD has become so popular, especially now?
CBD certainly is a hot topic of conversation currently! Whilst researchers are still working hard to try and understand the specifics, CBD has been featured in mainstream media heavily over the last 12-18 months – and is the subject of medical debate and subsequent change in medically related legislation.​ The press has also heavily featured CBD's use as a food supplement – which is where we come in as a retailer. While we haven't seen any change in legislation from a food supplement perspective, continued media coverage of the two different examples above has piqued people's interest in CBD as a topic. Looking at specific feedback we get from our customers as to why they're buying our CBD food supplements, we're getting lots of positive comments about the smooth, mild flavour of some of our most popular products. It also is a great ingredient to include within beauty products.
Yes, speaking of beauty, why does it work so well within skincare products?
So, our new CBD beauty range contains CBD oil, which is rich with omega oils that moisturise and nourish the skin, and antioxidants which help to protect the skin from environmental stress. It also has a high vitamin content, which contributes towards improved overall skin health. We're really proud of the new range, which is also suitable for veggies, vegans and is 100% natural – here's a little more about each product…
CBD Day Cream is carefully formulated to bring you the best of CBD and hemp seed oils for your skin. The two oils work together to help regulate the skin's oil production giving you the correct balance for your skin type. As an effective antioxidant, CBD helps reduce free-radicals and slows the ageing process, allowing your skin to appear firm, healthy and youthful. The hemp oil within this product also helps with intensive moisturisation. CBD Day Cream is suitable for use on all skin types. 
The perfect complimentary product to our Day Cream, our new CBD Night Cream is an antioxidant-rich moisturiser, suitable for use on all skin types. It's further enriched with Shea butter to help restore your skin at night. The concentration of natural vitamins and fatty acids in Shea butter and CBD oil makes this cream incredibly nourishing and moisturising for the skin. Shea butter is also known to aid the skin's natural collagen production and contains oleic, stearic, palmitic, and linolenic acids that protect and nourish the skin to prevent drying. Use every night after cleansing for best results.
Our new CBD Serum is super concentrated, with a light texture to give your skin a moisture boost. The CBD and Hemp seed oils work together to help regulate the skin's oil production giving you the correct balance for your skin type. Use daily after cleansing and before moisturising for smooth, hydrated skin.
Formulated with Capsicum, this light balm will help relieve painful and tired muscles. The slight warming formulation will help blood circulation in affected areas during massage helping your muscles recover. If you decide to give this a go, please test on a small area of your arm before use on a larger area. Apply a small amount on to your fingers and massage onto affected areas.
Is there a way to measure its effectiveness? Any statistics?
We're a regulated retailer and as such, not permitted to sell and make claims about any of our cosmetic products without robust substantiation. In the case of CBD-containing cosmetics, there have been papers with results that suggest topical effectiveness. Statistics vary from study to study, so we don't tend to pull out and share specific figures as a brand – however, any claims of effectiveness made via our website or on social media are as a result of numerous pieces of published evidence on specific ingredients contained within our cosmetic products.
How do you know you're getting your money's worth?
Certificates of Analysis (a document issued by Quality Assurance that confirms that regulated products like ours meet their product specifications) are checked for every new CBD product we introduce into the business. It's important to ensure you are purchasing CBD from a reputable source who undertake the checks we do.
OK, so that's CBD within beauty – going back to it as a supplement, what are the best CBD oils to use?
This very much depends on a customer's reason for trying CBD oil. Our most popular CBD oil, food supplement wise is Jacob's Hooy CBD Oil 5% which is one of the higher strength CBD oils we sell.
What's the best way to use CBD oil?  
There are a few different options available depending on individual preference. If you are not a fan of the taste of the CBD oil, you can opt for a fruit flavoured spray version from Love Hemp or the Jacob Hooy CBD capsules. Ultimately, it is down to individual preference.
Finally, are there any downsides of CBD to be aware of?
CBD seems to be generally well tolerated by most people. However, there are some reports of dry mouth, nausea and decreased appetite. As with all supplements, it is important that you look out for any side effects once you start adding new ones to your daily routine.
 
 
To find out more about CBD and all things health & wellness, visit HollandAndBarrett.com
DISCLAIMER: We endeavour to always credit the correct original source of every image we use. If you think a credit may be incorrect, please contact us at info@sheerluxe.com.