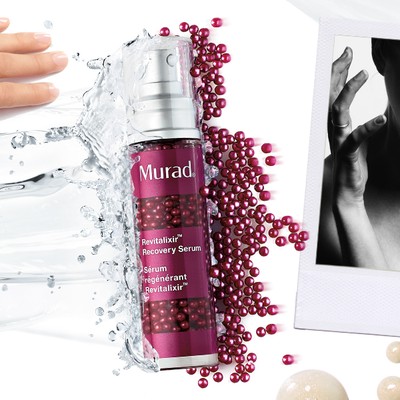 The Effect Stress Has On Our Skin & How To Combat It

A bad day at work, a delayed journey, an argument at home - we're all aware of the daily stressors that impact our health. But did you know they're also damaging to your complexion?

CREATED IN PARTNERSHIP WITH MURAD
A recent survey confirmed this by revealing that a strained lifestyle can make us look up to 3.5 years older (gulp). So, with that in mind, we've teamed up with Murad for their latest Revitalixir Recovery Serum to explain how stress is affecting your skin and exactly what you can do about it. Plus, they're offering SL readers 15% off their next purchase. Time to read on… 
First things first, how is stress affecting my skin?
We are all putting ourselves under more pressure these days which in turn causes a flood of damaging stress hormones, like cortisol. Not only does cortisol affect our ability to take in nutrients, it also soaks up our glucose resources, sending it directly to the skin, causing inflammation and spots. Another reason our complexions suffer so much is because our faces have more cell receptors for hormones than any other part of our bodies. Despite the market being saturated with anti-ageing buys, there is little that prevents the damaging effects of stress. Which is why brands are now rallying together to create some impressive solutions. Our current go-to? Murad's latest Revitalixir Recovery Serum.
How does it work to tackle stress?
Due to the fast-paced society we now live in and many other contributing factors, stress is a common part of most people's lives. While we can't always control the events that make us feel anxious, we can now prevent it from damaging our complexions. Murad's latest Revitalixir Recovery Serum is working hard to counteract the visible effects of ageing from the internal sources of stress. It is an investment at £70, but for a very good reason. Dr Howard Murad confirms: "The best way to manage stress is through balance, which is why I formulated Revitalixir Recovery Serum, with a blend of relaxing and reviving ingredients to minimise the effects of skin fatigue and renew vibrancy in an instant." Not to mention the overall boost it gives to dehydrated, sallow and uneven complexions.
What are the key ingredients?
This clever tube is loaded with niacinamide, peptides and cannabis seed oil. Translation: These ingredients work in unison to improve enlarged pores, uneven skin tone and fine lines over time. There's also two unsung heroes that you've likely not heard of before: wild indigo and paracress extract. They get to work quickly, calming the skin's stress signals by soothing irritable complexions and improving firmness. They also visibly boost luminosity and renew vibrancy and tone after just a couple of uses. Add that to the fact that caffeine is also working hard to fade dark circles, and you've got a 2-in-1 hero buy that ensures you're getting more bang for your buck.
When should I apply it?
Typically, it's applied AM and PM after cleansing, but always before moisturising, so the strong, potent ingredients have had time to settle into the skin.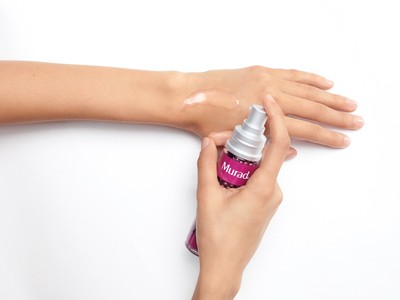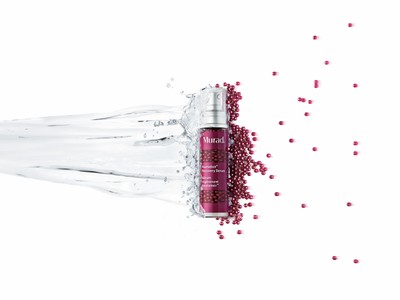 Do I still need a moisturiser?
In short, yes. While it's chock-a-block with moisturising ingredients (hyaluronic acid and Vitamin B3), you'll need a moisturiser to create a barrier on top of the skin to lock in all the de-stressing goodness. We recommend topping up with a Murad Nutrient Charged Water Gel.
Are the effects instant?
All ages and skin types can reap the benefits of this serum, but you'll see results quicker (within days) if your complexion is very dull and overworked. That's not to say you don't still get some instant gratification. Thanks to its pearly, sheeny texture, skin gets flooded with an almost pink-y hue that's glowing, fresh and smooth – some reports even say it's helped their make-up to glide on easier.
Anything else to note?
If our word isn't enough, Murad are now offering SL readers a 15% discount off all products on their site, which gives you the chance to experiment with the serum and see its impressive results first-hand. Happy shopping!
The discount:
Simply enter SLREVITALIXIR at checkout on Murad.co.uk to redeem your 15% off your purchase. Valid until 22nd February 2019. Discount cannot be used on the purchase of travel sizes or in conjunction with any other offer.
DISCLAIMER: We endeavour to always credit the correct original source of every image we use. If you think a credit may be incorrect, please contact us at info@sheerluxe.com.