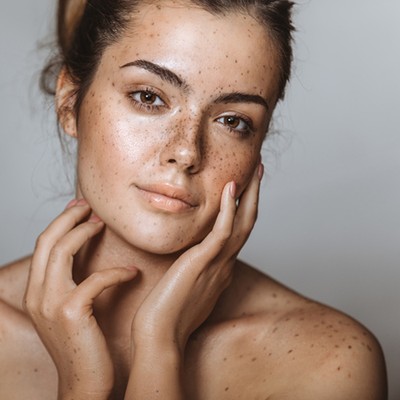 Everything You Need To Know About Face Acids

AHA's, PHA's, BHA's…The list is so confusing, most of us give up on acids before even trying them. And then we need to muddle over which one should be applied first. But one thing is for sure: they really, really work, while getting to the root of your skincare problems faster than any other product. Luckily, Founder of cult brand LixirSkin, Colette Haydon, is on hand to break down these much-hyped glow-getters…

Let's start with the basics: What are acids?
Acids have incredible exfoliating properties and they boost skin cell renewal like no other, so they're able to reveal a brighter, smoother, more radiant and refined complexion. Years ago, they were associated with strong and aggressive chemical peels, but we've since discovered how to formulate and combine them more effectively, and they're now rivalling everyday ingredients for a key place in the bathroom cabinet.
How do they get to work?
They work by breaking down the 'glue' that connects dead skin cells to the top layers of the skin. With regular use people find that superficial pigmentation from sun damage starts to fade and pores look tighter. Even if you don't have dead skin cells, anything you put on top of them will sink in more effectively.
Can sensitive skin types use them?
Yes, most acids now cater to sensitive skin with formulas that pack a nourishing punch to counteract any harsh effects. My advice though is to avoid using glycolic if you suffer from irritation as it can be too strong.
What's the difference between lactic and glycolic acid?
Glycolic acid and lactic acid are both AHAs, but glycolic is a high strength exfoliator, while lactic acid gently exfoliates the skin but improves hydration too.
Why is salicylic acid good for spots?
Salicylic acid is great if you have breakouts, it's oil-soluble, so it can penetrate the pores deeply to unclog them.
What are BHA's?
Beta hydroxy acids – they have anti-bacterial properties and again, are great for exfoliating. But they're also brilliant for smoothing out hormonal skin, improving breakouts and preventing blocked pores along the way.
What about PHA's, where do they fit in?
Polyhydroxy acids – these are bigger molecules and take a longer time to start working, but due to their bigger size (meaning they don't penetrate as deep), they're gentler on the skin. They're brilliant for boosting radiance and evening out a bumpy complexion. 
Why do we need to apply SPF with acids?
Put simply, acids can make skin more sensitive to UV exposure, so you must always follow with an SPF, especially in the summer months.
What about retinol, is it an acid? Can anyone use it?
Retinol isn't an acid, but there is an acid that might be worth mentioning as it has incredible benefits called L'Ascorbic acid (otherwise known as Vitamin C). It's like a magic quick fix for skin – it restores a glowing complexion and eliminates dull, grey undertones while combatting oxidised sebum levels. If you regularly apply it, it has so many other benefits too. It boosts collagen, regulates melanin production and scavenges free radicals, making the skin brighter and more refined.  In short, it's definitely one to add to your regime.
Where should acids come in your existing skincare routine?
I recommend applying acids at night, that way you'll wake up to smoother, brighter skin. Some acids you can apply directly onto the skin, but I recommend blending them with the Lixir Universal Emulsion, £29, so as they're not as potent. Cleanse first, then use your acids, just make sure there's no oil left on your skin when you put them on, or they won't be as efficient. Moisturiser should always come last, never apply acids on top of it as they won't be absorbed in properly, so you'll never reap the full benefits.
Why does hyaluronic acid have so much hype?
Hyaluronic acid is known (and works well) to hydrate and plump the skin, but its function reaches far beyond that. It sends cells in the epidermis a message to tighten together, which gives the skin an instant lift. In addition, it sends another message even further down to the dermal fibroblast to boost elastin, which gives the complexion an even longer-term lift, which we love even more. So this one is hyped for a very good reason.
Is there anyone that shouldn't use acids?
Everyone can use them, it just depends how sensitive your skin is as to which you opt for. As I said before, avoid glycolic if you're prone to redness and instead try lactic acid or mandelic acid, both of which are very gentle in comparison. Most can be used daily but build up from once or twice a week if you're new to using them.
Any other things to note?
The one thing everyone should be mindful of when using acids is that EU regulations tell us we shouldn't use anything higher than a 10% acid and the PH level should be above 3.5%. So, study the labels properly.  
Acid Buys SL Rates:
DISCLAIMER: We endeavour to always credit the correct original source of every image we use. If you think a credit may be incorrect, please contact us at info@sheerluxe.com.