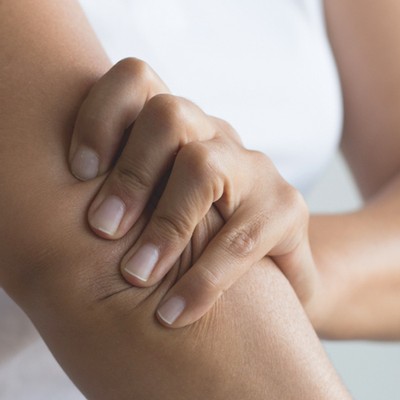 How To Get Rid Of 'Chicken Skin' On Your Arms

Suffering from unsightly bumps on the backs of your arms? Don't panic – you're not alone. It's estimated that 40% of adults are affected by the condition. Read on to get an expert dermatologist's top tips on how to treat it...

Nicknamed 'chicken skin' due to its uncanny resemblance to a freshly plucked chicken, the condition is completely harmless – but frustrating in summer when you're keen to have your arms on show. So you'll be pleased to know there are a number of ways to clear the condition. We caught up with expert dermatologist Stefanie Williams  to get the low-down on keeping those bumps at bay.

What is it?
Keratosis pilaris (KP) is a common form of dry skin, characterised by lots of tiny hair follicle plugs. It is caused by abnormal keratinisation within the hair follicles. The excess keratin builds up and gets 'stuck' in the hair follicle, blocking it, which causes a small bump to form. The tendency for KP is genetic. 

Where does it occur?
It's most commonly found on the outer upper arms, but it might also occur on the thighs, buttocks and sides of the cheeks. 

Who gets it?
KP occurs in children and adults of all ages. It's particularly common during teenage years, and more common in people with a tendency for eczema.

What does it look like?
The affected skin is covered with lots of tiny rough 'spots', a bit like goosebumps or chicken skin in appearance. The lesions may be skin coloured, red or brown and are not itchy or painful.

Why does it seem to get better in the summer?
You might notice that it magically clears up in the summer months – this is because there is lower air humidity during winter, which makes the condition more pronounced.

Is there a cure?
As the tendency for KP is genetic, there is no cure. However, many teenagers naturally grow out of it with time.  

What can you do to treat it?
Unfortunately, as KP is a chronic skin condition, it needs ongoing treatment to control it. The good news is there are some things you can do at home to help combat the condition:
 
1. Avoid drying soaps and harsh chemicals; instead go for a gentle body wash.
2. Exfoliate, but do so gently, as too much scrubbing can aggravate the condition and make it redder and more pronounced. Try a body scrub or use an exfoliation glove.
3. Look for body lotions containing urea, salicylic acid, AHAs or retinoids. 
 
If you're doing all of the above and not seeing results, I'd recommended you go to a dermatologist. At the Eudelo Clinic we offer a specialized treatment plan to remedy keratosis pilaris called the Arm Smoothie. The treatment includes various steps such as advanced 'wet' microdermabrasion. This vacuum pressure advanced microdermabrasion device deep-cleanses the pores, removing their keratin plugs.  A unique treatment tip also pneumatically delivers functional serums into the skin at the same time, which hydrate and provide specialised active ingredients to soften the keratin plugs. 
 
Finally, a gentle chemical peel is used to further support exfoliation, improve cell turnover and skin renewal. Ingredients such as glycolic acid, salicylic acid and other alpha and beta hydroxy acids are used to achieve this. The treatment is completed with a tailored home care regime to apply in between sessions. We recommend the treatment once per month to keep the condition under control.

Shop SL's edit of the best products for treating KP...
DISCLAIMER: We endeavour to always credit the correct original source of every image we use. If you think a credit may be incorrect, please contact us at info@sheerluxe.com.