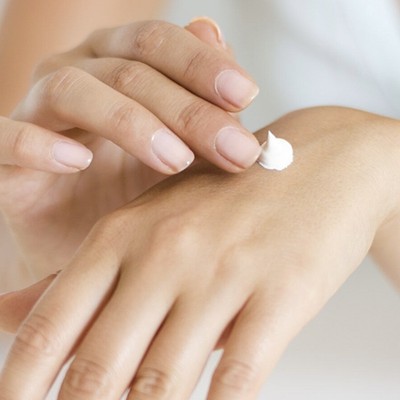 How To Take Care Of Your Hands

We all know frequent hand washing is essential right now but as we're finding out, it can exacerbate dryness and irritation. We asked the experts for some simple tips on how to maintain hydration while ensuring conditions like eczema don't flare up. From the importance of emollients to why technique matters, here's what you should know…

Maximise Your Moisturising Technique  
"Once you've washed your hands for at least 20 seconds, pat them dry rather than rubbing them to avoid irritating the skin," says Cosmetic Dermatologist at Woodford Medical, Dr Mervyn Patterson. "You still want to dry the skin thoroughly as leaving it wet may adversely affect your skin's lipids (natural moisture levels). Once dry, you can use a moisturiser straight after to seal in hydration. Alternatively, when using an alcohol-based hand sanitiser, don't use moisturiser until later as this could dilute the impact of active ingredients in the sanitizer."
Look For Key Ingredients 
"To help alleviate any dryness and restore the protective skin barrier, look to hand creams that contain emollients, including ceramides and humectants such as hyaluronic acid and glycerine," advises leading skincare expert, Dr. Pamela Benito. "Ceramides are lipids that help your skin barrier retain its natural moisture. Hand creams with ceramides also protect against environmental aggressors like irritants and pollution. I would recommend staying clear of anything with parabens, perfumes, alcohols and silicones when shopping for hand creams, as these will further irritate and strip the skin."
Use Soap Over Hand-Gel 
"There's no doubt hand sanitiser is convenient when you're out and about, but the alcohol in these gels can be more stripping than soap," adds the skincare experts at Oriflame. "Whenever you're able, wash your hands with a gentle soap or a softening hand-wash instead. Try to keep your sanitiser only for times where you can't reach a tap – this alone will prevent unwanted dryness. It's also worth noting that while recommended, sanitizers don't get rid of all types of germs [they need to have at least 60% alcohol content to kill germs effectively] unlike good, old-fashioned soap."
Rejuvenate At Night
"Night-time is a great opportunity to let your hands and skin rejuvenate," adds Dr Mervyn. "Put on either a hand mask once a week, or a really thick cream and let it sink in underneath a pair of cotton gloves. If you can, leave them on for at least an hour or so – you'll notice a difference fast to the appearance and smoothness of your skin. Epionce's Renewal Hand Cream is great for those who are really suffering – it's formulated with a blend of three key lipids to help restore the protective function of your external skin barrier, while botanicals keep inflammation at bay."
Use Gloves For Cleaning
"It may sound old fashioned, but try not to get your hands wet or irritated any more than is necessary," says Oriflame. "Marigolds are a great way of creating a barrier to your skin while you clean or wash up. They will help to prevent excessive stripping from exposure to products like bleach or drying detergents. It's a simple tip, but very useful in the long-run." 
DISCLAIMER: If you develop a rash, irritation or see a change to your skin that doesn't improve over time, consult your GP or dermatologist. 
Shop our edit of the best hand soothers below…
DISCLAIMER: We endeavour to always credit the correct original source of every image we use. If you think a credit may be incorrect, please contact us at info@sheerluxe.com.