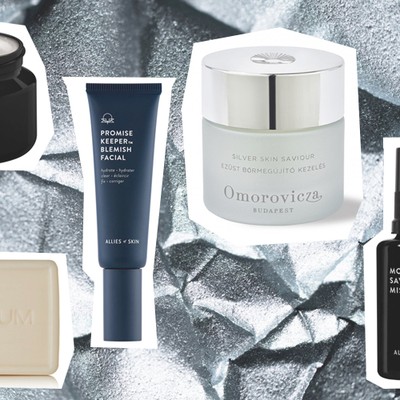 Silver Skincare Is The Acne-Solution We've Been Waiting For

If you've tried everything to clear and calm adult acne to no avail, beauty's latest buzzword ingredient might be what you've been waiting for. Here's why we reckon silver skincare is well worth investing in – including SL's favourite tried-and-tested products that genuinely cleared up our spots in a matter of days…

Metal is most definitely having a moment in the skincare world, with copper-rich products flooding the shelves for the past few years. Now, it's silver's turn in the spotlight. Just like copper, its ability to heal skin has been hailed since ancient times, first described as an antimicrobial agent by Hippocrates (aka the father of modern medicine) back in 400BC.
Said to be a broad-spectrum antibiotic with antiseptic properties, it's even used by medical professionals like the NHS today in wound dressings and, unlike some antibiotics, it hasn't been linked to drug resistance. This, teamed with silver's bacteria-fighting properties, means it's ideal for treating spots and acne in the long-term.
The type of silver found in skincare is either colloidal silver – tiny pieces of silver dispersed and suspended in water – or nanosilver, even tinier silver nanoparticles as small as 1nm. So there's no chance of a glittery glow – both are so small, they're invisible to the naked eye. Whilst more research is needed before brands can officially claim silver will help reduce acne, it has a long history of doing so, and recent studies have been promising; one found silver to be as effective as the topical antibiotic clindamycin, while a fair few more have demonstrated its powerful anti-inflammatory properties.
Having tried silver skincare ourselves, we can attest to its effectiveness on adult acne. There aren't a huge number of products on the market (although we doubt this will be the case for long), but out of the bunch, Allies Of Skin is a stand-out. It may be pricey, but their Promise Keeper Blemish Facial – a nightly leave-on treatment mask packed with colloidal silver, exfoliating AHAs, brightening pomegranate enzymes and smoothing niacinamide – has been genuinely life-changing. Waking up to seriously clearer skin every morning? We wouldn't be without it now.
The only thing to keep in mind is that it's possible to have a silver allergy, so be sure to patch test the first time you use a silver skincare product.
 

Shop SL's edit below…
DISCLAIMER: We endeavour to always credit the correct original source of every image we use. If you think a credit may be incorrect, please contact us at info@sheerluxe.com.